Perlisten Audio R5t Loudspeaker and D15s Subwoofer Review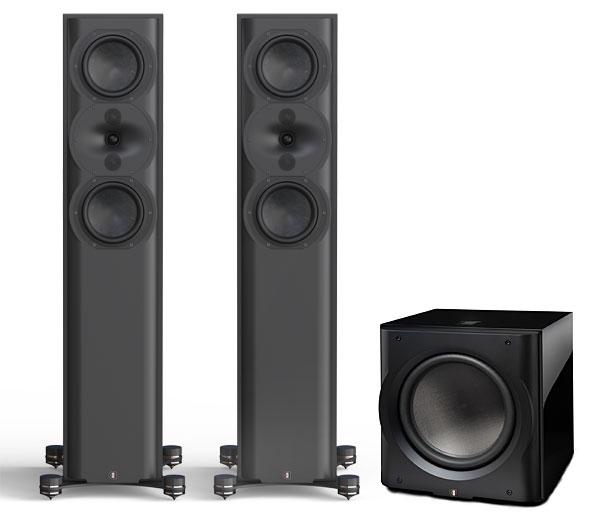 PRICE
$7,000/pair (R5t tower), $5,000 (D15s subwoofer)
AT A GLANCE
Plus
Clean, uncolored sound (R5t)
Surprisingly powerful bass (R5t)
Excellent build quality (R5t)
Stunningly dynamic performance (D15s)
Excellent build quality (D15s)
Minus
Pricey (both)
Not the best option for very large rooms (R5t)
THE VERDICT
Perlisten Audio's R5t towers and D15s subwoofer offer stunning performance and good looks, but in this case the great sound and build quality will cost you.
Even the most veteran A/V enthusiast is unlikely to have heard of Perlisten (short for Perceptual Listening) Audio, but that situation should soon change. Founded by a group of audio industry veterans, the company was formally launched in 2021. For a new speaker outfit, the number of Perlisten models is astonishingly long and encompasses towers, standmounts, center and surround speakers, in-walls, and subwoofers, all of them engineered in the U.S. and manufactured in China.
Perlisten Audio's offerings comprise two major ranges, the S-series and the R-series, with the flagship tower of the higher-end S-series, the S7t, currently topping out at $20,000/pair. The R-series isn't quite that hypoxia- inducing but still hits a maximum of $10,000/pair for the R7t. Perlisten's standmounts in both ranges (plus surrounds and two in-wall models) are a bit less pricey but still hardly impulse buys. There's also a full range of subwoofers, capped by the massive, dual 15-inch, 202-pound (!) D215s ($9,000).
For this review we requested the smallest R-series tower, the R5t ($7,000/ pair), and a single D15s subwoofer ($5,000). The R5c center ($3,000) and dedicated surrounds were not available at the time of our request and so aren't tested here. As a side note, the R5c employs a driver complement similar to that on the R5t, but with the woofers horizontally flanking the tweeter in a typical center-channel configuration. Since those woofers operate up to 1.1kHz, I'd audition the R5c prior to making a purchase decision to ensure that the horizontally configured woofers don't result in audible anomalies (comb- filtering) for listeners seated off-center. (Editor's note: Perlisten Audio provides detailed measurements of the R5c on its website that indicate even energy +/- 20 degrees off-axis, along with similarly impressive power response.)
Design
At first glance the R5t tower appears to be a conventional two-way, with woofers located above and below a single waveguide-loaded tweeter. But look more closely and you'll see two additional 1.1-inch drivers partially hidden behind small metal grilles shaped to blend into the tweeter wave- guide. Perlisten calls this midrange- tweeter arrangement a DPC-Array (DPC for Directivity Pattern Control). The top and bottom 1.1-inch drivers here operate between 1.1kHz and 4.4kHz, serving to smooth the vertical radiation pattern in the range where our ears are most sensitive and to also limit vertical dispersion to reduce floor and ceiling reflections. This strikes me as an emulation of the D'Appolito configuration, which typically positions a tweeter between woofers at the top and bottom. But here it's a pair of midranges and a tweeter, with close spacing between them due to the shorter wavelengths compared with a classic woofer-tweeter-woofer D'Appolito setup.

The woofers in the R5t tower are small, and while specified at 165mm (6.5 inches) when measured across the mounting screws, they're closer to 135mm (5.3 inches) when considering their actual radiating area (measured halfway into the flexible roll surround on both sides of the cone). To be fair, the more generous spec is common for loudspeakers. These small woofers, however, did have implications in the speaker's tolerance for deep, challenging bass response in a large listening room like mine when not supported by a sub. (More on that a bit further on.)
A large, heavy steel plate attaches to the bottom of the cabinet, and adjustable feet and spikes fit into outriggers molded into the plate. The slightly rounded "spikes" are unlikely to damage wood floors (or penetrate carpets), but I nonetheless left them off. The rear of the cabinet sports two pair of high-quality, five-way binding posts for bi-wire or bi-amping operation, plus jumpers to link them together (as I did) for a single- wire setup.
The R5t offers either sealed or ported operation. Its long port tube is positioned vertically, opening at the bottom of the cabinet and radiating out via screened openings on the sides and rear. In most such speakers the swap from ported to sealed is done via a simple and easily accessible port plug. But to make the swap on the R5t you need to upturn the cabinet to access the bottom, unscrew and remove the steel baseplate, remove a small panel to access the port opening, install the (provided) foam plug, and then button it all back up and return each of the speakers to their original positions. You won't want to do this often, or for a "quick" ported vs. sealed comparison, to say the least. I did it twice in the process of my listening and measurements, each time wondering if I really needed to make the swap (I did).
The R5ts don't come with grilles, though they're available as an extra-cost option. Cabinet finishes are either piano gloss black or piano gloss white for both the R5t tower and the D15s subwoofer.
A number of Perlisten models are THX Dominus Certified—a relatively new and rarely achieved THX standard that's said to provide reference levels in a 6,500 cubic foot room at up to 12 feet from the speaker. The R5t, however, is THX Ultra Certified (up to 3,000 cubic feet) when used for the LCR channels. Neither spec means that a given speaker or subwoofer is unsuitable for larger rooms, but only that it won't remain within THX's guidelines (such as distortion) at or above reference levels in such a setting.