Focal Chora 826-D Speaker System Review
PRICE
$8,360 (as tested)
AT A GLANCE
Plus
Great overall sound with movies and music
Integrated Atmos Elevation speakers
Impressive clarity from center speaker
Minus
Pricey sub with limited features
Boxy design for Focal speakers
THE VERDICT
Focal's 5.1.4 Chora system delivers impressive performance for the price and is equally adept at movies and music.
Some may see France's Focal as a maker of $100,000-plus speakers and $4,000 headphones. But while the company does maintain a high profile in the high-end through products like its Utopia towers, the reality is that Focal makes speakers—and headphones—that cover a wide range of price points. It's been nearly ten years since Sound & Vision reviewed a full-scale Focal home theater speaker system—a $25,000 rig with beryllium tweeters. This time out we're looking at the company's affordable new Chora series, a lineup that notably includes speakers with upfiring drivers to handle Dolby Atmos and other immersive audio formats.
The Chora 826-D ($2,790/pair) is a 4-way speaker available in Black, Dark Wood, and Light Wood finishes. As mentioned above, Focal's tower features a full-range upfiring driver that bounces sound off the ceiling to deliver overhead effects in movie soundtracks. The rest of its driver array consists of a pair of 6.5-inch Slatefiber cone woofers, a 6.5-inch Slatefiber cone midrange, and a 1-inch aluminum/magnesium inverted dome tweeter. Slate what? Slatefiber is a composite material made from recycled non-woven carbon fibers and thermoplastic polymer. According to Focal, the cones, which are designed and manufactured at the company's facility in Saint Étienne, offer the dual benefits of lightness and rigidity, resulting in "dynamic, rich, and ultra-balanced sound, particularly in the midranges." As for the tweeter, Focal uses inverted domes throughout its various speaker ranges. Paired with a small-diameter voice coil and suspended in a bracket that uses Poron, a material with "shape memory," this design is said to yield high frequency output with low directivity (+/-0.5dB response variance in the horizontal plane, according to Focal), along with significantly reduced distortion in the critical 2-3kHz range.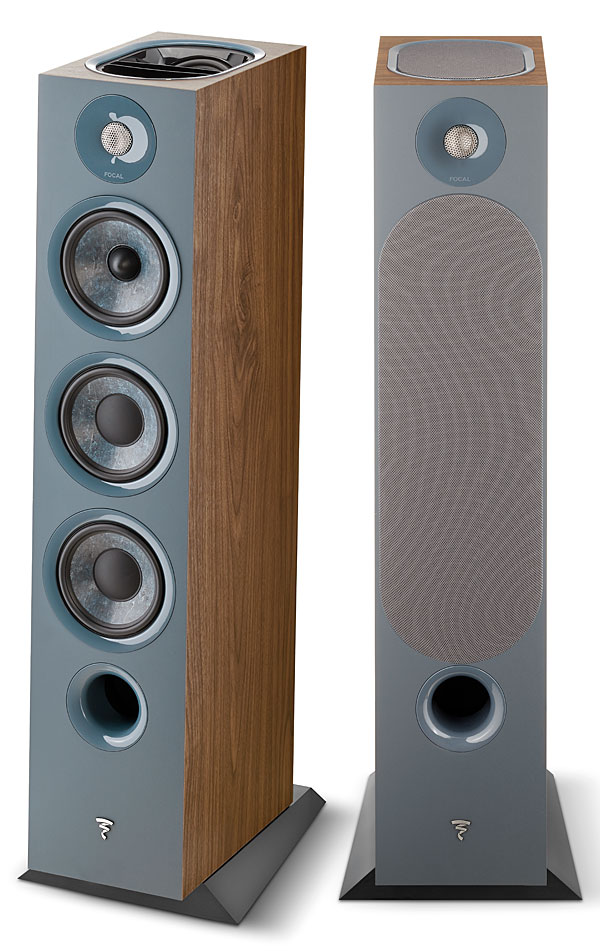 Compared with other Focal speakers, many of which have a curvaceous design, the Chora lineup is somewhat basic and boxy. The company sent me one pair of 826-D towers in Dark Wood finish and the other in black, and of these the Dark Wood pair (shown) was the foxier option by a wide margin. A magnetically attached grille covers the bass and midrange drivers on the tower's front baffle. The bottom is occupied by a large port, while the tweeter is set in a waveguide at top and covered with a non-removable metal protective grille. Two sets of speaker connections are located on the back—one for the main driver array, and the second for the upfiring driver—and both use sturdy binding-post connections that accommodate banana plugs, spade lugs, and bare wire. The tower's included base angles the speaker slightly back to provide proper time-alignment of the front-facing drivers. While the base is sturdy and does its job well enough, it also has a plasticky look that detracts somewhat from the tower's cosmetics.
Focal shipped me two sets of 826-D towers to use in the front and rear for a 5.1.4 speaker configuration. Rounding out the rest of the system was the Chora Center ($790), a sealed two-way design with a pair of 6.5-inch Slatefiber cone woofers each covered with a circular magnetically attached grille and sandwiching a 1-inch aluminum/magnesium inverted dome tweeter, and the company's SUB 1000 F subwoofer ($1,990). While technically not part of the Chora series, the SUB 1000 F's cube-like dimensions and the circular grille covering its 12-inch flax driver make it a good visual match with an otherwise all-Chora system. (Focal's latest subwoofer, the $1,290 Sub 600P, would be another good option to consider.) A 1,000-watt BASH amplifier provides plenty of power to drive the 12-inch driver within its sealed-box enclosure. Otherwise, the SUB 1000 F's feature set is basic: RCA line-level and LFE inputs, volume dial, a 40-160Hz variable crossover, and a 0/180 degrees phase switch.
Setup
Given the immersive capabilities of the 826-D towers, I was eager to set them up along with the rest of the system in my 12 x 9 x 16-foot home theater room, which has a flat ceiling. The front 826-D pair was installed at either side of an 80-inch-wide projection screen and the Chora Center speaker placed on a stand slightly below the screen's bottom edge and tilted up toward the main listening position using its included base. The second 826-D duo was positioned slightly behind and at either side of my couch, the cabinets in-line with the front tower pair. Focal designed the speakers so the top-mounted drivers are angled slightly toward the listening area, which eliminates the need to fuss over Atmos setup. Lastly, Focal's SUB 1000 F subwoofer was installed in the room's front right corner, a place where many other subs have happily lived.
Other A/V gear I used for testing included a Marantz SR6014 receiver, Roku Streaming Stick+, Xbox One console, and an Oppo UDP-203 Ultra HD Blu-ray player. Along with playing regular and Ultra HD Blu-ray discs, I streamed movies and shows from Netflix and HBO Max, and tapped the Oppo player as a Roon endpoint for music streaming. During installation, I used the Marantz AVR's Audyssey MultEQ XT32 feature for room calibration, but also made a point of listening with the Audyssey processing switched off.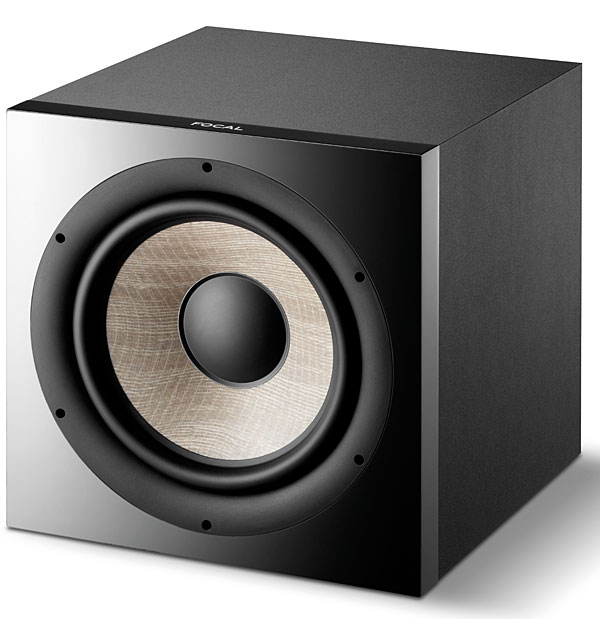 Movies Performance
After extended break-in via casual viewing and listening, I got straight down to the business of evaluating the Chora 5.1.4 system by dropping the John Wick 3 disc into my Oppo player. In an early scene in an antiques warehouse where Wick fights off the first round of bounty hunters coming for him, the smashing of windows in display cabinets holding vintage knives and axes had a crisp, powerful effect, while the impact of fists hitting flesh had a taut bass foundation that made each strike sound realistic. After, when the combatants start hurling those same knives and axes at each other, the system displayed excellent directionality, with weapons traversing through space rendered in a thrillingly precise manner.
The system also excelled in delivering ambient effects such as those in a subsequent scene where a bloodied Wick runs through rain-filled city streets. The sound of rain falling came across vividly, the downpour seeming to drip from overhead locations in the room. When the rogue assassin faced his next round of bounty hunters in a horse stable (the weaponization of kick-response when a horse's backside is slapped here is action-movie gold), the report of gunshots echoing through the cavernous space had a powerful and immersive quality.