Best Gear of April 2022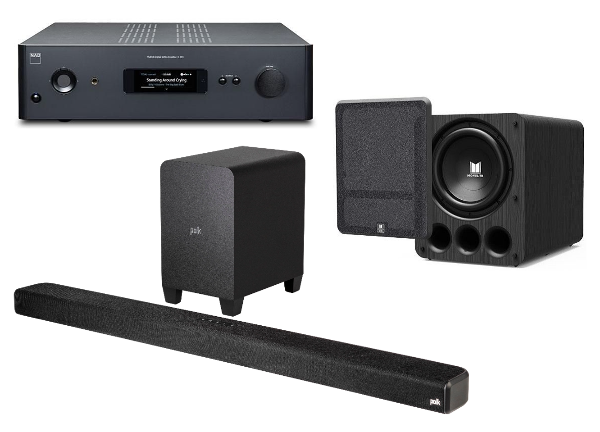 As April winds to a close, we review our Top Picks for the month, which include a budget soundbar system from a well-known American speaker brand, a top performing integrated amplifier, and the latest THX-certified subwoofer from an accessory-turned-audio-brand that's growing by leaps and bounds.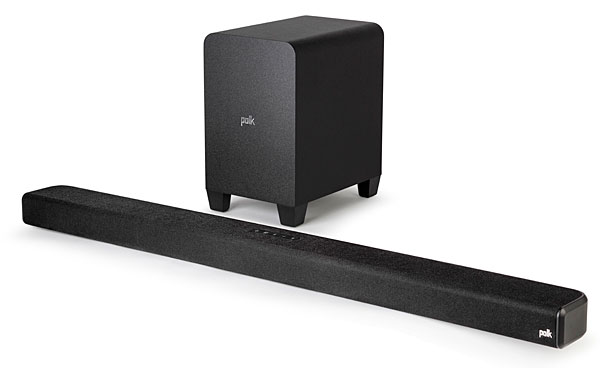 Polk Audio Signa S4 Soundbar: $399
Immersive Dolby Atmos sound for 400 hundred bucks is a tall order, yet that's what Polk is aiming for with its Signa S4 soundbar system, one of the least expensive Atmos-enabled bars money can buy. It's a pretty basic 3.1.2 setup comprising a compact wireless subwoofer and slender, 41-inch soundbar featuring three left/center/right driver complements and two up-firing height speakers. The system supports Bluetooth streaming and provides an eARC-compliant HDMI connection along with a USB port and optical digital and 3.5mm analog stereo inputs — the connections you need to greatly improve the sound of any TV. You also get a few useful "voice adjust" settings to prevent dialogue from getting lost in the mix, whether you're watching a movie or listening to music.
While it may be unrealistic to expect a system of this caliber to immerse listeners in a full-on 3D bubble — you'll typically need more speakers and a bigger budget to achieve that — the S4 excels at transforming ordinary TV and movie viewing into an engaging experience reviewer Rob Sabin described as "highly listenable" with warm, palatable sound and punchy, defined bass. "The best experience came from tracks that made good use of the height channels, such as "We Don't Talk About Bruno" from Disney's animated feature Encanto. The vocal counterpoints that emerged from different parts of the soundstage were distinctly separate in the S4's rendering." Though not perfect, the Signa S4 is capable of surprisingly spacious sound — better than what you might expect from a soundbar in this price category.
AT A GLANCE
Plus
Atmos height effects from a high value soundbar
Easy to set up and use
Small, well-integrated subwoofer
Good sonics for TV and movie watching
Minus
No expandability for surrounds
No network connection for music
No level adjustment for height channels
Better for movies than music
Full Review Here (posted 4/13/22)
Monolith by Monoprice 13-Inch THX Ultra Certified Subwoofer: $1,700
Tipping the scales at 153 pounds and commanding well over 2 cubic feet of space, Monoprice's new 13-inch bass beast is the latest model in its ever-expanding Monolith series and could be your last subwoofer — as long as you have the space (and budget) for it. The 13THX (our unofficial name) is a surprisingly no-frills affair featuring a tank-like custom woofer, which weighs 60 pounds on its own, a ballsy 2,000-watt (steady-state) amplifier, and an over-built triple-ported enclosure (foam plugs are provided for those who might want to experiment with different alignments).
There's no remote control, wireless connectivity, or app-controllable auto-EQ. Instead you get a straight-up, back-to-basics super subwoofer with a standard set of crossover and other controls (including "THX" and "Extended" EQ settings) that is dead flat below 18Hz and capable of hitting 115dB SPL at 25Hz. As reviewer Daniel Kumin put it ever-so vividly, "Unless you live in a decommissioned train station or are a convicted bass-felon with an ankle-monitor, Monolith's 13THX delivers more bass than you can use. Placed and balanced with care, you can be assured you are hearing whatever bass exists on a recording, at any level you desire. Period."
If you're wondering how the 13THX compares with one of those sub-compact subwoofer that uses watts and equalization to defy physics, the answer is it just keeps going while the smaller sub's limiting circuitry throttles back its output. Running through a series of movie and music torture tracks, including The Tomorrow War and "Bass I Love You" by Bassotronics, Kumin declared the Monolith 13THX "the most capable subwoofer I've ever enjoyed, and by a pretty wide margin." How's that for an unequivocal recommendation?
AT A GLANCE
Plus
Reference-level extension and output
Exceptionally flat, controlled response through crossover octaves
THX Ultra Certified
Minus
No auto-EQ/correction or remote control
Very big and heavy
No pass-through outputs
Full Review Here (posted 4/20/22)
NAD C 399 Integrated Amplifier: $2,548 (as tested with optional MDC2 BluOS-D module; base configuration is $1,999)
The C 399 may look like your garden variety integrated amp but it's anything but with its wealth of connections, impressive class-D HybridDigital nCore power section (ready to deliver 180 watts per channel into 8 or 4 ohms), and sophisticated modular design, which makes upgrading a simple matter of plugging a module into one of two slots in its back panel. Case in point: For this review we stepped beyond the amp's $1,999 base configuration and added in the $549 MDC2 module. Doing so let us take advantage of Dirac Live room correction and NAD's excellent BluOS streaming platform, which supports streaming via aptX HD Bluetooth and provides access to Amazon Music, Tidal, Spotify, Qobuz, the Neil Young Archives, and internet radio through the outstanding BluOS app. With the add-on module, the C 399 becomes Roon Ready and compatible with Amazon Alexa and Google Assistant devices.
Sitting at the top of NAD's Classic series, the C 399 is infused with a generous helping of DNA from the flagship Master series and also boasts a moving-magnet phono stage, headphone amplifier/output, HDMI eARC port, and dual speaker and subwoofer outputs. Masters-level perks include the aforementioned nCore power amp and D/A conversion via the acclaimed ESS Sabre 9028 chipset, which supports PCM playback in resolutions up to 24-bit/192kHz. Auditioning the amp with a variety of sources through both powered and passive speakers, reviewer Howard Kneller, summed up his impression this way: "Whether streaming from the internet or from local sources, the C 399 presented a large image and as much linear, low-distortion sound as I could have asked for given its price." Kneller was particularly struck by its ability to render detail with finesse and clarity, traits he credited to the nCore amplification technology.
AT A GLANCE
Plus
Stellar performance
Powerful internal amplifier
Modular design accommodates updates and additional features
Minus
Modestly built chassis
Small front-panel display
Uninspired remote control
Full Review Here (posted 4/27/22)
To browse all Sound & Vision-recommended AV gear, broken out by category, visit our Top Picks page.
Click here for Sound & Vision's for 2021 Top Picks of the Year