NAD C 399 Integrated Amplifier Review
PRICE
$2,548 (as tested)
AT A GLANCE
Plus
Stellar performance
Powerful internal amplifier
Modular design accommodates updates and additional features
Minus
Modestly built chassis
Small front-panel display
Uninspired remote control
THE VERDICT
The C 399 delivers great performance, impressive features and flexibility, and high value in a modest, yet handsome package.
While waiting on the arrival of NAD's C 399 integrated amplifier for review, I checked it out on the company's website. What I saw there was a minimally adorned exemplar of the black-box design school, with steel chassis panels of ordinary fabrication and a small display showing mostly monochrome text. Yawn. Well, a funny thing happened when the C 399 finally arrived, and I unboxed it. I took a shine to its no-frills, understatedly handsome looks. Sure, there are more striking-looking components out there with more robust build quality, but they'll cost you.
The C 399 ($2,548 as tested, $1,999 in its base configuration) also surprised me with its plentiful features. It contains a phono stage, headphone output, HDMI eARC port, two-way aptX Bluetooth connectivity, and two sets each of speaker and subwoofer outputs. Adding NAD's optional MDC2 BluOS-D module ($549), which slides into one of two slots on the C 399's rear panel, brings, among other things, app-controlled internet and local network streaming and Dirac Live Limited Bandwidth room-correction.
Features
NAD's integrated amps are comprised of three series: the budget-friendly Classic, the diminutive Desktop (aka Digital), and the flagship Master. Infused with a generous heap of the Master series' DNA, the C 399 is top dog of the Classic series.
The C 399 handles D/A conversion via the same ESS Sabre 9028 chipset used in several of NAD's Master series amps. As implemented here, it supports playback of PCM signals up to 24-bit/192kHz. For amplification, the C 399 relies on Hypex Electronics' class-D HybridDigital nCore module, which is also trickled-down from the Master series amps, some of which now feature one of Purifi Audio's Eigentakt modules. While most manufacturers purchase the nCore module from Hypex "off the shelf," NAD licenses its rights and closely supervises its manufacture by a third-party factory. Power output is an impressive 180Wpc into both four and eight ohms.
The nCore module's damping factor is rated at greater than 600. This is a very high number for a product at this price point and it suggests that the C 399 has excellent control over a speaker's drivers, and thus its output. Further, the nCore module is said to use negative feedback without any of its commonly associated drawbacks. It's claimed that, unlike many class-D amplification circuits, the module operates with load invariance (i.e., it outputs a uniform signal regardless of a speaker's impedance). The C 399's Hypex amplification module is driven by an analog preamplification stage, and its level is adjusted via a rotary encoder which steers an analog volume control that operates in 184 steps of 0.5dB each.
Many manufacturers who use the nCore module purchase Hypex's matching power supply. For the C 399, NAD uses its own switch mode power supply, which it states provides superior performance, including low impedance stability and clean power at critical circuit junctions.
The C 399's moving magnet phono stage is based on NAD's freestanding PP2e phono stage ($189). Like the PP2, it contains proprietary circuitry that NAD states suppresses the infrasonic noise inherent to vinyl playback without compromising bass performance. The C 399 also contains a low output impedance, high output (32-ohm) voltage headphone amplifier.
Then there's the C 399's optional features, which are accommodated via NAD's Modular Design Construction (MDC) technology. Now in its second generation, this technology enables the C 399 and certain other NAD components to receive updates and add features via periodically released, optional modules. The C 399 accepts up to two MDC2 modules on its rear-panel slots, although the only one currently available is the BluOS-D. (NAD says it plans to introduce a second MDC2 module, although it's mum on that module's timing and potential features.)
With the BluOS-D, the C 399 can access the internet via Ethernet or Wi-Fi and engage in two-way module/host communications. It enables features such as: internet-based music streaming via the BluOS app; multi-room streaming from BluOS-enabled source components (e.g., a CD transport); a choice of several versions of Dirac Live room-correction; aptX HD two-way Bluetooth that supports signal transmission of up to 24-bit/48kHz; and firmware updates via the internet.
When the BluOS-D is installed, signals received through the C 399's analog inputs are mostly converted into digital streams via a Texas Instruments PCM1863 24-bit/192kHz A/D converter. Each input's sampling rate can be set to 48, 96, or 192kHz. However, vinyl fans and other analog adherents aren't left out in the cold as A/D conversion can be bypassed, allowing for a purely analog signal path when using the C 399's internal phono stage. In A/D conversion bypass mode, multi-room streaming and Dirac Live room correction become unavailable.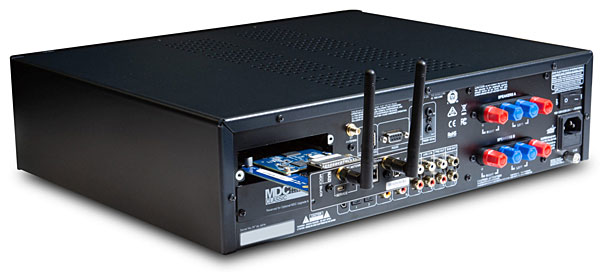 The BluOS app is supported on Android, iOS, and Kindle-based mobile devices and Windows and macOS computers. It provides access to music streaming services such as Amazon Music, Tidal, Spotify, Qobuz, and the Neil Young Archives, along with hundreds of internet radio stations. While the C 399's ESS Sabre DAC chipset doesn't process native DSD streams as configured, the app converts them into 24-bit/192kHz PCM FLAC files.
Additional connectivity options with BluOS-D include SMB (Samba), Apple AirPlay 2, Spotify Connect, and Tidal Connect. It also provides a USB type-A port for connecting an external drive.
When fitted with the BluOS-D module, the C 399 is Roon Ready and compatible with Amazon Alexa and Google Assistant voice control devices.
The app-based Dirac Live Limited Bandwidth (20Hz to 500Hz) room-correction that comes standard with the BluOS-D measures a listening room's acoustics using a supplied microphone. It then uses these measurements to apply a correction filter to the signal that compensates for the room's acoustic characteristics. NAD even makes available its own filter, developed with the help of Paul Barton from NAD sister-brand PSB Speakers, that creates a target EQ curve. The BluOS-D can store up to five Dirac profiles for different listening positions and room conditions (e.g., closed and opened drapes). You can also choose from three seating arrangements or imaging focuses: Tight (one listener/single chair or sofa), Normal (two or three-seat sofa), and Wide (multiple listeners/large listening area). A license for a full Dirac Live software version that corrects frequencies up to 20kHz costs an additional $99.
Moving to the C 399's exterior layout, we begin at its relatively stark front panel. From left to right, there's a standby/on button, a set of toggle-through menu navigation buttons, a ¼-inch headphone jack, a 3.5 x 1.2-inch LCD display, a pair of buttons that toggle through sources, and a volume control knob. During playback, the display shows title name (for streamed content), volume level, and source selection, and a moving progress bar indicates title playback progression.
The C 399's rear panel contains the MDC2 module slots, a Bluetooth antennae terminal, a unit reset button, and a USB Mini port for firmware updates. There are also RS-232 serial, IR, and 12v-trigger connectors to accommodate a myriad of third-party control and home-automation devices.