Anthem STR Integrated Amplifier Review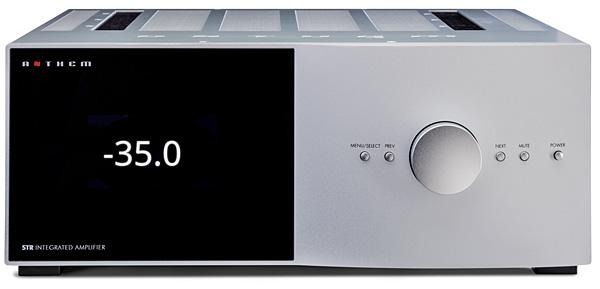 PRICE
$4,499
AT A GLANCE
Plus
Effective, easily configured room correction
Flexible bass-management
Powerful stereo amplifier
Extensive phono input settings
Minus
No built-in network streaming capability
THE VERDICT
ARC room correction on Anthem's STR integrated amp makes it a must-audition option for anyone putting together a high-performance stereo system.
Anthem AVM series preamplifier/processors have been part of my home theater toolkit going back as long as I can remember. Though they perform A/V switching, audio processing, and video upscaling as well as anything else on the market, the main feature I've come to depend on is the company's proprietary ARC (Anthem Room Correction), a Windows and iOS/Android app that lets you measure the effect of your listening environment on your speakers using either a calibrated microphone or the one built into your phone or tablet. The software then creates correction filters that you upload to the processor to eliminate problems caused by standing waves, reflections, and other room-based anomalies. ARC can be configured to cover the full audio band (the default setting is 5,000 Hz, though that can be pushed higher or lower during the measurement and setup process), but its most notable contribution is made at the low frequency range. For systems that include one or more subwoofers, the effects of ARC processing can be instantly heard and appreciated.
Details of Anthem's proprietary processing have already been covered in detail in numerous Sound & Vision reviews. What's new for ARC is an update to ARC-2 status and its appearance in stereo-only components like the company's STR preamplifier and STR integrated amplifier. At $4,499, the STR integrated doesn't come cheap. However, the combination of features it offers—ARC, of course, topping that list—makes it a compelling option for serious listeners on the hunt for a new integrated amp.
The STR integrated is by far the biggest integrated amp I've encountered—at 17 x 6.75 x 17.5 inches (W x H x D), I could barely fit it on my component rack. The main reason for the Anthem's oversize case is its beefy built-in class-AB amplifier, which is rated to deliver 2 x 200 watts into 8 ohms, 400 watts into 4 ohms, and 550 watts into 2 ohms.
One advantage to size here is that there's loads of real estate to support a large front-panel display. The black-and-white-and-red TFT-LCD screen shows current volume level at a size that can be easily seen from well across the room, along with source and signal format info and ARC status. It's also used for speaker setup and input configuration, which can be carried out via remote control or using the machined aluminum control buttons and volume knob on the Anthem's otherwise sparse front panel. Same as with Anthem's home theater preamp/processors, volume on the STR integrated can be adjusted in 0.5-dB increments.
Anthem's small but solid remote control is also made from machined aluminum and has a clean, simple layout. Buttons are provided to navigate setup and to call up an onscreen menu that allows for quick bass, treble, balance and subwoofer level adjustments. You also use it to navigate inputs, which are depicted in graphic form on the front-panel display.
Digital jacks on the STR Integrated's back panel include a pair each of coaxial and optical, AES/EBU, and an asynchronous USB DAC input that supports stereo PCM up to 32-bit/384 kHz and DSD up to 5.6 MHz. The DAC connection is plug-and-play for Macs; Windows users need to first download a USB driver from Anthem's website. A LAN port is also present, but it's strictly for ARC configuration and IP control, as opposed to network streaming from Tidal, Spotify, Pandora, etc., or from a DLNA server.
Analog inputs get serious consideration on Anthem's integrated. There are separate moving magnet and moving coil phono inputs, four stereo RCA inputs, and balanced XLR jacks, all of which can be configured to bypass the internal digital processing. While doing so means you won't be able to apply bass management or room-correction to those inputs, analog purists may be willing to make that sacrifice. (That said, the STR Integrated's flexible setup options allow you to have things both ways by configuring the same physical input with and without digital processing for quick comparisons.) Lastly, there's a pair of subwoofer output jacks labeled left and right; either one of these can be used for single-sub installations.
Setup
Once heaved out of the box and onto my rack, I started setup of the STR Integrated by connecting a Pioneer BDP-88FD universal disc player, Pro-Ject Debut turntable with Aurum Beta/S moving magnet cartridge, and Elac Discovery music server (while there's nothing wrong with connecting a computer directly to an integrated amp or preamp's USB input, I've become addicted to the convenience of app-controlled network streaming solutions like Roon). Next came a visit from Anthem's John Bagby, who gave me a walkthrough of the latest version of the software and configured a few inputs on the STR Integrated for corrected and non-corrected playback so I could evaluate the effects of ARC processing.
After living with the system for some weeks, I replaced the Totem Acoustic Sky standmount speakers and antiquated Mirage subwoofer I was using with GoldenEar Technology Triton Five towers and a new Paradigm Defiance V12 subwoofer (review in process). This meant I had to redo the ARC measurements, but that proved easy and quick. Basically, you set the included microphone stand and calibrated mic ear-level at the main listening position, connect the mic and the STR Integrated to your computer's USB ports (another option is to link the Anthem to your home's wired network using Cat5 cable, which I did), and then trigger a series of test tones that play through the individual left and right speakers and subwoofer(s). The same step gets repeated at multiple positions orbiting the main seat—you are free to measure up to ten, though Anthem says the required five minimum positions is plenty.