Anthem STR Integrated Amplifier Review Page 2
Once that's done, the ARC software calculates the correction curves and you then upload them to the STR Integrated. Beforehand, you have the opportunity to make software tweaks to items such as maximum EQ frequency (the default is 5 kHz, though I ended up lowering it to 500 Hz), room gain, crossover point, subwoofer high-pass order, and subwoofer high-pass frequency. (Another example of how the STR Integrated's flexible setup options come in handy: You can create up to four ARC profiles with separate settings—500 Hz maximum EQ, 5 kHz maximum EQ, etc.—and associate them with different unique input configurations to make comparisons.) You can also view onscreen graphs of the before and after frequency curves for the left and right channels and subwoofer, as well as create a PDF version for printing.
Beyond ARC, the Anthem's setup menu offers a wide range of customization options. You can create various speaker profiles (e.g., Stereo Plus Subwoofer, Stereo No Subwoofer, Mono). Inputs can be renamed and linked to a specific speaker profile, ARC status, and playback mode. The options get even more interesting for phono inputs. Along with all the other settings, vinylphiles get the choice to turn analog conversion on or off (when on, incoming signals are sampled at 32-bit/192kHz resolution), set phono EQ to various options other than the standard RIAA curve (Capitol, Columbia, or London LP, for example), and set the rumble filter frequency in 1-Hz steps. All of these options make the STR Integrated especially appealing for someone who routinely taps vinyl as a playback source.
Performance
I'm a big believer in the benefits of room correction. That's mostly because I'm lazy about tweaking—I want to place speakers in a room and have them automatically sound good. While ARC has been a mainstay in my home theater, the only serious room correction tech I've explored on my stereo rig is Trinnov's Optimizer, which is the primary feature of that company's $10,000 Amethyst preamplifier.
There are key differences between the Optimizer and ARC. For one, while ARC processing is based upon a "lab standard" target curve, the Optimizer provides a range of preset curves, and it also has editing mode where you can define your own curves based on subjective listening preferences. That said, I've mostly employed ARC to correct for room anomalies in the sub-500 Hz range where the processing has the most obvious audible benefits.
What are those benefits? When I switched between Pioneer disc player inputs with ARC on and off, for example, the standup bass on "Blues Dream" from Jazz guitarist Bill Frisell's album With Dave Holland and Elvin Jones tightened up considerably with ARC while still retaining impressive low-end extension. There was also a dramatic increase in definition and body, with Holland's instrument now sitting palpably in space.
Cleaning and tightening up bass might be ARC's most obvious contribution, but lower midrange and midrange clarity were affected in my setup as well. Listening to Mazzy Star's "California" from the Seasons Of Your Day CD, David Roback's strummed acoustic guitar had a full, fleshed-out quality, and Hope Sandoval's voice came through with all its cool, breathy detail intact. When an electric bass guitar joined in near the song's end, the low notes sounded powerful and clean, and were perfectly integrated with the other elements in the mix.
Along with the improvements in bass clarity and midrange detail brought by ARC, Anthem's integrated offered up more-than-ample power reserves. When I streamed a jazz track, "Good on the Ground" by the Vijay Iyer sextet (from Tidal via the Elac Discovery server), I heard a crisp rendering of the dynamic track's somewhat chaotic instrumentation. Iyer's piano tone sounded full and natural, and the blaring horns had an airy, effortless quality. What really grabbed me when listening to this song was the drums. A slamming solo around four minutes in had a dynamic, lifelike quality, and I could push the volume to near-uncomfortable levels without hearing strain. Checking another drum-driven track, "Sentient Oona," by California Psych-rockers The Oh Sees, I experienced the same sense of clean, unimpeded power, with the double-drummer onslaught sounding like it was in the room and wrapping around my head.
As I stated earlier, the Anthem's range of phono input set-up options make it a great choice for vinyl. Listening to a Kraftwerk cut, "The Telephone Call" from Electric Cafe, with the STR Integrated's analog-to-digital conversion, bass management, and ARC all enabled, the electronic kick drum had a tight envelope, and the explosive bass notes that punctuate the track displayed impressive power and extension. When I turned off digital processing and bass management for comparison, the sound was less dynamic, and definitely less appealing.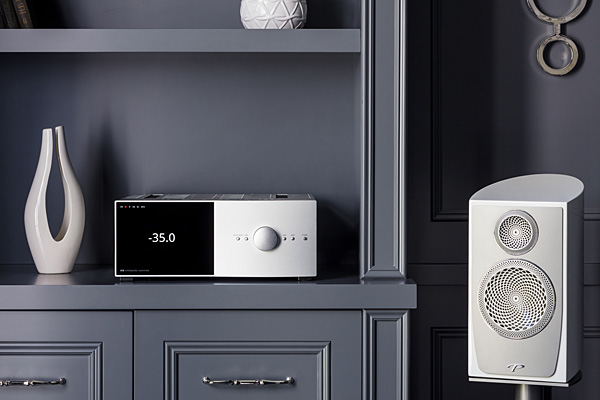 Better bass, yes, but analog absolutists may be wondering if the Anthem's digital-to-analog conversion was transparent. Listening to a more stripped-down track on LP, Ray Lamontagne's "Barfly," I heard no real difference in the song's cleanly recorded vocals and acoustic guitar when comparing the analog bypass and digital conversion input modes. The transparency of the processing was good enough for my ears, and I expect most other listeners will feel the same way.
Conclusion
Anthem's STR Integrated amplifier brings the benefits of the company's excellent ARC room correction processing to a stereo-only component. And not just any stereo-only component, but a powerful, feature-packed unit with a 200 watts-per-channel amp, a DSD-compatible DAC, and separate moving magnet and moving coil phono inputs. The only other features I could ask for would be network streaming capability and Roon Readiness, but those omissions are ones that a $35 Google Chromecast add-on device can fix.
Is the STR Integrated a good fit for everyone? At $4,499 the cost isn't entry-level, and the extensive setup and room correction features it provides make it best suited for tweaky types who enjoy digging in and making adjustments (and evaluating the effect of those adjustments, and then making further adjustments). That said, all of those features are optional—if you simply want to connect your speakers and sources and play music, the STR Integrated is as easy to use as any competing product, and its sound quality is fantastic. ARC in stereo was a long time coming, and I'm glad Anthem got around to making it happen.