NAD D 3045 Integrated Amplifier/DAC Review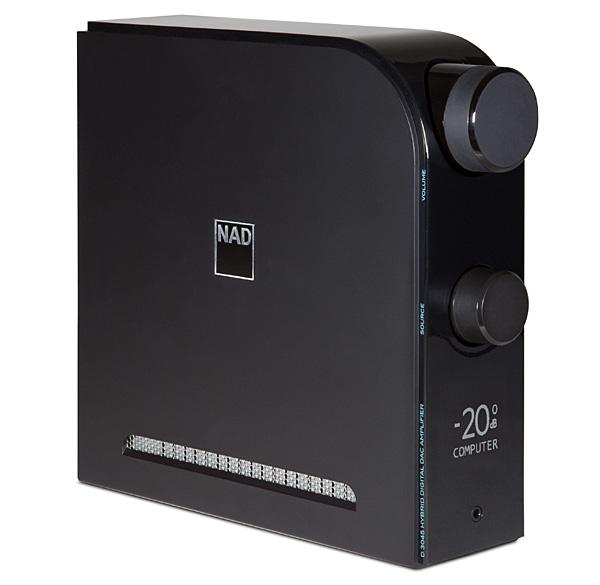 PRICE
$749 (was $699 at time of review)
AT A GLANCE
Plus
Impressive power and sonics from a sub-compact design
Dynamic enough to handle a wide range of speakers
Useful Bass EQ/subwoofer filter options
Minus
Digital conversion does not extend to 32-bit/384kHz
THE VERDICT
The D 3045 is a surprisingly powerful compact integrated amplifier with an eminently capable onboard DAC that's equally at home on the desktop or component rack.
Five years ago, when I examined NAD's $399 D 3020, the progenitor of the D 3045 before us here, I liked it—a lot. The D 3020 was among the first of what I've come to call DAC-lifiers: small-ish integrated amps with onboard digital-to-analog facilities intended for audio-streaming or computer sources and projecting at least some level of audiophile sophistication.
The D 3045 is very much like the D 3020—although its hard-plastic side/top-cover is a slight comedown from the earlier model's sexier, hard-rubberized surface. Bigger and more powerful—the new NAD is rated as producing 60 watts per channel compared with the earlier model's 30 watts—it's also more featured-packed, adding bi-directional aptX HD Bluetooth, an HDMI-ARC input, a moving-magnet phono input, and line-level preamp/subwoofer outs. Where I described the earlier model as being about the size of a Grape-Nuts box, the D 3045 is more in the Weetabix class, while retaining both the vertical-friendly form-factor and signature single-radiused corner of its predecessor. Like the earlier design, the D 3045 can be positioned vertically or horizontally, and it also retains the auto-position sensor that magically rotates its small display in the proper orientation however you choose to deploy it. (It looks better vertical, in my book.)
Volume and input-select knobs, along with a mini-jack headphone output, complete the front panel facilities. Around back are speaker outputs on solid multi-way posts, a pair of analog stereo inputs—one RCA-jack, the other a portable-friendly mini-jack—plus two optical and a coaxial digital input. Other connections include asynchronous USB digital, the above-mentioned HDMI-ARC port, and a 12-volt trigger input. (There's a USB type-A port, but it's just for firmware updates.)

Setup and Listening
The D 3045 is clearly aimed in part at the desktop audio market, so I elected to begin my listening that way, plunking the NAD down next to my iMac to supply USB digital audio, and connecting a mature, but still excellent, pair of 5-inch two-way speakers tilted well back on either side of the screen. This sort of near-field listening array has real advantages—mainly the demotion in importance of room reflections due to the proximity advantage of direct sound—as I was pleased to be reminded of upon firing up Tidal's Deutsche Grammophon Masters stream. (This is a single-movement feed, a practice I find objectionable in principle, but it's very convenient for "hot reads" of reliably good-to-excellent-sounding material.)
The new NAD is MQA-compatible, and the MQA logo dutifully lit up on its display whenever I played a Tidal Masters stream. (This is not the place to try to quantify the merits of MQA "fold/unfolding" other than to observe that the presence of the MQA logo, at least here in the early going, predicts better-sounding source recordings to some extent.) Thus, a high-res performance of Liszt's "transcendental" Grandes Études streamed via Tidal (Trifonov, DG) presented piano reproduction of the very highest order. The Mad Hungarian's blizzard of top-octave piano pings demands total clarity, transient agility, and audiophile "air" (for the overtones and resonances), all of which the little NAD integrated delivered in spades.
At the opposite end of the genre spectrum, the odd-shaped amp also impressed me with controlled reproduction and well-stamped drive when pounding out a reverential account of the Booker T. classic "Green Onions" by The Heartbreakers, an HDTracks hi-res download. The click and electronic whistle of Benmont Tench's Hammond organ was faithfully rendered, and so was the grit and spring-reverb wash of Mike Campbell's (channelling Steve Cropper) Telly sound —and all of it came across cleanly at any rational level I chose. At absurd volumes (on the plus side of the NAD's -90 to +10 dB readout), the sound became obviously flattened and band-passed, but overt clipping was hard to find.