Cambridge Audio Evo 150 Streaming Integrated Amplifier Review

PRICE
$3,000
AT A GLANCE
Plus
Excellent sound quality
Impressive power in a small package
Extensive feature set
Minus
So-so headphone preamp
Lacks room correction
Non-backlit remote
THE VERDICT
Cambridge Audio's feature-packed wireless network streamer/integrated amplifier offers substantial power and generally excellent performance at a reasonable price.
Now headquartered in London, English audio product manufacturer Cambridge Audio was founded in 1968 in the university city of the same name. The company's initial product was the walnut-trimmed 20 watts-per-channel (Wpc) P40 integrated amplifier. (Notably, the P40 was the first consumer audio amp to contain a toroidal transformer, a now de rigueur feature in high-end audio.)
In the fifty-plus years since the P40's introduction, Cambridge Audio has developed numerous advanced technologies, many of them proprietary ones. These include Crossover Displacement (XD) amplification, which is said to combine the performance of class-A operation with the efficiency of class-B; Adaptive Time Filtering (ATF), which upsamples most digital signals to 24-bit/384kHz resolution; and Balanced Mode Radiator speaker drivers, which use a single flat-panel transducer, thus eliminating the need for a dedicated tweeter.
Cambridge's Audio's latest offering is the Evo 150 "All in One Player" (for our purposes, we'll call it a streaming integrated amplifier), which contains an on-board amplifier, wired/wireless music streamer, headphone amp, and phono stage. Sporting walnut side chassis panels, the 150 derives its aesthetic inspiration from, you guessed it, the original P40 integrated amp. Though at the risk of getting ahead of things, the 150 comes with a second set of side panels. Black with modern, sculpted undulations, these panels are made of an innovative material made of recycled paper called Richlite and can be installed via magnets to give the 150 a more high-tech look.
Features
The Evo 150 is a small but powerful one-box audio solution for a family room, bedroom, or living room. It's big brother to Cambridge Audio's Evo 75 network music player ($2,250) and a cousin to the Evo S bookshelf speakers ($750 per pair) and the forthcoming Evo CD transport. The company states that these products will work together seamlessly as an integrated audio solution.
"Evo" in Evo 150 is short for Evolution, while the "150" derives from the unit's internal NCore class-D amplifier, which is rated at 150Wpc. Many of the 150's competitors contain amps rated at between 40-100 Wpc, so 150 watts is a significant advantage. Digital conversion within the Evo 150 is handled by an ESS Sabre ES9018K2M DAC chipset, which processes PCM signals up to 32-bit/384kHz and DSD signals up to 11.2Mhz (DSD 256).
The Evo 150's chassis is constructed of black anodized aluminum. On the front panel is an oversized (6.8-inch), color LCD display that shows album cover art and other media playback data. To the display's right is a column of rectangular control buttons, each accompanied by an illuminated icon identifying its function: play/ pause, track skip, speaker or headphone output, and standby/ power on. A large dual-concentric (i.e., dual function) dial with smaller and larger knobs to adjust volume and input selection, respectively, is also provided, along with a 3.5mm headphone output.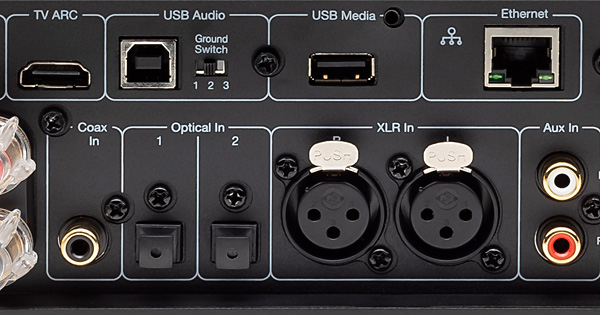 Rear panel digital inputs include HDMI-ARC, optical and coaxial digital jacks, and an asynchronous USB type-B port for a direct computer hookup. (When using a Windows PC that doesn't have Cambridge Audio's USB drivers installed, the USB type-B port processes signals up to 24-bit/192kHz PCM. Installing the drivers, which is not required for Mac computers, ups the resolution support to 32-bit/384kHz and DSD 256.) Both stereo balanced XLR and RCA analog inputs are provided, along with a moving magnet phono input. Lastly, there's a proprietary connector for the company's upcoming EVO CD transport.
Outputs on the Evo 150 include analog stereo RCA jacks for an external amplifier or powered speakers, a subwoofer output, and zone A and B speaker terminals. There's also an Ethernet port for a wired network connection; a USB type-A port for local storage; a switch to select from three electrical grounding levels; a trigger input and output; and an RS-232C port to integrate the 150 with an advanced home control system.
The Evo 150 is equipped with Cambridge Audio's Stream-Magic platform, which lets you stream Spotify, Tidal, Qobuz, and internet radio using the company's StreamMagic app for setup and control. Wireless streaming functionality consists of Wi-Fi, AirPlay 2, Chromecast built-in, and two-way aptX HD Bluetooth. The 150 is also Roon Ready and fully "unfolds" MQA files used to stream high-res audio over Tidal, for instance. Although both the front panel control dial and StreamMagic app can be used to change inputs, the app is required for functions like turning off or dimming the display, accessing tone controls, and enabling Bluetooth and AirPlay 2. And while the 150's most music services can be controlled via the front panel buttons, the app makes them easier to explore.
An attractive and well- designed black remote control also comes with the Evo 150. Buttons on its aluminum face repeat those on amp's front panel, and it can also be used to control the company's forthcoming Evo CD transport.