NAD Masters M33 Streaming Integrated Amplifier Review

PRICE
$4,999
AT A GLANCE
Plus
Reference-quality power and D-to-A conversion
Excellent on-board phono section
Onboard Dirac Live room correction
Minus
Coarse "app" volume control steps
No USB type-B port for computer connection
Occasionally wonky AirPlay 2 streaming
THE VERDICT
The M33 combines state-of-the- art sound, power, and broad functionality in an elegantly conceived package.
Boy, has NAD come a long way. Back in 1978, the Canadian/ American/Euro multinational's first product was an unassuming but great-sounding little 20-watt integrated amplifier in a plain gray sheetmetal box, with controls that had all the sophisticated feel of a Kenner Easy-Bake Oven.
By way of contrast, NAD's new Masters Series M33 is, quite simply, a work of art. Machined-billet side and top panels, "floating" black fascia, a 7-inch color touchscreen that's pure sex, and a single rotary control whose action feels like stroking a mink: if the M33 did nothing but light up, I'd want one.
But the M33 does more—lots more. NAD's "BluOS Streaming DAC Amplifier" embodies a concept that is rapidly supplanting stereo integrated-amplifiers and receivers. The amplifier part here is engineered via Danish source Purifi's new "Eigentakt" modules, a superbly efficient class-D variant enjoying a reputation as one of the best-performing (and "best- sounding") power-amp topologies available today. (According to NAD, Eigentakt translates to "self-clock" which refers to the self-oscillation principle the amp is based on.) The M33's digital-to-analog conversion travels on ESS Sabre silicon, which has an equivalently lofty rep on the digital side. And the streaming is enabled via NAD's own BluOS, a multiroom platform that integrates music streaming services with internet radio plus access to a local music library via your home's Wi-Fi (or wired) network. And the icing on the M33 cake is onboard Dirac Live DSP room correction.
Features
The M33's rear panel includes both USB type-A and Ethernet ports (the USB jack is also where the Dirac Live setup mic goes, via a supplied dongle), but no USB type-B port for wired connection of a computer for direct playback. I understand the absence—you can stream the same content via your wireless or wired home network, so why would you want to demote the M33 to passive DAC/amp status? Still, I wouldn't mind having one.
RS-232 serial, IR, and 12v-trigger facilities enable a universe of control and home-automation integrations, and NAD touts the M33 as fully compatible with Alexa, Google Assistant, and the rest of the voice-activated gang—a feature that I, being emphatically smart home-averse, ignored. A Bridge Mode switch enables the M33 to be transformed into a single- channel amplifier of truly menacing proportions: 700 watts into 8 ohms. (NAD has so far not introduced an obvious Masters Series companion, so unless you're really into mono, file this under "for future reference.") And there is a very nice array of inputs and outputs, several of which deserve further mention.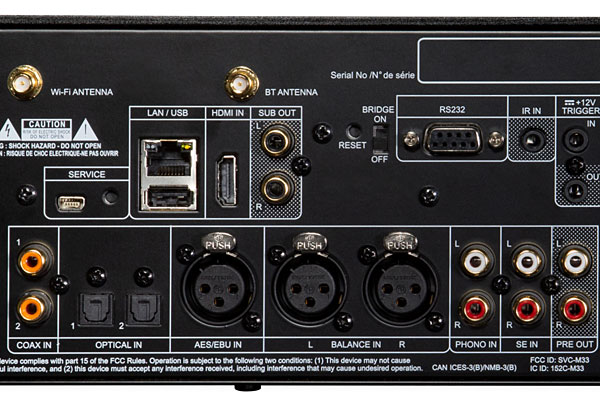 Intriguingly, the M33 has two subwoofer outputs, and these are not the usual simple paralleled pair. Dirac Live can address a dual-sub system, tailoring its correction to two discretely located subwoofers. (Lacking a dual-sub setup I did not plumb this, but it's an alluring extra layer to Dirac's powers in the most susceptible octaves.) Next comes a single HDMI ARC port, which opens the NAD up to easy integration with a TV. Other digital inputs include two each optical and coaxial, plus a single AES/EBU. There's one balanced XLR analog stereo input, an RCA analog stereo input, and a moving magnet/moving coil phono input that I briefly auditioned via my occasional- use Rega/Ortofon deck. I'm not a big vinyl-head, but NAD's phono sections have historically been excellent, and for the M33's they claim accurate RIAA EQ, effective infrasonic filtering, and generous overload margin, all of which I count as good things. (I heard nothing to suggest otherwise.)
NAD also claims good stuff (higher output voltage, low output impedance) for the M33's front-panel headphone output. I tried this by auditioning all three of my "serious" cans, which span the impedance range from medium-low to medium-high, with excellent results and ample volume from even the lowest-sensitivity set.
Lastly, there's a pre-out pair, in case you prefer another, different outboard power amplifier to the M33's onboard Purifi amp. That said, if you do, you're probably kidding yourself since the Purifi Eigentakt modules the M33 employs are state-of-the- art in terms of power, efficiency, dynamic-range, and just about every other parameter you can think of. Two sets of heavy-grade speaker outputs are present, though these are not speaker A/B outputs but always-on parallel connections, presumably for bi-wiring.
The M33 comes with an impressively heavy, beautifully finished remote control that's packed with buttons, most of them relevant to A/V receivers and such but not to the M33. About the only reason to use this instead of an iOS or Android app is that its volume control advances by 0.5-dB steps, whereas portable devices—my iPhone, anyway—are enabled only for 2-dB steps: too coarse for serious listening. Bluetooth worked fine from my iPhone (though not the higher-res aptX HD codec, which the M33 supports, but my phone sadly lacks). There's lots more, including auto on/off, A/V-syncing, and front-panel display options. (I did not discover a "power-amp-in" option that would enable the M33 to work as a fixed-level main-L/R amp in a home theater bypass setup, but might have missed it.)
I'd be remiss if I failed to mention the M33's two MDC (Modular Design Construction) slots, concealed by two rear-panel blanking plates. This is NAD's proprietary expansion standard for plug-in upgrades containing...what? 96-bit/768kHz converters? Aural holograph generators? Dirac Four-Dimensional correction? The mind boggles. (For the power-crazed, a second pair of bridgeable Purifi channels might make sense, though.)
Setup
After disentombing the M33 from NAD's elaborate protective packaging, I plunked it on top of my rack, twirled on the two little Bluetooth antennas, and plugged in the banana-terminated cables from my loudspeakers. Done.
That was it, and to at least some extent, that's the whole idea since the M33 is meant as a one-box, high-end-audiophile solution. "Just Add Speakers!" is NAD's rubric. Hook up a pair of suitably high-resolution loud- speakers, be they bookshelf or floorstanding, and you will have achieved a level of playback that hobbyists spend untold hours and uncounted dollars to evolve.