BEEM D200 Headphones with Lightning Jack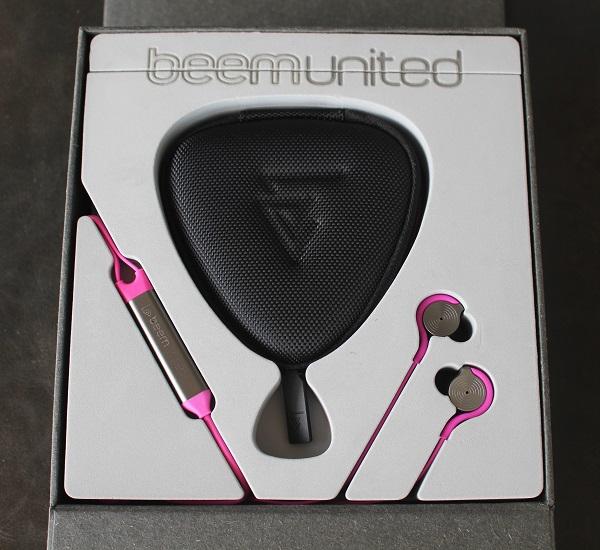 When Apple chose to remove the headphone jack from their latest iPhones, many people (myself included) freaked out. Would I forever be forced into listening to a downgraded Bluetooth signal? Luckily, BEEM United came quickly to the rescue with the BeMe D200 wired headphone with a Lightning jack.
The BeMe D200 is the flagship headphone from Beem United. In addition to the Lightning jack, it uses an iPhone app that lets users control not just the EQ of their music, but also the amount of Active Noise Cancellation. Once the settings are selected, a button on the wired remote lets users turn on and off the ANC without having to access the app. The app lets you choose between adjusting the iPhone's internal EQ or the EQ presets supplied by BEEM.
The BeMe D200 is the newest model, retailing for $169, but there is also the BeMe D100 (MSRP: $129) launching later this spring that has the same playback characteristics but it only has the EQ app - it lacks ANC. Both use high-quality beefy cables that I found to resist cable-movement noise and also kept them from tangling. There is an LED on each earphone, and honestly, I can't figure out why. It's on the portion that is hidden from sight, and will ever-so-slightly reduce battery life of the iPhone.
The D200 comes with a carrying case and a small pouch with an assortment of eartip sizes and a clip for securing the cable. The headphone is available in a variety of vivid colors. Yes, mine is Rebel Purple.
The BeMe D200 uses a completely digital connection via the Lightning jack that supports up to 24-bit/48kHz. I would have loved to see support for higher-res files, but until Apple steps up their game, this will do.
Features aside, how does the D200 sound? Quite nice, actually. The frequency response of the headphone is 20Hz - 20kHz. Using the BEEM EQ app to boost 32Hz didn't really do much. In fact, I found a missed opportunity within that app. It's a 10-band parametric EQ, with low-end frequencies of 32Hz, 64Hz, 125Hz and 250Hz. I would have preferred that they left out the 32Hz and added something around 100 Hz. I should also mention that you can also start with their presets for Dance, Pop and Classical and customize them to your personal preferences. I evaluated them in the flat EQ setting. The bass is natural and accurate, but lacks a bit of impact. Again, I would have liked to have been able to add a boost around 100 Hz. The high-end was smooth, with only a touch of harshness in female vocals. I was able to get rid of a little of this by using the EQ app to remove a few dB at 4kHz.
I also played around with the ANC settings. I really liked that BEEM lets users select the amount of noise cancellation to increase awareness around the listener. As a cyclist, I can't tell you the number of times I come up on a walker or jogger wearing headphones who are startled as I pass because they had their headphones on and couldn't hear my call as I approached. This feature is a nice safety option, and I was also able to adjust it so I could have a conversation without shouting at the other person.
The BEEM BeMe D200 is the first headphone I've tried with the Lightning connector. Not the fault of the headphone, but I was a bit pissed when the battery on my iPod Touch died and I couldn't charge and listen at the same time. (Sure, I know I could buy accessories to allow that, but for my Touch, it's an added expense for a music player I don't use daily.) I couldn't help but think that the LED light on the D200 was draining my battery unnecessarily, even though I know LED lights are so efficient. That is a tiny fault with the headphone, and its sound and features outweigh that negative. With good sound playback performance, the correct audio jack, and the built-in ANC and EQ controls, the BeMe D200 is a no-brainer.