Beats by Dr. Dre Solo2 Headphones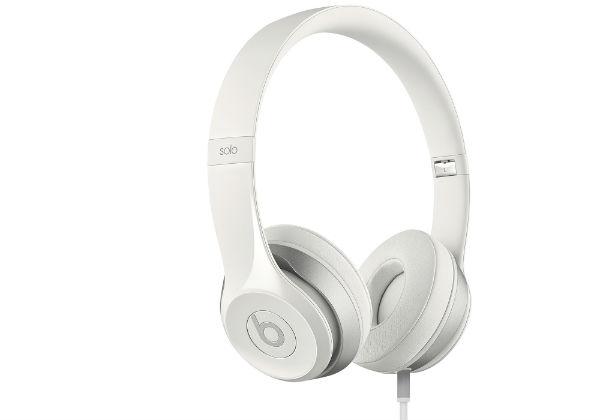 On the heels of Apple's buyout of Beats, it's unfair to expect Beats to suddenly stop production of anything that isn't Apple white. The newly designed Beats by Dr. Dre Solo2 headphone actually comes in a rainbow of colors, including, umm, white. This is a revision of the original Solo headphone. While I was unboxing, I wondered, did Beats dial back the pounding bass that plagued the first generation of their headphone lineup?
The Solo2 headphone has a collapsible folding design and it fits nicely into its compact soft carrying case. I would prefer a hard-shell case to protect this somewhat pricey (MSRP $200) headphone. That being said, the hard plastic band and cups feel almost indestructible. The removable cable has an in-line remote that's compatible with iOS (whew!) hardware. The cable is color-coordinated with the headphone—on the black headphone with red logo, the cable is red with black plugs and remote. The cable has a sturdy, tangle-free feel. For some reason, a carabiner is included.
The new headphone looks similar to the original Solo, but with marked improvements. They are lightweight, tipping the scales at just over 7 ounces. There are no visible screws—nothing to get tangled in long hair. Its on-ear design has more flexible swivelling earcups that is intended to provide a secure, yet comfortable fit. How comfortable? While better than the original, the Solo2 is still very snug. And the earcups themselves have a softer feel, and the supple material is seamless, increasing the overall comfort, with a material that's said to be less heat-retaining.
At least on my cranium, they felt great at first, but an extended listening session—over three hours—proved to be too much for me. For a long cross-country flight, a few breaks would be welcome. There is some padding on the headband, but again, after a few hours, it felt too firm. You could argue that the tight fit provides better noise isolation; the Solo2 is not a noise-cancelling headphone and the snugness helps keep out ambient sounds. But, I think most people would prefer a more comfortable fit.
Given the reputation of pretty much all of the first-generation Beats headphones, I was dying to hear how they sounded. As promised in the press hype, the bass has been tamed. It's not entirely docile, but it's not the overbearing beast it used to be in predecessors. Beats claims that this is a more balanced headphone, and it is. I listened to Michael Jackson's "Do You Know Where Your Children Are" from the high-res album Xscape. This song features a heavy bass track, and the Solo2 handled every bit of it deftly. It's powerful, with massive attack and impact, but the boominess has been pulled back—it's almost controlled. There is also a very pleasant detailed sound in the midrange. This song has lush male background chorus, and they remain detailed even though there are many other instruments layered on top of them in the choruses.
However, while some older Beats headphones suffered from an anemic treble response, they might have overcompensated in the Solo2. This high-end has a slightly brash quality to it—it's not unpleasant, but it's not ideal on mixes with plenty of sparkle. I checked it out with Shakira and Rihanna's "Can't Remember to Forget You." Both ladies sound very bright—not sibilant at all, but a touch harsh, and the electric guitars just a bit too bright too.
The Solo2 is the next step you would expect from Beats. With Apple now looking over their shoulder, a more balanced, controlled headphone is more mainstream. The Solo2 pulls back the bass, and adds a crisp, clear high-end in a revised design. I doubt that Apple had any say in this new design, but it's clear they should approve of this work product from their newest acquisition.