Baywatch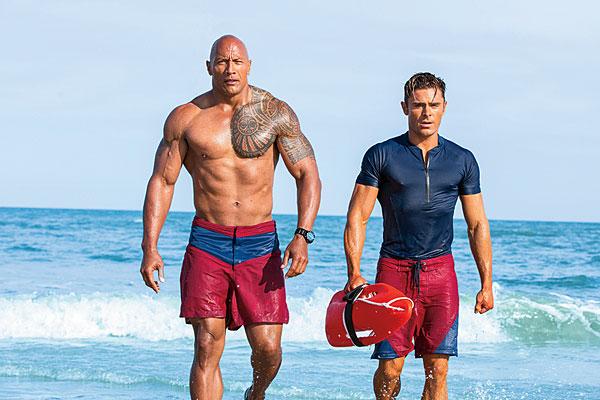 While I certainly know of the TV show Baywatch, I doubt if I've seen more than five minutes of it through the years. I went into this with extremely low expectations, but being a fan of Dwayne Johnson led me to keep an open mind. Surprisingly, the first act grabbed me, doing a decent job of setting up an entertaining yet woefully unrealistic story. The cast plays it straight, and Johnson has enough chutzpah to carry the movie on his own. His interactions with Zac Efron offer up some of the best lines, and while the film won't win any Oscars, it did make me laugh a lot.
The film was originally shot in 3.2K on Arri Alexa XT cameras and finished in 2K for its theatrical run, so what you get is an upscaled 4K UHD Blu-ray. I suspect as time goes on, this practice will end and we'll get more native 4K treatments, but in the meantime I don't have a lot to complain about in regards to this specific presentation. There's a slight uptick in detail over the fabulous-looking Blu-ray, but it's the color palette that really makes this HDR-enabled disc shine. Primaries are deeper and more luscious—especially reds—and the bright highlights from the sun definitely add some luster. The Dolby Atmos track is just as impressive, with ample use of the LFE channel, especially with the soundtrack, and the height speakers offer occasional discrete effects that fully envelop the room. The third act features a lot of action, so buckle up and enjoy the experience.
The 4K disc offers the movie only, so all the supplements are housed on the included standard-def Blu-ray. These include three behind-the-scenes featurettes focusing on the lifeguards, the legacy of the TV show, and a look at the stunts. There are also 10 minutes of deleted/extended scenes and an UltraViolet Digital Copy.
Blu-Ray
Studio: Paramount, 2017
Aspect Ratio: 2.39:1
Audio Format: Dolby Atmos / True HD 7.1 core
Length: 121 mins.
MPAA Rating: R
Director: Seth Gordon
Starring: Dwayne Johnson, Zac Efron, Alexandra Daddario
A dangerous crime wave hits the beach as legendary Lt. Mitch Buchannon leads his squad of lifeguards on a mission to prove you don't have to wear a badge to save the day—despite being told to keep away from the trouble by both the police and his boss. Along for the ride are a trio of new recruits including former Olympian Matt Brody, who made the cut because of the positive PR he will bring to the team. To find the mastermind, the team must break some rules, go undercover, and put their careers in jeopardy to keep the beach safe from nefarious business interests.

SPONSORED VIDEO