Soundbars on a Budget Yamaha YAS-106
Yamaha YAS-106
PRICE $199
AT A GLANCE
Plus
Clear dialogue and music
Dedicated sub output
HDMI passthrough
Outstanding value
Minus
Restricted soundstage typical of soundbars
Limited bass output
Ineffective faux surround
THE VERDICT
For $199, Yamaha's new entry-level bar delivers way better sound on movies and music than its price implies.
Yamaha is best known for "sound projector" soundbars that spread virtual point sources about the room. But their conventional bars have a rep for solid performance at low cost, and the new YAS-106, an update to the YAS-105, carries that forward. This is a two-channel bar—2.1-channel, if you count its pair of built-in 3-inch drivers as a "subwoofer." Laid flat, the 35-inch-wide unit stands a touch over 2 inches tall and has a pair of forward-firing 1-inch dome tweeters situated at either end. These are accompanied by a pair of upfiring 2.125-inch woofers, and the pair of upfiring 3-inch subwoofers, which enjoy some assistance from side-firing ports. Also on top are controls and indicator lights to identify listening modes and gauge volume changes; you can dim them or turn them off. If you wall-mount the YAS-106, the woofers will be firing forward and the tweeters down; the bar automatically detects the orientation and adjusts the sound accordingly. While not a heavyweight, the bar's plastic construction is solid, and the black fabric-wrapped grille gives it simple elegance.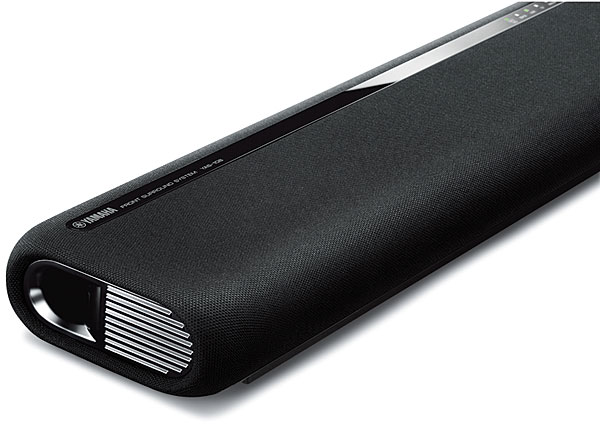 HDMI inputs are a nice feature at this price; there's one each HDMI in and out (with ARC on board), and they pass 4K up to 2160p/60 (HDMI 2.0a with HDCP 2.2) as well as 3D. Add to this digital optical and 3.5mm analog stereo connections and Bluetooth (no aptX) and a line-level subwoofer output. The HDMI connection facilitates HDMI-CEC to allow a TV's remote control to switch inputs and adjust volume on the bar, but there's no other facility to teach the bar IR commands from an existing remote.
The compact remote supplied with the YAS-106 features real buttons (rather than oft-used blister buttons) and is well designed and unintimidating. Direct input buttons are on top, and two large buttons select Surround or Stereo processing. (The unit has onboard decoding of both Dolby Digital and DTS signals, the lossy variety, to best retain signal quality from set-top boxes and disc players.) Whether with music or movies, Stereo provided a fairly narrow image up front with no real depth to speak of, but also the most natural timbre. Surround spread things a bit wider and deeper, but not without adding a touch of unnatural reverb to vocals or dialogue that slightly marred their clarity. The Yamaha Home Theater app for iOS/Android added a dedicated Music Surround profile and a TV mode to the default Movie Surround mode that comes up with the hard button on the remote. These added even more reverb and were less desirable to my ear. With program material, I often found myself returning to Stereo mode.
Large rockers for volume and subwoofer level (the latter affecting both the integrated sub and the subwoofer output) are near the bottom; dedicated bass and treble controls are available only in the app. Other features include a Clear Voice button to boost dialogue and a Bass Extension button that seemed to just crank the upper bass. Still, in my room, the test tones suggested noticeable output to about 60 Hz or so—not bad for a relatively small bar with no outboard sub. But the bulk of the bass output seemed focused around 100 Hz.
Music
Listening to a range of tight-up vocals revealed very quickly that the YAS-106 was a capable and relatively balanced reproducer that delivered clear, unveiled mids and highs without ever sounding overly etched and fatiguing. A well-recorded pop track, such as John Mayer's "Gravity," from the Continuum album, brought out all the inherent detail in his voice and the tapped cymbal that opens the song. Not surprisingly, the dynamic kick-drum thwacks that also help open this track, while present, weren't terribly low, nor loud, and they lacked the transient impact I hear on full-range systems. Diana Krall, in "I Remember You" from The Look of Love, sounded sumptuous, with all her expected husky depth and the sweet woodwind accompaniment appropriately carpeting the background as it comes in. The occasional ding of a triangle emerged from the generally flat soundstage, though just barely, to float above the rest.
This theme repeated with a variety of other jazz tracks as well, including my go-to audiophile classic, "Take the A Train" by Bill Berry and His Ellington All Stars. Instruments like the piano, coronet, and brushed cymbal were naturally reproduced, but with a less prominent string bass line, less impactful dynamics generally, and a squeezed soundstage compared with what I know. The bar played reasonably loud, though, hitting a sustained 80 decibels or so in my room with pink noise, and the system limits gracefully as it's pushed.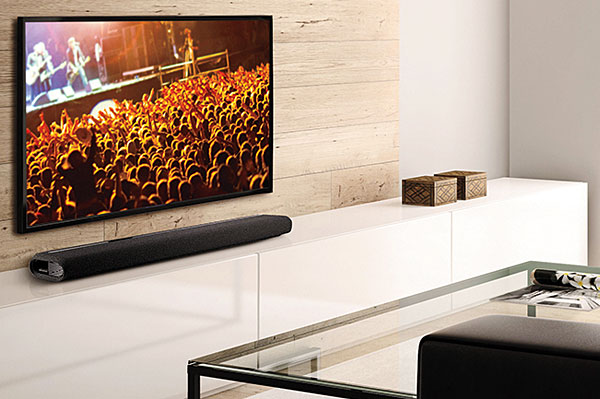 Movies
The YAS-106's vocal transparency was a blessing for movie watching, and I never needed to tap the Clear Voice button on the remote. In Chapter 1 of Mad Max: Fury Road, cult leader Immortan Joe addresses his disciples through a PA system from his perch atop a tall red-rock canyon. The long echoes can obscure his dialogue on some systems, but his words were easily discernible on the Yamaha. Ditto for the hushed whispers of Madame Jeanne in Chapter 8 of Hugo and the anguished cry of Georges Méilès as he sees the artist sketches that constitute his life's work scattered about the floor of his bedroom. The YAS-106 also lushly rendered Hugo's sensitive Howard Shore musical score, though it did little with the surround effects in this or any other movie. Even in Surround mode, it merely spread the front stage a bit but never enough to reach the side walls. And the prominent deep-bass rumble of engines that's almost a character unto itself in Max was obviously lost here. That said, temporarily hooking up an Elac S10EQ 10-inch powered sub to the bar's subwoofer output solved that last problem and added a whole 'nother dimension to action-movie watching.
Conclusion
In the final analysis, the YAS-106 is an essentially honest and musical soundbar that never offended and which, given its price, made fair and appropriate compromises in bass reproduction, dynamics, and soundstaging. At just $199, it struck me as a decidedly good value and a great choice for a down-and-dirty, easy-to-install one-piece system.