Baetis Audio Revolution II Media Server Page 2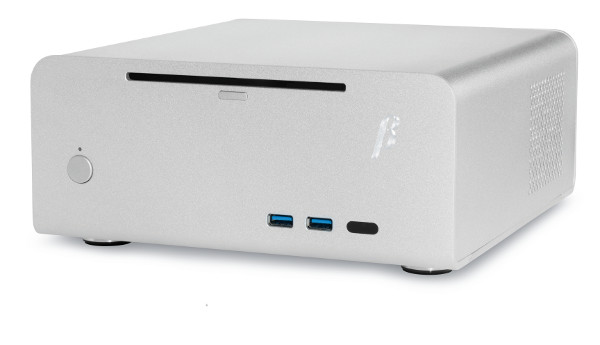 While Baetis recommends using a wireless mouse for interaction with the Revolution II and the JRiver playback software, I found JRiver's iOS app perfect for what I needed to do. A simple pairing was done and I had my entire music and movie collection at the touch of my finger. This makes the whole experience feel more like using a standard consumer product rather than a computer. Sure, you still have to use the standard mouse and keyboard at times for adding media, but once all is in place you can do pretty much everything from the companion app and a tablet.
Sweet, Sweet Sounds
I spent quite a bit of time with the Revolution II in my system. As I mentioned before, Baetis was nice enough to lend me a very high end DAC, the Alpha from Berkeley Audio Design. The two truly were a match made in heaven, and I was blown away by how musical this system was. The only downside was that using this configuration bypassed the bass management crossover network in my Anthem, so I was using it as a pure two-channel listening system with no sub. I am a firm believer in using standalone subs to compliment your mains, regardless of how "full range" they may be, but luckily, I have pretty full range speakers (the Legacy Audio Focus SE), so bass was not an issue with the majority of music I listened to.
And boy, did I listen to a lot. I have a pretty substantial collection of high resolution PCM and DSD files, and with the easy access the JRiver app provided, bouncing around from track to track and genre to genre was a real delight. I consider my reference audio system to be quite good, with spectacular resolution, detail and depth, but the Baetis combined with the Alpha DAC did take fine detail and spatial resolution to another level. Granted, at this level of audio playback "another level" isn't orders of magnitude higher, but it certainly was noticeable in material I've become intimately familiar with. I spanned a lot of my music library from staples like Diana Krall, Nils Lofgren, Steely Dan, and Pink Floyd to more mainstream material like Beck, Nine Inch Nails, and Daft Punk. I loved the freedom of jumping between multiple formats as the Baetis had no limitations with file types. My library has FLAC, WAV, AIFF, DSF, DFF and even some MP3s, and I never ran into a single issue. It essentially made file types a moot point.
Beatis also sets up different playback modes in the computer's memory to accommodate the type of content you're playing. These are set up before shipment and include not only the settings for JRiver, but also determine what output to use (with the decision based on preserving quality). For example, one memory setting was for multi-channel music, which used the HDMI output, while the other was a stereo mix-down output for multi-channel files that they recommend you play via their BNC output to ensure the best possible performance. There was also one for movie playback that uses the JRiver software for decoding the audio bitstream to PCM and upsampling it. All of the presets delivered on the promise of the best possible sound; this was the best I've heard my system sound to date.
After I settled in with the product I decided to do some comparisons with my own components. Mainly I wanted to compare the quality of playback from the Revolution II to my Oppo BDP-105, which also offers network or hard drive attached media playback for all of the formats that the Revolution II supports. Piping both directly into my Anthem Statement D2V ensured that both were on equal footing and I used the SPDIF output of both for music and the HDMI outputs for multi-channel playback of music and movies. I'm not gonna lie, the Oppo is an amazing piece and held its own. The differences here were subtle while using my Anthem as the DAC, but I would still give the nod to the Baetis overall. When you start getting into higher and higher end audio products, the subtle differences are really what you're paying for, and I could hear that the Baetis resolved a bit more in fine audio details. Whether this difference is worth the delta in price point is a personal decision, but I did feel that the Revolution II was delivering a slightly more refined audio presentation.
In the case of video comparisons, the pendulum swung the other way, with the Oppo coming out on top. The Oppo offers quite a bit more video setup flexibility and its onboard video decoding did a better job with some of my tests than the JRiver playback software. The video out of the Revolution II was still quite good and better than most Blu-ray players I've tested, but the Oppo remains my reference piece for video playback. Baetis does make another higher end PC called the XR2, which utilizes a higher quality graphics card and is advertised as a reference level audio and video PC but I doubt anyone would be disappointed with the Revolution II for movie playback.
Another area that can't be overlooked is the user interface. Thankfully Baetis does most of the work with its preloaded software and easy to read directions. I could easily see some people initially getting lost in the JRiver playback software without help, as I didn't find it overly intuitive. But the JRiver remote app solved most of my issues with day-to-day use, and it was a far more polished piece of software than the Oppo iOS app I use for controlling media with my Oppo
I Can't Believe I'm A PC
At the end of it all I came away immensely impressed with the Revolution II. This is a product that I normally would have ignored completely, as I typically find PC playback cumbersome, especially when it comes to adding media and organizing it. But Baetis did a fantastic job of setting up everything before you even get the Revolution II, and their user guide couldn't be easier to follow. Once I got through the process of adding media once, I didn't need to fall back on the guide again, which speaks volumes about the simplicity of the process.
But the key selling point of the Revolution II is the sound, which was utterly spectacular no matter what I threw at it. I absolutely love my Oppo BDP-105, but the Baetis took things up a notch—and that's really what chasing the best high end audio playback is all about, no matter how subtle those improvements may be. If you're looking for a solution that gives you instant access to both movies and music, and delivers audiophile level playback for all of it, the Revolution II should be on the top of your very short list.