Avalon NP Evolution 1.0 Speaker System
Rocky Mountain high.
One of my formative experiences as an audiophile was a visit to Michael Hobson's showroom in a New York Soho loft. This was before Mike started Classic Records. He was selling Avalon loudspeakers and Jeff Rowland Design Group amps and preamps. How well I recall the floorstanding Avalon Ascent, fed via Cardas cables by two Rowland Model Ones operating as monoblocks. Hobson put on the adagio from Beethoven's Emperor Concerto performed by Rudolf Serkin. I went on to buy the amp and collect all of Serkin's Beethoven piano concerto recordings.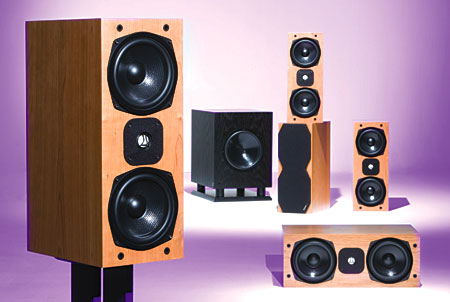 But I didn't buy the Avalons. Not that they weren't good. In fact, I later reviewed them. They were among the best speakers I'd ever heard, and they mated beautifully with the Rowlands. They were just too big and heavy for my listening room. When you live in a Manhattan apartment, you develop a keen understanding for the way big objects make a room feel smaller. And as a reviewer, I need reference speakers that are easy to move out of the way. But reviewing surround gear has given me a new lease on life—and an opportunity to audition a set of slimmed-down Avalons that are perfect for my room. Meet the Avalon NP Evolution Series.
The Rectangle and the Hourglass
Avalon Acoustics is a Colorado-based company. All of its operations, including manufacturing, are based in the United States.
The monitor-size NP Evolution 1.0 and NP Evolution Center are identical in size and shape, except that the center is designed for horizontal use. The enclosures are constructed with 0.75-inch-thick medium-density fiberboard. Both use a woofer-tweeter-woofer configuration that helps reduce floor and ceiling reflections when you use the speaker vertically. When you use it horizontally, however, it can cause lobing, or uneven midrange response throughout the listening area. If you'd prefer to buy a matched set of five to seven identical NP Evolution 1.0s, Avalon sells the speakers in single units. There's also a floorstanding NP Evolution 2.0, not reviewed here.
Unlike the geometrically complex floorstanders for which Avalon is best known, the NP Evolution Series is a group of conventional rectangular solids. But they do sport some touches of Avalon style. The grilles are hourglass shaped, and Avalon recommends that you keep them on. Beneath them, the cage that protects the tweeter is shaped like the letter A, a cute touch. The only available finish is cherry, although Avalon may add others later.
The tweeter dome is a composite of ceramic and another material Avalon refuses to name for competitive reasons. Avalon told me it uses "new materials not typically associated with drivers." The woofer cones are Nomex, a tough, woven material developed by DuPont that's similar to Kevlar. Felt surrounds both the 1-inch tweeter and the 5.25-inch woofers to reduce cabinet edge diffraction.
On the back is a type of binding post I've never seen before, made by Cardas. The contacts are two metal nubbins separated by a vertical plastic divider. Presumably, the divider's purpose is to keep unruly cable tips from meeting and causing short circuits. A clamp—with a large, knurled knob that's easy to grab and twist—binds the cables to the speaker. The terminals have no perforations to accept banana plugs, but they are compatible with spade lugs or bare wire tips. I put aside my banana reference cables and used an old set of THX-certified Monster ribbon cables with bare wire. Although this initially worried me, the connection was quite secure once I tightened the clamp.
The NP Evolution Subwoofer has two drivers on opposite sides of the enclosure. It floats over a plinth with 2 inches of space that allows the downward-firing ports to breathe. Avalon provides both XLR and RCA inputs and outputs. And there are two adjustable filters, low and high pass.
Associated gear included a Rotel RSX-1065 A/V receiver, which was entirely worthy of the Avalons; an Integra DPS-10.5 universal disc player, Pioneer BDP-HD1 Blu-ray player, Rega Planar 25 turntable, Shure V97xE cartridge, and NAD PP-1 phono preamp. I set the sub crossover at 60 hertz—lower than my usual 80 Hz—after I read the sub manual's recommendation of 50 to 75 Hz. Presumably, Avalon made this recommendation with the NP Evolution Series in mind.
Grilles, Off or On?
Avalon recommends between 100 and 300 hours of break-in and was kind enough to accomplish this before sending the speakers. I spent a weekend listening to the Avalons with the grilles yet to be installed (before I read the manual's recommendation to put them on). I got an overall impression of unforced clarity, with a slightly aggressive top end that subsequently disappeared once the grilles were in place.
So it was no surprise that the musical interludes of August Rush (DVD) were stunning, even in plain old Dolby Digital 5.1. The opening scene with wind, birds, and insects was extremely immersive. Snatches of guitar—inspired by the percussive-harmonic approach of the late Michael Hedges—got maximum tone color and overtone structure out of the Gibson acoustic, which practically deserved billing as a costar of the film. A collage of NYC sounds, though deliberately orchestrated, sounded quite realistic—and I live with the real thing every day. Despite the hokey plot, the speakers and soundtrack combined to make this movie constantly involving.
I got to appreciate the lower sub crossover in Gone Baby Gone (DVD), also in Dolby Digital 5.1. With the speakers handling a larger share of upper bass, various percussion and synth tones seemed to integrate better into the mix. They were deep, true, and didn't call attention to themselves. Quiet moments, like the very distant whisper of traffic in a leafy suburban backyard, worked effectively. And vocal reproduction sounded way above average—no straining to hear, no volume adjustments, just a strong engagement in the story, the way I like it.
Surprisingly, the one letdown was the uncompressed PCM soundtrack of Underdog on Blu-ray. It was lackluster, clumsily equalized, and had little depth. Given substandard material, the Avalons weren't ruthless, but they were truthful, with no false varnishing of a drab reality.
Endless Surprises
Telarc's ongoing SACD releases continue to provide my best demo material. The disc entitled Bolero includes Ravel's work of that name with others by Borodin, Bizet, and Albeniz, all themed to sunny Mediterranean climes—another crowd-pleasing multichannel feast from Erich Kunzel and the Cincinnati Pops. The strings were neither sweetened nor astringent, although I heard a little more bowing detail than usual. The solo reed and brass instruments that accompanied the buildup of "Bolero" had a beautifully dynamic decay.
The self-titled debut LP of Crosby, Stills & Nash, played in stereo, was a mixed bag. I thought the acoustic lead guitar on Steven Stills' epic "Suite: Judy Blue Eyes" sounded a little hot for comfort. But the high-harmony vocals—this group's strong suit, of course—blended well and were not shrill. David Crosby's gently chiming "Guinnevere" came through more effectively than I've ever heard before, a tribute to what Avalon's low-level resolution could get out of this relatively quiet and introspective track. Graham Nash's "Lady of the Island," in its beautiful sparseness, could be audiophile-quality demo material at a trade show.
Modern Jazz Giants brings Miles Davis together with Thelonious Monk on piano, Milt Jackson on vibes, and the ace rhythm section of Percy Heath and Kenny Clarke. I wouldn't say the CD sounded better or worse than usual, but it sure did sound different. The Avalons precisely honed in on the studio-induced echo that surrounds Davis' trumpet, strongly haloing the metallic component of its sound, as opposed to the breathy or airy part. This wasn't an exaggerated treble at work—just a degree of resolution that probably wasn't available to the legendary Rudy Van Gelder when he engineered the recording.
By the end of my listening sessions, the Avalons revealed several highly positive traits. They revealed endless surprises in familiar recordings while usually maintaining a high comfort level. They prospered in both stereo and surround, which is always the mark of a good speaker. When I shut down the sub, the NP Evolution
1.0 worked surprisingly well as a full-range speaker, rarely dropping the bottom end of a bass line. The sub itself was a fine performer. Running it at 60 Hz and below refined the home theater experience in a way I'd love to experience again when I run across another set of speakers with good low-frequency response. In a subjective sense, these speakers made me feel like listening to music, allowing a wide range of emotional response. Altogether, a great set of speakers.
Highlights
A home theater–oriented product from a two-channel maestro
Speakers have enough bass to run at a lower-than-usual crossover frequency
Detailed, revealing, surprising