AudioControl Announces New AV Receivers, Processors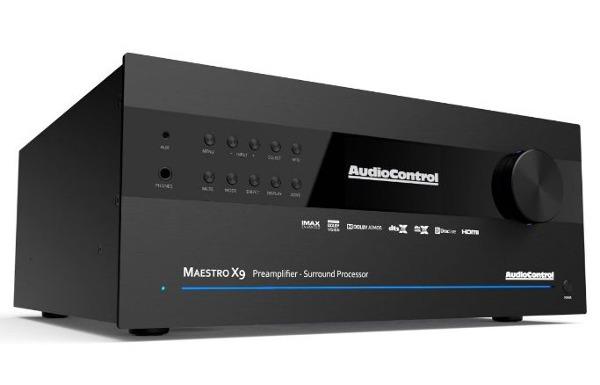 AudioControl today announced that it will unveil three AV receivers and two AV processors at the
2019 CEDIA Expo
, which opens tomorrow in Denver.
The new Maestro Series X9 and X7 processors and Concert Series XR-8, XR-6, and XR-4 receivers are slated to ship before the end of the year.
Full details were not available but the Maestro X9 ($9,600) and Maestro X7 ($6,600) are app-controllable 16-channel AV preamp/processors featuring balanced outputs that can be configured for 9.1.6 immersive surround setups. Both incorporate Dolby Atmos, Auro 3D, DTS:X, IMAX Enhanced processing and provide seven HDMI 2.0b inputs for high dynamic range (HDR)/4K playback in addition to Dirac Live automated room correction/bass management and high-performance ESS Sabre digital-to-analog converters (DACs).
The X8 and X7 both support Google Cast and Apple's Wi-Fi based Airplay 2 streaming platform in addition to aptX-enabled Bluetooth streaming.
The new Concert Series receivers boast six user-configurable outputs that can be used as height channels or for additional subwoofers and support Dolby Atmos and DTS:X surround processing as well as Dirac Live room correction. The XR-8 and XR-6 bring Auro 3D immersive surround processing into the mix.
The XR-8 ($6,600) can be configured for 9.1.6-channel immersive surround and is built around a high-current Class H amp section rated to deliver 7 x 200 watts into 4 ohms.
The XR-6 ($4,600) also supports 9.1.6-channel surround setups but has a Class AB amp section rated to deliver 7 x 100 watts into 8 ohms.
The XR-4 ($3,600) supports setups with up to 7.1-channels and has a Class AB amp section rated to deliver 60 watts per channel into 8 ohms.
All of the receivers can be controlled via an app and configured via web-based software in addition to supporting HDMI 2.0b, Google Cast, AirPlay 2, and streaming via aptX/Bluetooth.
All of the new processors and AV receivers sport a new industrial design.
For more information, visit audiocontrol.com.