Arcam AVR500 A/V Receiver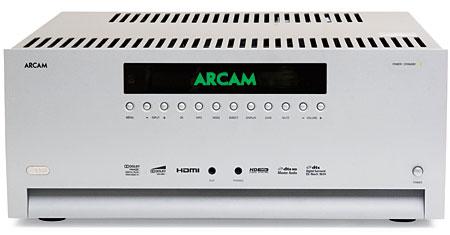 Price
: $3,499
At A Glance
: Less powerful version of AVR600 • Omits network/IP functionality and some legacy inputs • HDMI 1.3 connectivity excludes 3D
Paring Down to Essentials
In this economically tough climate, we all have to trim expenses to the essentials. Just this week, I instructed my manservant to take my suits to the dry cleaner only if they've been worn for more than three hours. My nightly meals at five-star restaurants will be cut back to six nights a week at 4.5-star restaurants. During the summer, I'll raise the thermostat in my 25-room summer house from 70 to 71 degrees (unless I'm actually there). The pilot of my personal jet will have to cut back the monthly Caspian Sea caviar run to every other month. And no more caviar for the pool boy.
In the spirit of the times, Arcam has introduced a new and more affordable A/V receiver. The world-beating AVR600 will remain in the line at $4,999. But the new AVR500 will cost just $3,499 thanks to its shrewdly pared-down feature set. Here, finally, is an A/V receiver for all the little people, the roiling masses, the great unwashed, those who eat at McDonald's and shop at Old Navy, listeners whose iPods are previous generations, users of Windows PCs, the coupon clip- pers, the people who attach little slivers of almost-used-up soap to new bars of soap, those who clean their own toilets, the less than physically perfect, parents of public-school students, the ones whom my gated community is designed to keep out.
Amp and Connectivity Changes
The AVR500 is available in black or silver, the latter more of a pleasant pale gray. Eagle-eyed readers will note that the rated power has dropped from 120 to 100 watts times seven, although it's still specified with all channels driven. The older model's Class G rail-switching amplifier topology has given way to Class AB with one set of rails. However, as my contact said, the power amp module is essentially the same. It has the same transistors and four-layer boards, albeit with a simpler transformer and a little less power. It still operates in "a form of Class A up to 20 watts into 8 ohms without having to have the full levels of standing current you would normally associate with Class A."
Arcam has reduced the connectivity in mostly trifling ways, although it hasn't touched HDMI at all. The AVR500 continues to include five HDMI inputs and two outputs. Please note that they are HDMI version 1.3, not 1.4, so this AVR is not 3D capable. The HDMI board is modular, which allows the possibility of a future upgrade. Arcam isn't making any promises about that, though.
Component video has been reduced from five inputs to three. S-video and composite video have been significantly cut from eight inputs to two. But really, how many legacy junk components does your system need? There continue to be four optical and three coaxial digital audio inputs, but the outputs have been eliminated altogether. Analog stereo inputs have been reduced from ten to seven. There are no multichannel preamp outputs. The number of sub-outs has dropped from three to two, which is still one more than most manufacturers provide. Say goodbye to the moving-magnet phono input and satellite radio. Perhaps the most significant cuts for the 21st-century listener are the network card with Ethernet and USB inputs and the Internet radio card. You can add these back as extra-cost options.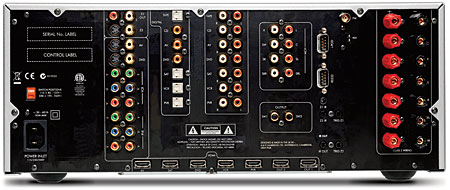 One thing Arcam wisely chose to keep is Dolby Volume, which has two basic functions. It evens out master volume levels among different sources, and it can reduce the soft-to-loud extremes of movie soundtracks. You don't need to keep fiddling with the volume to keep dialogue high enough and aggressive effects low enough. With 10 levels of adjustment, you can use as much or as little Dolby Volume as you want.
The Pixelworks video processing and proprietary auto setup and room correction are also still on board. The interface is still nearly monochrome, with fairly small characters. I'm not crazy about the remote, especially its volume keys, which are too tiny, poorly placed, and identified only by a cryptic legend as well as faint plus and minus symbols on the keys themselves. Perhaps custom installers will use the remote's shortcomings to sell consumers a more deluxe and user-friendly remote or touchscreen solution.
Associated gear included five Paradigm Reference Studio 20 v4 speakers running full range, OPPO BDP-83SE universal disc player, Rega Planar 25 turntable (the Luxman isn't feeling well), Shure V97xE poor man's audiophile phono cartridge, and Bellari VP530 tube phono preamp. All movie selections were Blu-ray Discs with DTS-HD Master Audio soundtracks.
High Times
In the first few moments of High Crimes, I quickly learned how much power this AVR could deliver, even with its reduced power rating. I started out with a master volume setting of 50 out of 99 increments and quickly backed off to 47. The story—with Ashley Judd and Morgan Freeman as two lawyers trying to prevent a mis- carriage of justice in military court—is well written, beautifully acted, and grippingly directed. Quiet all-channel effects were highly effective, including an outdoor scene with wraparound insect life. In a scene with mod- erate street noise, it wasn't the wrap that was striking—the sur- rounds were actually used too sparingly—but the density of the noise, especially its low-frequency component. Breaking billiard balls also had a surprisingly lifelike impact. Like its predecessor, this AVR delivered just about the best bass I've heard when an AVR has driven my speakers full range. It also offered rich textures in a duet between trumpet and piano. The whole experience reminded me of how awesome my speakers can sound with the best amplification they can get from an A/V receiver.