Arcam AVR500 A/V Receiver Page 2
Wrong Turn is the original movie in a franchise that features rustic mutant cannibals preying on unwary motorists who stray into the backwoods of West Virginia (apologies to West Virginians). Its soundtrack—generously supplied with loud, sudden noises—is aggressive enough that it needed another reduction in master volume. Now the AVR was playing sufficiently loud and retaining perfectly intelligible dialogue. My impressions were much the same as they were with the previous movie. A head clubbed in the right surround channel had a good thwack. I could just about visualize the sound department clubbing a melon with a baseball bat. Birds twittered envelopingly. When the score repeatedly invoked threatening trumpet bleats in the middle of the movie, stepping up the terror level, the brass was sweet yet vivid. I had a good time.
The Ugly Truth pairs off Katherine Heigl and Gerard Butler in a predictable but entertaining feminist/chauvinist romance. Sample dialogue: "I only slept with the one who could read." The soundtrack veers back and forth between naturalism and artificiality. Voices got a greater-than-average measure of ambi- ence, but the massed-vocal noise at a ballgame was all too obviously constructed. That's one of the perils (or pleasures) of using an AVR that's capable of the highest resolution. You get more of a sense of how things were pieced together, whether you want it or not. The highlight was a nightclub scene that starts out sounding less than realistic but transcends this so-so start with the sudden intervention of an ambience-fattened Latin bass line. It provides a startling you-are-there feeling. The AVR made all of these distinctions effortlessly.
Premium SACD
SACD is alive and well in a continuing flow of great releases from small labels. Case in point: Concerto: Concertos for Keyboard, a multichannel hybrid disc of three Poulenc keyboard concertos from Oehms Classics. Although it was written for larger forces, the works are here arranged for two pianos, organ, and percussion; harpsichord, organ, and per- cussion; and organ, strings, and tympani. Performers include Hansjörg Albrecht, Yaara Tal, Andreas Groethuysen, Peter Kofler, Babette Haag, and the Bach Collegium München. This is high-resolution recording at its best: detailed but not cartoonish, spatially vivid, texturally sumptuous, with lots of shadings, and more transparent than any CD or LP I've ever heard. The balancing of multiple keyboard instruments in each work is exquisite. For instance, in the work with harpsichord, organ, and percussion, the organ never overwhelms the harpsichord. Never was the harpsichord reduced to an impotent tinkle. Even at low volumes, I could easily apprehend plectrums gently plucking metal strings, a cascade of tiny sensations forming larger melodic patterns. In the work with string orchestra, recorded in the great-sounding Munich Gasteig, the massed strings had discernible bowing friction as well as a woodiness I associate with well-recorded solo violin. Yet they weren't etched—they had a plan- gent beauty that captivated me.
I was the first to cut the shrink wrap on Good Stuff, an SACD by Europe-based American blues- man Eric Bibb and his Swedish backing band Needed Time, after it had languished in the Home Theater studio apparently since its release in 1998. Now an out-of-print collector's item, it was the first of Bibb's 16 albums. And it's a beauty, recorded live in the studio "with nothing added or subtracted," as the liner notes assert. Bibb wields his graceful tenor on mostly original songs with little ornamentation or affectation, accompanied only by his acoustic guitar on a few tracks, with further backup on most others. The band's contributions are often understated and always tasteful. The recording is 4.0, with the center and sub channels silent and the surrounds sparingly used. The action invariably hovers around the two front speakers in a kind of glorified stereo. Despite the lack of a center channel, the Arcam imaged the voice in all of its subtle and dignified beauty. Instruments, shorn of heavy digital echo, had a pleasing vinyl-like warmth. I know that in the previous paragraph, I just voiced a preference for SACD (under ideal circumstances) over vinyl. But I'm talking about vinyl as a feeling, not as a guarantor of quality. I am large; I contain multitudes.
Bursting at the Seams, on LP, shows the Strawbs at their folk-rockingest and contains two U.K. hit singles: "Lay Down" by bandleader Dave Cousins and the ironic anthem "Part of the Union" by the soon-to-depart Richard Hudson and John Ford. Then-new lead guitarist Dave Lambert adds an electric edge, further thickened on some tracks by Robert Kirby's orchestrations. With a dense and somewhat claustrophobic mix, the result is more like a comfortable overstuffed armchair than true audiophile material. Still, the Arcam conjured its crowd-pleasing, jangly sweetness and prevented the guitars and harmony vocals from getting too edgy.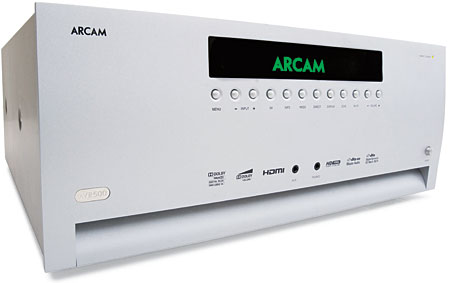 With the AVR500, Arcam continues to defend its small but significant niche as a true audiophile A/V receiver manufacturer. While this step-down model is less powerful than the incredibly beefy AVR600, it's still got enough power to drive reasonably sensitive speakers without breaking a sweat, with especially noteworthy and gratifying bass response. Its midrange can't be faulted, and its high-frequency response tells no lies. This is a superbly balanced AVR. With network features omitted (unless you pay extra), this product will appeal more to tradi- tional disc-spinning listeners than to those who prefer networked audio. If it's performance you want, this English AVR is like French champagne and Russian caviar: the real thing.