Arcam AVR400 A/V Receiver Page 2
Associated gear included the aforementioned Paradigm speakers and an OPPO BDP-83SE universal disc player. All movie demos were Blu-ray Discs.
From Liverpool to Thailand
Nowhere Boy is the acclaimed dramatization of John Lennon's early life. It has a DTS-HD Master Audio soundtrack that adroitly mixes dialogue and music. The orchestral score's strings were warm and realistic, a cut above the bland treatment of most AVRs. In general, I liked the way the Arcam set me free from the usual dichotomy of detailed and harsh versus vague and nonfatiguing. It relayed movie soundtracks in a way most AVRs don't, applying the values that make music sound good and tend to separate the run of the mill from the high end. I don't want to oversell it: It wasn't revelatory. But it was a pleasure to listen to.
Stone, in Dolby TrueHD, is the story of a prison psychologist, played by Robert De Niro, who's manipulated by a prisoner played by Ed Norton. These masterful performances are accompanied by a minimum of showy effects, letting the Arcam show off its musically inclined treatment of dialogue, as if De Niro's and Norton's voices were fine instruments, which is, in fact, how they're used here.
Ong Bak 3 is the final installment of a Thai martial arts trilogy starring and directed by Tony Jaa. I liked that it places as much emphasis on spiritual evolution as it does on the kickboxing scenes. However, the DTS-HD Master Audio soundtrack is shrill and abrasive. The Arcam doesn't have any kind of re-EQ mode, but it does offer bass and treble adjustments, so I tried something I've never done in the course of a review: I applied a draconian 6-decibel treble cut. Bass effects were also on the heavy side, and engaging the room EQ didn't help much. In any case, the treble adjustment allowed the AVR's naturally sweet midrange to reassert itself, leaving me immersed in the movie's rural/spiritual visions and action scenes. I restored the treble control to its center setting before I moved on to the music demos.
From High-Rez to Low-Fi
Eventually, my supply of vintage SACDs will run out, but it hasn't happened yet. Jay McShann's What a Wonderful World is mere stereo, not multichannel, so I made my usual comparisons between the original two channels and the 5.1-channel Dolby Pro Logic II Music mode. Arcam's Mode menu—another helpful top-menu item—facilitated the process by giving me a chance to knock out all of the unused modes (the DPLII movie and game modes, DTS Neo:6, etc.).
So by pressing the remote's Mode button, I could switch back and forth between the only two modes I care about without endless cycling. Anticlimax: They both sounded good. McShann's Kansas City blues vocals were warmly human, and his piano a little bland, per the recording. The high-resolution medium made itself known in subtle ways, such as the soft but true metallic sheen of cymbals.
Handel's Organ Concertos Vol. 3 includes numbers 7, 9, 10, and 12. PentaTone's multichannel SACD presents the 1975 recording in its original configuration of four channels, although the AVR bass-managed frequencies below 80 Hz, sending them to the sub. While I've previously referred to the Arcam's warm voicing, it didn't restrict the fully developed high frequencies of Daniel Chorzempa's organ or Concerto Amsterdam's strings. Some organ registers were warm and mild, while others were more trebly and acidic, as though I were listening to two different instruments or recordings. The Arcam made these strong distinctions effortlessly.
To use Arcam's network audio functions, I plugged in the long Ethernet cable that reaches from my router to my rack. In seconds, a bubble popped up on my PC monitor, asking me to authorize media sharing. To choose network audio sources, I pressed the remote's iPod button, which cycled among Internet radio, USB, and PC. Network receivers can be a trifle buggy when they navigate my magpie music library, but the Arcam was commendably free from weird surprises—there were no anomalies that I couldn't account for by the metadata.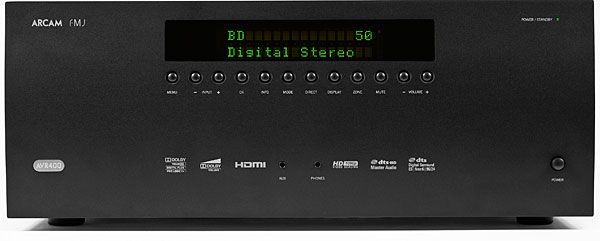 Some desultory surfing through the contents of my PC's hard drive took me through an MP3'd FM broadcast by the Portland Cello Project, the new Blackfield album, and finally The Complete Stax-Volt Singles 1959–1968, whose nine discs of hits I have been diligently exploring. I couldn't help noting the contrast between the golden tone of music optimized for AM radio versus the digital death rattle of music optimized for earbuds. Of course, I was listening to music files, MP3 encoded at 320 kilobits per second, but the signature Stax-Volt sound was intact. The converted Memphis movie theater that served as the label's hit factory routinely turned out far more listenable sound (even in mono) than today's hit makers obtain with their profusion of often-abused digital options.
The Arcam AVR400 is a worthy addition to an A/V receiver line that already includes two sonic overachievers. Truth to tell, if you're spending four figures for an AVR and your speakers are even a little bit demanding, you'd be better off going all the way with the swooningly gorgeous-sounding AVR600, whose railswitching design can operate with a wider range of speaker impedances and sensitivities. But the AVR400 bears a strong family resemblance to its older siblings in terms of voicing, and if your speakers are reasonably sensitive, you might not need the extra power. Wellimplemented network audio features are also a big plus. Yup, this is a high-end AVR, and yup, it's worth $2,499.