Apple TV 2 Page 2
Like the previous Apple TV model, the ATV2's main feature is streaming movies from iTunes. Unlike its predecessor, which let you purchase and store content, the ATV2 only provides single-view rentals. Newer HD movies are $4.99 each, and some older films cost as little as $1.99. SD movies can cost as little as 99 cents. The HD stream is 720p with Dolby Digital 5.1 audio. In its present form, the Apple TV isn't compatible with 1080p streaming as the Roku XDS is (Home Theater, March 2010). I'm confident that Apple will have a 1080p solution at some point, although you may have to replace this model entirely if a firmware upgrade isn't possible. Unfortunately, Apple's corporate policy is to never discuss anything about future products or projected firmware updates.
It's extremely easy to choose a movie in iTunes. The Apple TV groups rows upon rows of movie icons into various subcategories for each genre. Click an icon, and a movie synopsis appears, along with cast and director info. It also includes ratings from other iTunes users, a Rotten Tomatoes grade, and the movie trailer. To watch it, click Rent. For movie trailer fanatics like me, there's a specific menu for current and recent trailers.
To rent movies or access content from the iTunes store, you'll need an Apple ID or iTunes. If you have any Apple product, you'll already have this ID for purchasing iOS (iPod/iPad/iPhone) apps and logging into your MobileMe account. You'll only need to enter it once using the onscreen virtual keyboard.
When Apple announced the ATV2, it made a big deal about 99-cent rentals for TV episodes. However, only a handful of studios got behind the pricing structure. Disney, which includes ABC, came on board first, along with 20th Century Fox, ABC, BBC, NBA, PBS, Smithsonian, and a few smaller networks. Even then, not all of their content is available. For instance, I like Fox's Fringe, but episodes aren't available in iTunes. It's been several months since the ATV2 started shipping, and at press time, no other studios had joined on, which makes for sparse offerings.
The ATV2 also streams Netflix movies, using a unified user interface that looks much like the iTunes store. You'll have to go to your account via a Web browser to activate the Apple TV, but after that, you can browse, instantly stream movies, or place them in your Instant Queue to view later from the ATV2 or any other device you've authorized for Netflix streaming. So, you can use the ATV2 to pick your movies, then watch them on the go from a mobile device.
Want to check out the latest viral video? Search for it on YouTube. The Apple TV keeps a history of all the videos you've viewed, much like a browser's history. Oddly, unlike the previous Apple TV model, there's no way to save favorites. However, that's not necessarily a big miss, thanks to AirPlay, which I'll explain later.
There are literally thousands of podcasts, both video and audio. These let you delve deeply into your personal interests, be it tech, learning another language, news, photography, whatever. It's a fun space to browse and explore, although the video quality can vary dramatically. You can save your favorites and receive notification of how many new posts have been made to a particular podcast.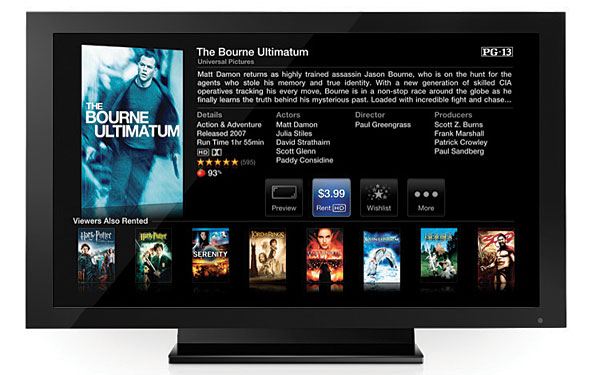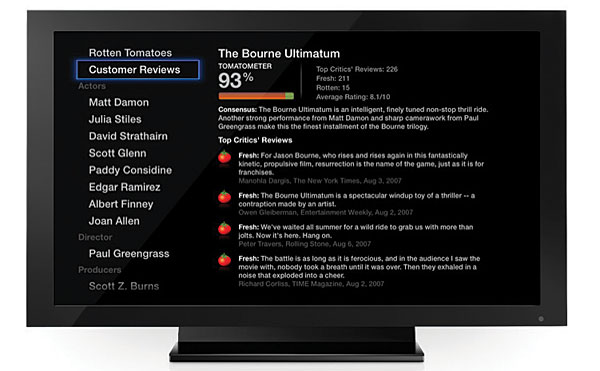 If you post your pictures on Flickr or Apple's MobileMe galleries, you can easily access them on your Apple TV. You can also browse through thousands of Internet radio stations and save your favorites for easy retrieval. I would have liked the stations to be grouped into subcategories. For instance, when I browse World stations, it would be helpful if the stations were grouped by country. There are no premium subscription-based services such as Pandora or Sirius, although there is a solution for this with AirPlay.
Operation
The slim, lightweight aluminum remote makes it easy to navigate the Apple TV's menus. There's a ring at the top of the remote with a recessed button in the center. Your thumb will quickly develop tactile memory using the round ring to navigate up, down, left, and right. Hold the button down, and it will continue to go in the direction you've selected until you lift up. Click the center button to select.
There are two more buttons. The lower left, also intended for easy identification, is the back button, although it's marked Menu. Continually press this button to go back a screen at a time. Hold it for a second, and it will immediately go back to the main menu. If you want to go forward a screen, click the right arrow. The bottom right button is for play/pause.
LATEST VIDEO