Apple TV 2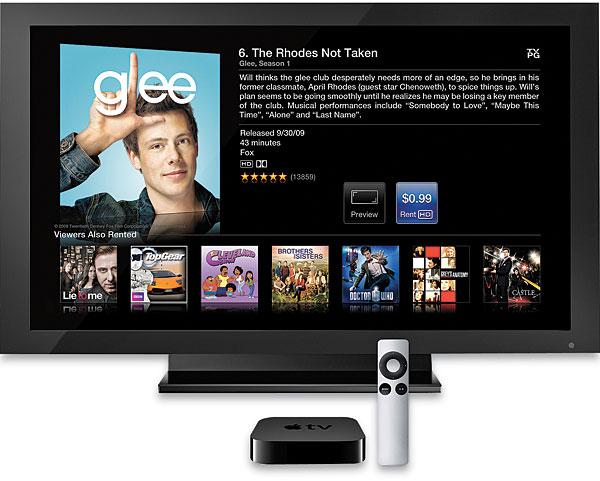 Price:
$99
At A Glance: Rent iTunes movies and TV shows • Stream Netflix content • View pictures galleries on Flickr and MobileMe • Extends Apple ecosystem with AirPlay
Getting content from our computers to the home's main entertainment hub is like the Holy Grail. Some manufacturers have achieved it for a high price; others have achieved it poorly for a reasonable price. In the Apple ecosystem, Apple TV has allowed simple, inexpensive iTunes integration for years. The original model required you to sync with your computer but, the latest Apple TV (ATV2)—which is less than half the size of its predecessor—only streams content. You can easily stream whatever you have on your computer in the way of movies (created or ripped), photos and music to your A/V system over a wired or wireless network.
Aside from simplified iTunes integration with your computer (Mac or PC), Apple TV lets you rent and stream movies from its iTunes store or Netflix, using your existing account. You can also access your Flickr or MobileMe (an Apple Web and e-mail service) photo galleries. There are thousands of audio and video podcasts that you can access to your heart's content, and you can stream music from hundreds of Internet radio stations from around the world.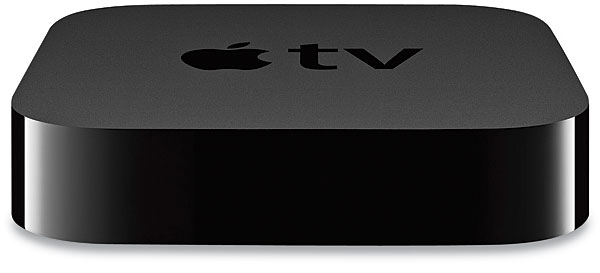 Innovative and striking industrial design has always been a hallmark of Apple products, and the new Apple TV is no exception. In fact, it's a bit of a marvel given its diminutive size, which is slightly larger than a hockey puck with rounded square corners. It comes with a sleek aluminum remote with a total of four buttons for fast, simple navigation.
Setup
Setup couldn't be simpler, assuming that all of your components use HDMI. Just connect the Apple TV's HDMI output to your A/V receiver or surround processor. Then give the unit some power, and it turns on automatically. There's an optical digital audio output but no analog audio or video connections for legacy A/V products.
The Apple TV has a removable AC power cord and a built-in power supply. This gives me a new respect for Apple's engineers, since units two or three times the size of the Apple TV are saddled with large external power supplies (wall warts). If you're using a wired LAN network, Apple provides an Ethernet port. The ATV2 automatically detects whether you're using a wired or wireless connection and sets the appropriate configuration. Just select the name of your network (and type in your password if it's secure) in the ATV2's Network menu, and you're ready to go. Less than five minutes after I pulled it out of the box, I was streaming content from my computer.

Within that five-minute window, I set up the ATV2 to detect my computer. Be sure you're upgraded to iTunes version 10.1 or later. The ATV2 generates a four-digit code that you enter into iTunes. You'll also have to turn on Home Sharing in iTunes. In the same menu, you can Choose Photos to Share. The ATV2 automatically detects iPhoto and Aperture on Mac computers, and you can choose the entire library or designated albums. You can also choose a specific folder on your hard drive, which works well for PCs, too. The ATV2 menu will now display the name of the library you're accessing; you can also access more than one computer.
Other key settings let you choose the photos for your screen saver (when ATV2 is resting) and establish parental controls.
Featured Content
One of Apple's greatest assets is its highly intuitive and refined user interface (UI). The Apple TV is no exception. Whether you're looking for a movie in iTunes, killing time watching movie trailers, accessing your Instant Queue in Netflix, streaming the latest episode of your favorite TV show, or playing music, the unified UI is the same across the entire platform.
When you turn on the Apple TV, it takes about a minute to boot up. The five main menu items—labeled Movies, TV Shows, Internet, Computer, and Settings—run horizontally across the screen. When you click on a Menu option, featured content displays at the top of the screen. For instance, when you select Movies, you see the cover art for some of the most popular movies in iTunes.