Apple Drops iPod Nano and Shuffle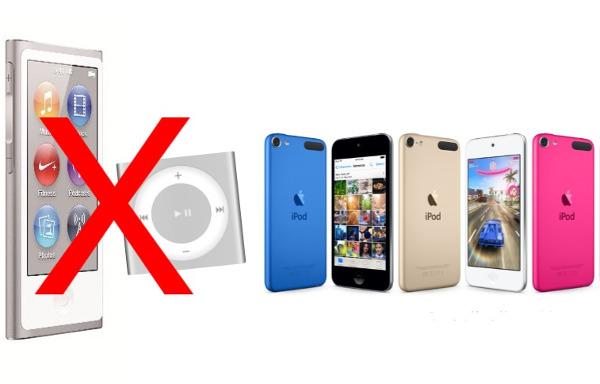 Is the iPod headed for extinction? Let's put it this way, if you had been meaning to pick up the newer version of your outdated nano or shuffle you'd better move fast. Apple has quietly dropped both models from its iPod product page, which now highlights only its top selling
iPod touch
.
In a statement to Bloomberg, Apple described the move as "simplifying" the iPod lineup, which now comprises just two versions of the iPod touch. The company discontinued the 16GB and 64GB iPod touch models and reduced pricing for the 32-GB and 128-GB models to $199 and $299, respectively.
Except for the introduction of new colors in 2015, the nano ($149) hasn't been updated since 2012 and the shuffle's last redesign was in 2010.
Both can still be found in retail stores but won't be around for long. So if you're feeling nostalgic or want to update the aging nano or shuffle you use to supply tunes when you're on the go, don't wait.
Apple introduced the iPod in 2001 and followed it up with the mini in 2004 and added the nano (which replaced the mini) and shuffle in 2005. The iPod touch was introduced in 2007 and was the first model with Wi-Fi and a multi-touch interface — essentially an iPhone without the phone. The iPod Classic, which most closely resembled the original iPod with its click-wheel interface, was discontinued in 2014.
Apple has sold more than 400 million iPods since 2001.