Apple Adding Voice Control to Apple TV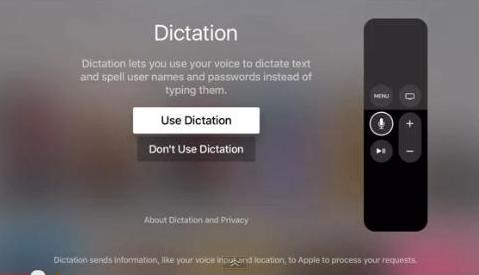 Apple is aiming to simplify control of its popular
Apple TV
) streaming media player by adding a voice control feature.
The feature, included in a beta version issued to developers on Monday, is an effort to address complaints about the lack of voice dictation, requiring users to instead use the remote control or a keyboard to enter text commands in an on-screen box to do content searches, etc.
From MacRumors.com:
Throughout the tvOS 9.2 beta testing process, Apple has been steadily adding new features. Today's third beta introduced a pair of new features that are quite useful: dictation and App Store search for Siri. We've made a quick video [below] that shows off the new features and how they work on the fourth-generation Apple TV.

With the new dictation option, it's now possible for Apple TV owners to dictate text and spell user names and passwords rather than typing them. After installing tvOS 9.2 beta 3, users are prompted to enable or disable dictation.

After dictation is enabled, the tvOS search bar alternates between a blank search field and an option to hold down the Siri button on the remote to dictate text. While speaking into the remote, a live levels meter is displayed on the screen so you can be sure the dictation feature is activated.

The first version of tvOS had few options for entering text, requiring users to slowly type in passwords and user names with the on-screen text entry box with the Siri remote. Since then, Apple has added support for the Apple Remote app, with tvOS 9.2 bringing support for dictation and Bluetooth keyboards.

App Store search for Siri is the second new feature in today's beta. With the new Siri support, voice-based searches can be used to find specific apps or app categories, such as games, in the App Store. The feature greatly enhances the process of finding apps on the fourth-generation Apple TV, which was previously limited to text-based searches…

tvOS 9.2 is currently available only to developers, but it should see a public release in the spring likely alongside iOS 9.3, OS X 10.11.4, and watchOS 2.2.