Apple TV Streaming Box Review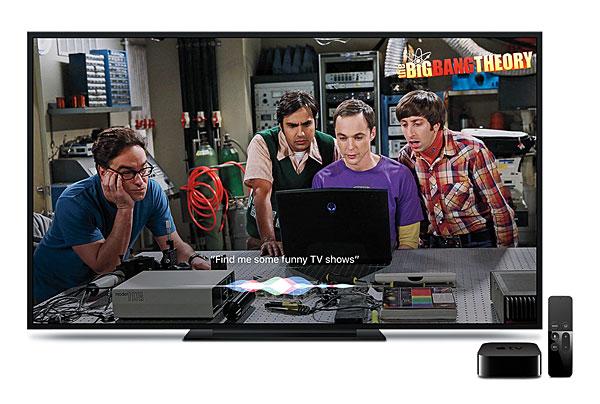 PRICE
$149 (32 GB), $199 (62 GB)
AT A GLANCE
Plus
Touch surface remote
Dedicated App Store
Snazzy photo slide shows
Minus
Arduous ID and password entries
Weak implementation of Siri
Lacks 4K video support
THE VERDICT
Apple TV Gen 4 brings a better remote to the table but fails to soar above other top streaming devices.
When Apple TV debuted in 2007, dozens of rival media receivers were already in place. At a time when TVs were too dumb to do their own streaming, Apple TV came along mainly to benefit iTunes users. Since then, other media players have come and gone, but Apple has persevered. The company recently shipped Gen 4.
What's different in 2016 is that most consumers now own a smart TV, media receiver, game console, or Blu-ray player connected to the Internet. Unless Gen 4 can deliver a richer experience over other Internet appliances, notably the Roku 4 Streaming Player (see review, this issue), Apple TV will be a tough sell.
I thought installation would be a cinch, pulling my Apple TV Gen 3 off its power and HDMI cables and swapping in the slightly larger Gen 4. I hadn't anticipated how much time I'd spend entering and reentering ID and password information. An Apple spokesperson suggested a shortcut that involves placing your iPhone or iPad near your Apple TV to transfer some settings. I had actually tried that first, but nothing happened. So I went with manual installation. Entering text using the onscreen horizontal keyboard and remote was inefficient. Alternatives such as voice input or tapping keys on your mobile screen are not available.
Unlike the Gen 3 model, the Gen 4 does not include an optical audio output. Gen 4's main improvement is its slightly wider Siri Remote. Instead of incorporating a cramped four-point control ring, the black remote sports a glass Touch surface that lets your finger guide a floating pointer on the TV screen. You press down on the Touch surface to make a selection. By swiping the surface in conjunction with a time-elapsed bar that appears below a video, getting to any point in a movie is swift. The remote contains Bluetooth 4.0 wireless technology, an IR transmitter, accelerometer, and gyroscope. Instead of deploying a disposable disc battery, the remote embeds a battery that's rechargeable via an included Lightning-to-USB cable. Apple says the remote only has to be plugged in every couple of months. I found that the perfectly symmetrical remote, which is not backlit, was easy to pick up backwards, resulting in the pointer being moved in a direction not intended.
By holding down the microphone button, I was able to issue limited voice commands. I could say things like "Skip back 90 seconds" or "Turn on closed captioning." While I was able to use Siri to search for a movie genre or an episode of Homeland, I was disappointed that the system wasn't as accommodating as what I experienced with Apple Music on my iPad. I could tell my iPad to play any song, but with Apple TV, the title already had to be visible on the TV screen for Siri to find it.
Gen 4 introduces the Apple TV App Store. For those who like playing games or shopping, there are snappier graphics. However, in terms of sites that I was accustomed to using on Gen 3 like HBO Go, CBSN, YouTube, and Netflix, I found that having to download and install the app delayed what I wanted to watch on first use and subsequently added little to the experience.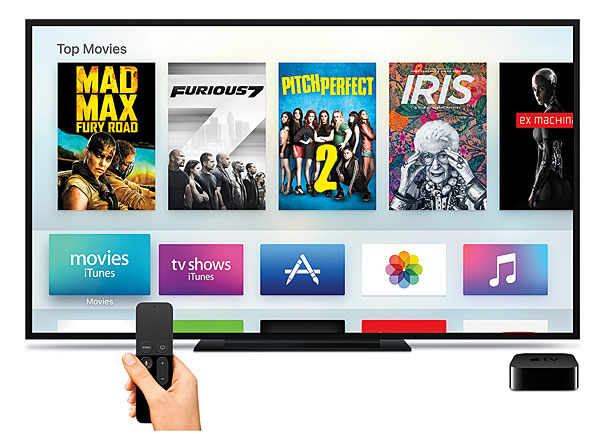 My favorite use for Apple TV isn't new. It's playing a photo slide show with origami transitions. While the newest Apple TV offers some performance improvements over the previous generation, in general Gen 4 is unlikely to stand out among other devices in an already "smart" home theater. Owners or likely buyers of an Ultra HDTV set should be warned that the device does not deliver 4K content. Still, in the age of streaming, Apple TV may yet appeal to cord cutters and users of iTunes and iCloud.
Specs
Type: 10/100 Ethernet and 802.11ac Wi-Fi receiver with HDMI 1.4 output
Dimensions (HxWxD, Inches): 1.4 x 3.9 x 3.9
Weight (Ounces): 15