Aperion Intimus 422 Speaker System
From Portland's mouth to your ear.
Aperion makes a big deal out of selling direct. Frankly, this implied criticism of large chain stores has the fishy odor of opportunism. There are many worse places to buy speakers than a huge electronics store. You might, for instance, buy them from the back of a van in a parking lot, as our editors once did. Or you might leave a thick wad of bills on the sidewalk, using a rock as a paperweight, then come back the next day to see if anyone has left any speakers there. When you've exhausted all of those opportunities, call Aperion and say, "Help me, please. I'm not tough enough for the retail environment." You wouldn't be the first.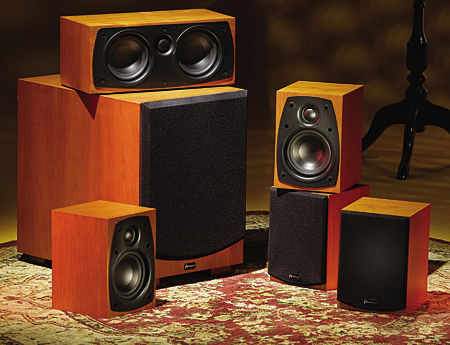 The Aperion story begins in 1998 when Winthrop Jeanfreau went shopping for speakers in his hometown of Portland, Oregon. A speaker builder himself, he knew what the parts cost and was annoyed to see retail prices that went way beyond his expectations. So he founded Aperion with the intention of bypassing stores, and their huge overheads, and selling direct to the consumer. Frankly, this story smells fishy, too—what kind of parents would name a boy Winthrop? In any case, Aperion's lowest-priced system has just landed in my listening room.
Aperion will ship speakers directly to your door. While you're welcome to visit their showroom in Portland, they offer free shipping and a 30-day money-back guarantee if you'd rather stay home. There's also free return shipping in case you change your mind. Aperion's Website caters to the stay-at-home consumer with live chat, a discussion forum, and three different, interactive ways to choose a speaker system. You can see various systems at a glance, play with the 12-step wizard, or assemble to order with a drag-and-drop system builder. For one-stop convenience, the company also sells speaker stands, Harman/Kardon and Onkyo receivers, cables from Kimber and Monster, and mounting kits from OmniMount and BTech.
All Aperion speakers come with a 10-year warranty and a care kit that features dust wipes to keep the furniture-grade enclosures looking spiffy. Buy a complete system, and the kit will include a sound-pressure-level meter that bears a strong resemblance to RadioShack's classic wiggling-needle model.
Impedance Load Leveled
The Intimus 422 is Aperion Audio's lowest-priced subwoofer/satellite system. At $799, it includes four small but charming satellites, a horizontal center speaker, and an 8-inch sub.
The Intimus 422 satellites and S-8 subwoofer make an excellent first out-of-the-box impression. The satellites owe much of their 6-pound heft to their thick, sealed cabinets, made of high-density fiberboard. The satellites' enclosure walls are 0.75 inches thick, and the center speaker and sub's are 1 inch thick. Density and thickness of material are a great combination toward defeating cabinet resonance and coloration. The finish is wood veneer, not vinyl, and the sub comes with floor-grabbing brass footers.
The satellites have lots of mounting options. On the back panel are two 0.25-inch threaded inserts that accept industry-standard mounts. More unusual is the single 0.25-inch insert on the bottom of the speaker—my fingers found it before my eyes did. Use it to attach the speaker to a stand, shelf, or ceiling.
So, is the Intimus a real competitor for systems priced at $1,500, as the company claims? Its patent-pending HD-X circuit is certainly a compelling claim to fame. Aperion claims that the HD-X levels the impedance load and eliminates the problems associated with long speaker-cable runs (most often a necessary evil) or serial wiring (something no self-respecting surround buff would attempt). Hmmm. Our ever-skeptical audio technical editor loves to roll his eyes when he hears claims like this.
Impedance notwithstanding, these speakers thrive on power. They are rated to accept up to 150 watts and have a nominal impedance of 8 ohms. While the manual doesn't specify sensitivity, the manufacturer tells me that the satellites operate at about 86 decibels, on the power-hungry side of average. In my space, the satellites required higher-than-average master volume settings, demonstrating an appetite for juice.
Although Harman/Kardon and Onkyo receivers similar to those that Aperion sells have left their John Hancocks in my rumpus room's guest book, the permanent resident on my rack is a Rotel RSX-1065 (the five-channel predecessor to Rotel's current RSX-1067). My main signal source was Integra's DPS-8.3 universal disc player, with speaker cables by Monster and interconnects by BetterCables.com. Aperion recommends 24 to 48 hours of break-in. I gave the speakers five weekday evenings and a weekend before I turned up the volume for critical listening.
Soundfield Gymnastics
Rather than make Intimus run the British-folkie and classical gauntlets— a process as inevitable with me as death and taxes—I broke with tradition and listened mostly to jazz SACDs with multichannel mixes. Concord's release of Like Minds places Gary Burton's vibes in the center of a horseshoe-shaped soundfield formed by his band. The Intimus system's silk-dome tweeters softened the leading edges of Chick Corea's piano and Pat Metheny's guitar—they were velvety and supple, not etched—but I had no trouble placing them at the ends of the horseshoe, right where they belonged.
The drivers continued to exhibit fine teamwork on the opening track from A Love Affair: The Music of Ivan Lins (Telarc). Although this mix suffers from poor vocal placement, the Intimus system handled it well. Sting's voice on his rendition of Lins' "She Walks This Earth" was absent from the center channel, where I'd have preferred it to be. Instead, it came out of every channel except the center, with no discernible delay to separate rear from front. Even so, the Intimus system made Sting's vocal presence sound warm, as well as spatially omnipresent.
Chesky did a better job with Rosa Passos's voice on Entre Amigos. Again, Passos's voice was missing from the center speaker, but a strong surround-channel delay kept it at the front of the soundstage. Passos achieves a remarkable intimacy on "Insensatez," rendered sotto voce, just barely above a whisper, with vocal cords barely supporting the breathy operation of her throat. The Intimus satellites held voice and breath in perfect balance. The sub gave an equally well-proportioned reading of Ron Carter's supportive string-bass lines, easily navigating the 100-hertz crossover between the sats and the sub.
Moving to the opposite emotional extreme was From a Basement on the Hill, the last CD Elliott Smith recorded before his death. Most of the vocals were heavily processed, John Lennon–style, although words took precedence over sound with despair-laden songs like "A Fond Farewell" and "The Last Hour." The tonal balance was a diaphanous grunge, smooth and murky but not gritty. I don't suppose it would have sounded much different coming out of a boombox, but that's not a comment on the speakers.
Moving On
I narrowly escaped an evening with Anchorman. "You're not going to like that," said a guy standing next to me at Blockbuster Video. He smiled, I smiled, we moved on.
It was out of the frying pan and into a taxicab with Tom Cruise. Collateral gave Jamie Foxx and America's most beloved Scientologist plenty of chances to mumble at one another with motor-vehicle noise in the background. Dialogue seemed initially reticent—probably a function of the intimate performances as much as the speakers—but a subsequent volume hike integrated talk, driving, ballistics, and shattering glass into the kind of balanced ecosystem you'd expect from a mindless action movie. Hearing Audioslave's "Shadow on the Sun" on the DTS soundtrack will probably cause me to add the CD to my music library.
And then there was Catwoman. What can I say? Even in Dolby Digital 5.1, the obviously human-produced meows held little attraction for my cat, who spent the movie in my bedroom curled up in an Amazon.com box. The midrange was large and generous, loud levels were painless, the soundstage did not collapse under the onslaught, and the low-frequency effects largely escaped the usual midbass hump. Still, with 100 watts powering the Intimus S-8's 8-inch driver, the speakers didn't shake the floor, either.
Sub/sat systems like the Intimus 422 generally live on either side of the great $1,000 divide. The big fish that swim above the magic price point deliver higher-end sound in a small package with cost as the only downside. Those who swim downstream of the four-figure threshold may aspire to greatness, or at least goodness, but often fall victim to coloration, compression, and iffy subs.
Aperion's Intimus leans toward the upstream side of the equation with a large soundfield, vocal subtlety, well-integrated bass, no obvious coloration, and an appetite for power, jazz, and action movies. That seems to be a winning combination.
* Mark Fleischmann is the author of Practical Home Theater, available through www.quiet-riverpress.com.
Highlights
• Aperion eliminates the retail middleman with the Intimus system (and other products)
• The Intimus system has a large, smooth, forgiving sound
• It's a value player that offers four-figure sound for a three-figure price tag