2020 Blu-ray Gift Guide: Blu Cheer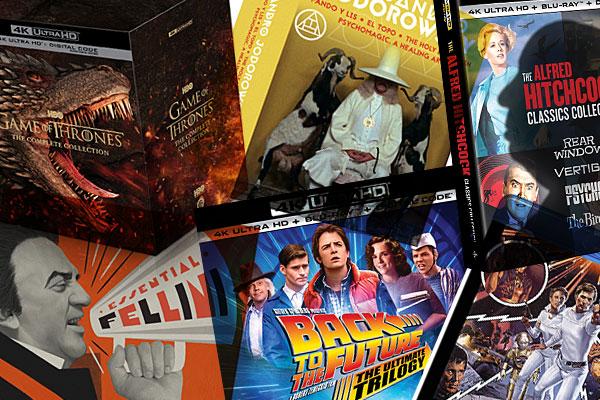 Each autumn, I fret that we won't be able to find ten worthy entries for this gotta-have-'em list, and every year am genuinely surprised at the bounty that has somehow remained heretofore unreleased. I guess there will always be anniversaries and restorations and quadrilogies and the like, and as long as the studios keep investing the time and care to craft these disc-filled boxes we enjoy so much, we'll continue recommending the cream of the crop to help stoke seasonal merriment.
Bugs Bunny 80th Anniversary Collection (Warner)
"Born" on July 27, 1940, with his first official appearance in Tex Avery's animated short "A Wild Hare," Bugs Bunny has grown up to be a true superstar, a king of all media who continues to entertain generation after generation of young and old alike. No one "parent" can lay claim to Bugs, but rather a long line of creatives—among them Bob Clampett, Chuck Jones, Robert McKimson, Friz Freleng, and voice maestro Mel Blanc—did their part to develop and refine him into the enduring icon he remains. We love Bugs because he's fearless, good-hearted, and only pushes back when pushed, unafraid to dish out a little furry retaliation when the situation calls for it. Bugs is who we wish we were, a hero and friend. Did I mention that he's incredibly funny?
For his 80th (the "carrot anniversary"?), a total of 60 theatrical shorts have been restored and newly remastered in high-definition at their original 4:3 aspect ratio. That's roughly seven hours of Bugs on three discs, for our entertainment anytime, anywhere (yes, even Pismo Beach). This assemblage isn't "complete," and no collection likely ever will be owing to evolving standards of political correctness and the challenge to locate vintage film elements, yet it provides perhaps the single broadest overview of the rascally rabbit's exploits ever put together in a single package. The assortment reaches all the way into the '90s, charting some peculiar stylistic shifts along the way without skimping on the essentials: Super-Rabbit, Baseball Bugs, the Oscar-winning Knighty Knight Bugs, and the so-much-better-than-it-needed-to-be What's Opera, Doc?
The What's Up Doc-umentary! seeks to put Bugs' immeasurable success into perspective, and ten of the recently produced HBO Max Looney Tunes Cartoons episodes reveal what he's been up to lately. To make it extra-special, the bundled Funko POP! figure in celebratory pose conjures memories of the rascally rabbit's early days in live theater. Don't be a hare-brained maroon and let this one hop away.
Back to the Future The Ultimate Trilogy 4K (Universal Studios)
That's time travel for you: Seems like only five years ago was Back to the Future's 30th anniversary, and while we still don't have flux capacitors or Mr. Fusion, we do have Ultra HD Blu-ray, and I'll take it. These native 4K remasters are full of filmic delights and mostly wonderful analog ILM special effects: miniatures, rotoscoping, and clever twinning illusions. Alan Silvestri's memorable score and the first film's Oscar-winning sound effects editing are also served up for the first time in an immersive Dolby Atmos mix. A trunkload of legacy supplements joins some new, occasionally frothy bonus content: a bit about the upcoming stage musical, an episode of a YouTube show about BttF, a tour of a recent props exhibition. Best of all is the collection of "lost" screen tests from a slew of young Hollywood hopefuls, circa 1984. All in all, a great excuse to go back to Back to the Future.
Mission: Impossible The Original Television Series (CBS/Paramount)
In 1966, with James Bond on a roll, TV needed a different kind of secret agent: less violent, more cerebral and able to improvise, with technology that pushed the limits of imagination. The uber-confidential jobs accepted by the mysterious Impossible Missions Force were…beyond difficult, stopping all manner of enemies at home and abroad with utmost discretion. Stalwart Greg Morris appeared in every one of the series' 171 episodes as all-business tech expert Barney Collier, starring alongside IMF bosses Steven Hill and Peter Graves, the great Martin Landau as master impersonator Rollin Hand, and a rotating roster of regulars including a post-Star Trek Leonard Nimoy. M:I was a true thriller, with clever special effects, bold camera work, and an episode-specific opening montage set to Lalo Schifrin's indelible theme music. Seven full seasons pack 46 Blu-ray discs, with no room for extras. (Rumor has it they were on a tape that self-destructed.)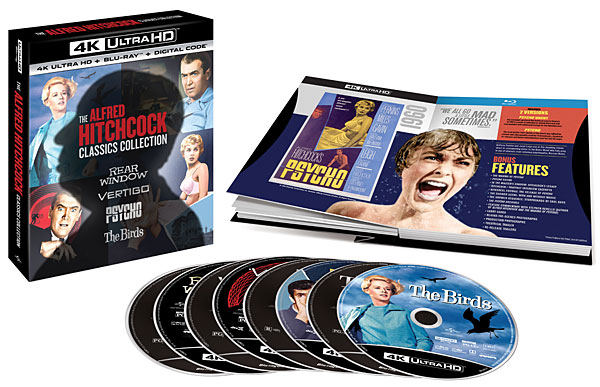 The Alfred Hitchcock Classics Collection (Universal Studios)
Leaner than collections past, this set focuses on four of Hitchcock's level best: Psycho, Rear Window, The Birds, and Vertigo. All are exclusive to this set except Psycho, which—not coincidentally—is celebrating its 60th anniversary. This controversial gem receives the most love, including for the first time since 1960 the original cut as Hitchcock intended, which was promptly censored for revivals and TV, most notably in and around the legendary shower scene plus another key moment of violence. The scans for these four titles were prepped for different editions between 2012 and 2019, with foresight for a day when we could view them in their full native 4K glory. Psycho displays an outstanding range of nuanced grays, while the famously restored Vertigo dazzles in its current beauty, and both feature surprisingly effective new DTS:X sound remixes as well.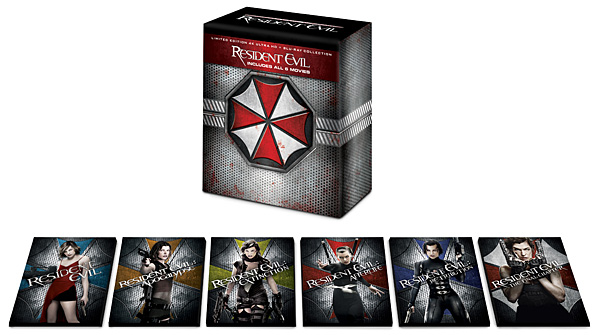 Resident Evil 4K Ultra HD Collection (Sony)
As Hollywood's most successful videogame spin-off (sorry, Lara), Resident Evil earned a high score of over a billion dollars at the worldwide box office across six live-action movies. Ageless Milla Jovovich stars as badass-but-still-endearingly-fallible Alice, going toe-to-toe with flesh-eating zombies/mutants created by the nefarious Umbrella Corporation and their unholy virus research. There are twists and turns and peaks and valleys across the original and subsequent Residents Apocalypse, Extinction, Afterlife, Retribution and The Final Chapter, in all their R-rated gory…I mean glory, with an extended, unrated cut for Apocalypse, too. Most are new to 4K and all have Dolby Atmos sound, making for a terrifyingly good home theater demo marathon.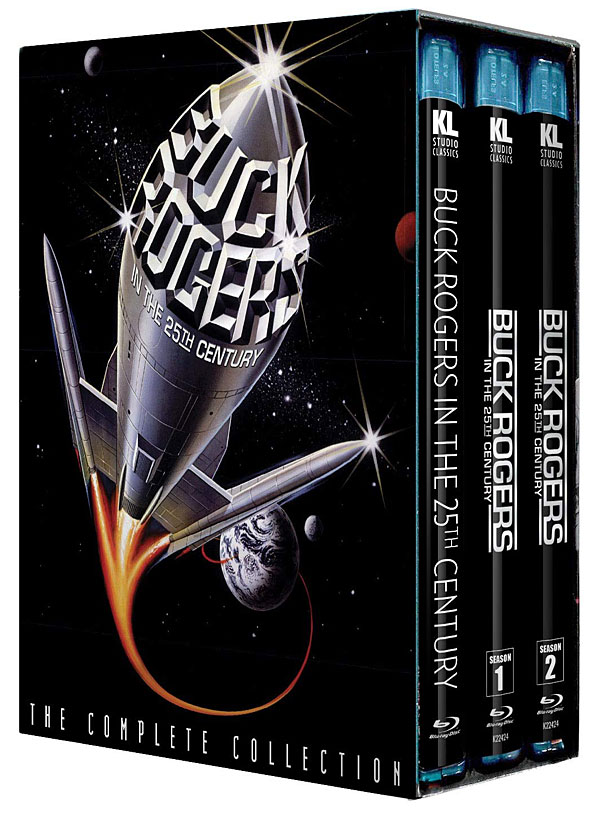 Buck Rogers in the 25th Century The Complete Collection (Kino Lorber)
Promptly filling the void left by co-creator Glen Larson's canceled Battlestar Galactica, this late-1970s/early-1980s take on the 20th-century swell-guy awakened 500 years hence made for campy primetime fun. Protecting post-cataclysmic Earth from a galaxy of guest stars each week required rayguns, fashion risks, and a gleeful embrace of sci-fi tropes that remain beloved to fans of a certain age, even as the show underwent a drastic reimagining for its abbreviated second season. This neatly organized nine-disc Blu-ray set presents all episodes in authentic 1.33:1 plus the re-edited, theatrically released pilot movie at 1.85:1. Commentaries adorn the movie and eleven episodes, along with new interviews with actress Erin Gray (uber-warrior Wilma Deering) and Season Two's breakout star, Thom Christopher (Hawk).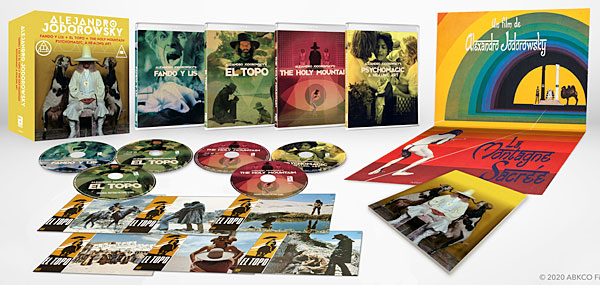 Alejandro Jodorowsky: 4K Restoration Collection (ABKCO Films)
A creative force of nature, Alejandro Jodorowsky brings an unstoppable enthusiasm to a relatively small but no less fascinating canon. Fando y Lis is the journey of a man and his paraplegic girlfriend on a disturbing quest to find a mythical city. El Topo is a western like none other, albeit vaguely reminiscent of Lone Wolf and Cub, wherein a gunfighter (Jodorowsky) and his young son (real-life progeny, Brontis) face peril together. Religion-themed follow-up The Holy Mountain is harsh in almost every way a movie can be on its journey to possible enlightenment. Too much to handle? Consider turning off all of the various sound mixes and just bask in Rafael Corkidi's hypnotic cinematography: ABCKO's utterly gorgeous new 1080p Blu-rays utilize director-approved 4K restorations from the original 35mm camera negative, with full Ultra HD versions available for separate digital purchase. This lovely boxed set assembles new introductions, interviews, early works, audio commentaries, an insightful book, two soundtrack CDs, and much more, plus a 2019 documentary of sorts that gives a portrait of the artist as an old man.

Rambo: The Complete SteelBook Collection (Lionsgate)
With 1985's Rambo: First Blood Part II, future Oscar-winner James Cameron did for titular anti-hero John what he would do for a certain xenomorph one year later: turn a single hit movie (1982's genre-defining First Blood) into an entire franchise with an action-packed story of revenge and redemption. Magnificently pumped star Sylvester Stallone returned as the misunderstood ex-Green Beret for the troubled but passable Rambo III, the impressive 2008 reboot Rambo (yeah, like 'Nam, it gets a little confusing), and ultimately for last year's bittersweet, Logan-inspired send-off, Rambo: Last Blood. All five are presented in outstanding 4K quality, the most recent two with Dolby Vision HDR and Dolby Atmos sound. Each individual SteelBook case is adorned with superbly stylized imagery by artists Justin Erickson, Ken Taylor, Grzegorz Domaradzki, Vance Kelly, and John Guydo, and all are housed within their own custom metal box (steel on steel!). Probably not bulletproof, but certainly quite safe.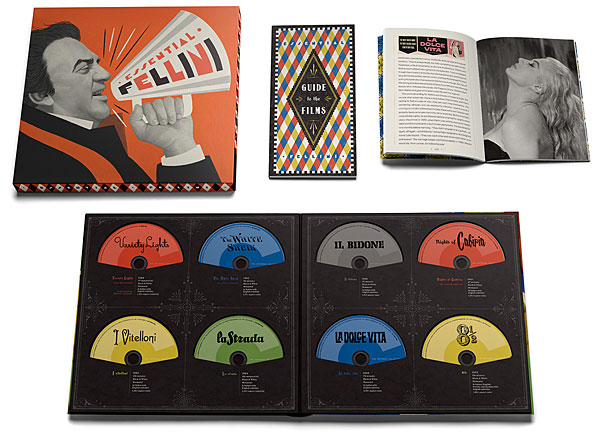 Essential Fellini (Criterion Collection)
As it has done with other geniuses of the film artform, Criterion has compiled the ultimate tribute to Federico Fellini in the year that would have witnessed his 100th birthday. This 15-disc Blu-ray set collects 14 of his finest films, spanning 1950-1987, eleven with new 4K restorations and all with uncompressed mono audio. Included are Fellini's very first feature, Variety Lights; The White Sheik; I Vitelloni; La Strada (his breakthrough); Il Bidone; the standout Nights of Cabiria; and winner of the 1960 Palme d'Or, the very Italian and actually bittersweet La Dolce Vita. Fellini's autobiographical masterpiece, 8½, is still one of the most heartfelt treatises ever on the subject of filmmaking itself, and later he indulged to varying degrees in the sentimentality and blithe weirdness that were among his trademarks for Juliet of the Spirits, Fellini Satyricon, Roma, Amarcord , And the Ship Sails On, and Intervista. With a career so long and storied, bonus materials really pile up. Consequently, the set offers audio commentaries on six films, multiple documentaries and nigh-countless interviews, plus not one but two substantial companion books.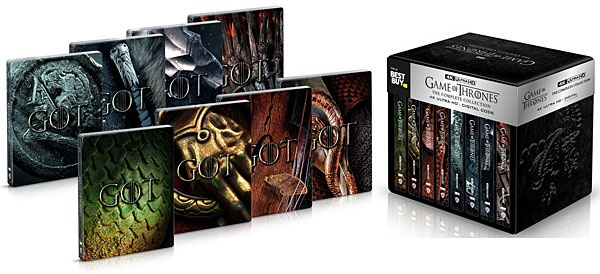 Game of Thrones The Complete Series 4K (HBO)
Much of GoT's legacy is surely the manner in which HBO raised the production values for many a showpiece TV series that followed it. Errant Starbucks cups notwithstanding (Google it), the verisimilitude is consummate, as exploding armadas and even flying reptiles are rendered credible by big-budget trickery and remixed Dolby Atmos sound. The show was captured digitally and has been upscaled to 4K with Dolby Vision high dynamic range for the best possible presentation. (As of press time, 4K is not yet supported by HBO Max, which offers the complete GoT library for streaming.) Previously, only Seasons One and Eight had been offered on 4K disc, but we can now own it all in one handsome Ultra HD package, along with a kingdom of past extras including the series-spanning Last Watch documentary.