Sunfire HRS Speaker System
Price
: $3,149
At A Glance
: Brilliantly ironclad build quality • Tight, tuneful sealed sub • Carver-worthy dynamics
Little Speaker Lusts for Power
My lonely battle to establish the satellite/subwoofer set as a respectable speaker category just got a little less lonely. Bob Carver, legendary designer of amps and speakers, has joined me on the space-saving speaker front. Carver first gained fame when he founded Phase Linear in 1970. He designed what the industry then considered some of the world's most powerful amplifiers. His current company, Sunfire, has branched out into surround processors, an extensive subwoofer line, and speakers. With the HRS line, he enters the sat/sub category with a product that—like most Carver products—shows a healthy lust for power. Take these four satellites, a barely larger center, and one of Carver's famously potent subs, and you've got a sat/sub set that'll turn heads and change minds.
Packaging Trifecta
I try not to reveal too much of my obsession with packaging in reviews because I don't want people to think I'm an even bigger goofball. But I have a feeling Bob Carver shares this obsession with me. The HRS-10 sub impressed me with its triple cartons, and that was just the beginning. Each speaker came encased in three layers: a thin plastic bag to keep out moisture, a black fabric bag that provided a sense of occasion, and a final layer of soft white plastic wrapping that further cushioned the speakers' nine-layer piano-black gloss finish. I stopped my mouth from addressing each speaker as it emerged from its shrouds, but I couldn't stop my mind from echoing Gollum in Lord of the Rings: "My precious!"
Carver is too smart to stake his reputation on a satellite in a rectangular box that's polluted by internal standing waves. These beauties have curved sides and a top surface that rides downhill toward the back. They pass the knuckle-rap test with flying colors—the enclosure hardly resonates at all.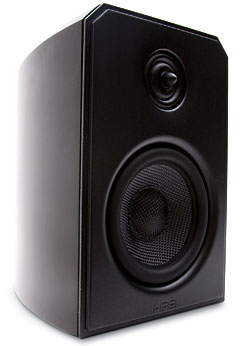 Some manufacturers boast that they make their baffles of thicker-than-average fiberboard. However, the HRS drivers rest in a flexure-resistant, 5-mm-thick (strengthening ribs add an additional 6 mm), die-cast aluminum baffle. The drivers include a 4.5-inch Kevlar-coned woofer (that's the bulletproof-vest stuff) and a silk-dome ring-radiating tweeter that incorporates a vented chamber with an integrated heat sink. These are not cheap parts. Each woofer includes a cast-aluminum basket and three independently wound parallel voice coils on a single former.
When I finished inspecting the drivers, the magnetically attached grilles practically leaped out of my hands to attach back onto the speakers. Binding posts are open at the back and tilt up so that the speakers can accept banana plugs and spade lugs. Because of this feature, high-end users won't suffer any premium speaker cable withdrawal symptoms. Sunfire also provides keyhole mounts and 0.25-by-20-mm threaded inserts for easy mounting. The center comes with a kickstand that adjusts to fire the speaker straight ahead or slightly downward (for use atop an RPTV). If the speaker is left by itself, the stand's curved side aims the speaker slightly upward (for use on furniture below the screen). Matching piano-black stands with extruded aluminum columns are optional.
The subwoofer measures less than a foot in every dimension. It has a 10-inch driver, which makes it the middle member of the HRS sub family. (Sunfire also makes 8- and 12-inch models.) The sub's amp is rated at 1,000 watts using the conservative RMS specification method. Sunfire's Tracking Downconverter uses a "just in time" approach to deliver power only when needed. This wastes less power in the form of heat and eliminates the need for giant heat sinks.
My reference receiver was the Rotel RSX-1065. For disc players, I used the Pioneer BDP-HD1, which outputs only the backwards-compatible core of a DTS-HD Master Audio signal, and the Integra DPS-10.5 universal player.
Likes Power
The first two words I wrote in my notebook were "likes power." Of course that meant I used a higher master volume setting. I turned it up about 10 to 25 percent more than my high-current receiver uses to drive a typical review sample.