Energy RC-Micro Speaker System
Price
: $999
At A Glance
: Tweeter isolated in separate chamber • Aluminum drivers in satellites • Hand-applied piano black lacquer finish
Building a Better Satellite
Energy has always taken satellite/subwoofer sets seriously. The Canadian speaker brand, recently acquired by American-owned Klipsch, got into the sat/sub game early with the now legendary Take Five package. As successive Take products became steady bestsellers and proceeded through multiple generations, Energy established itself as a major name in sats and subs. It also helped turn the sat/sub set into a respectable product category. This especially applies to décor-conscious households that like to have surround sound but balk at the prospect of five to seven bulky speakers hogging a room.
With the RC-Micro, Energy shows that it's ready to take sat/sub sets even more seriously. The RC in the package name stands for Reference Connoisseur, one of Energy's two high-end speaker lines. With this nomenclature, Energy signals that it's willing to lay its reputation on the line to produce an even better sat/sub set. However, the Energy people tell me the RC-Micro has "closer ties to its larger sibling, the RC-Mini."
Micro vs. Mini
The RC-Micro and RC-Mini are both two-way satellites, but the resemblance ends there. At 4.7 inches tall, the Micro is shorter than the 7.5-inch-tall Mini. It also has a 2.5-inch aluminum-cone woofer instead of the larger model's 4.5-inch Kevlar cone. Both have aluminum tweeters, but the Micro's is a 0.5-inch dome, versus the 1-inch dome in the larger model. Also, the Micro only comes in piano black, whereas the Mini comes in a larger selection of finishes. Energy says black outsells the other finishes combined by four to one, so clearly black is the new black.
The systems have two things in common: a separate chamber for the tweeter and a ribbed elliptical surround on the driver in the subwoofer. Energy claims this surround lets the cone travel a greater distance and produce more powerful bass than a conventional surround would allow.
The RC-Micro has some unique attributes. It features "convergent source technology," which Energy's prestigious Veritas line also features. This essentially keeps the tweeter and woofer close together, so they act like a point source. The drivers in the RC-Micro Sat and RC-Micro Center are identical in both size and configuration. That means there's only one woofer in the center speaker, which means there are no sum-and-cancellation effects from multiple woofers. I wish all center speakers were designed like this.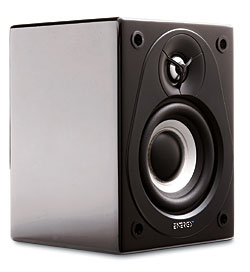 The center's enclosure is about an inch larger than the satellite's. Energy placed the logo along the longer dimension, encouraging horizontal placement. But with such a small speaker, you should place it vertically so that it disperses in the same pattern as the speakers on either side. Admittedly, the drivers are so close together that the sonic difference is minor. Yet, when I used vertical placement, I was rewarded with a seamless front soundstage. The fabric grille detaches, in case you'd like to experiment with voicing. I was satisfied with the grilles-on treatment.
The RC-Micro's 0.4-inch-thick enclosure is made of medium-density fiberboard. While there's nothing noteworthy about this in a larger speaker, it's an improvement compared with the molded plastic that many manufacturers use for their satellites. Also, the ratio of thickness to overall enclosure size is fairly high. When I gave the speakers the knuckle-rap test, I could only detect the faintest pitch change near the woofer end of the cabinet. The front and rear surfaces are molded plastic. Energy provides a keyhole mount in back, so you can sink a nail into the wall and easily hang the speaker. The keyhole does double duty as a threaded insert with the removal of a thick Phillips-head screw. I've never seen this ingenious space-saving strategy before.
The speaker terminals are neither typical binding posts nor plastic-tab wire clips. Instead, the RC-Micros use an odd, spring-loaded hybrid that I'm seeing on more of the better-made sat/sub products. It's shaped like a cylinder. When you push it down, it reveals a small hole that fits bare wire tips or pin connectors. I managed to jam the tips of my 12-gauge Monster THX ribbon cables into the surround speakers. In the front, my Monster M1.2s offered the benefit of the screw-on termination. I unscrewed the banana plugs and inserted the stubby pin-connector-like tips into the terminals. Unfortunately, the rear cables weren't set up that way. (Memo to self: Get Monster to update them.)
Other equipment I used included the Rotel RSX-1065 A/V receiver, Pioneer BDP-HD1 Blu-ray player, and Integra DPS-10.5 universal disc player. All movie selections were Blu-ray Discs, and all musical ones were CDs.
Arnold but Not Hugh
The RC-Micro is voiced to err on the warm and smooth side of things. It doesn't muster a lot of high-frequency air but generates a big soundfield, thanks to a well-balanced and fairly detailed midrange.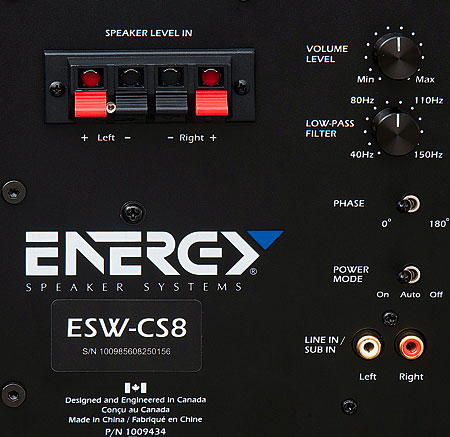 As is typical in a sat/sub set, the satellite has relatively little bass of its own. With this kind of product, I usually set a sub crossover of 100 to 120 hertz. Since these sats are small, I picked 120 Hz. With careful placement, the sub did a fine job at the challengingly high crossover. It filled in the lower register of male (and even female) voices without wilting under the barrage of effects. However, to produce a decent level, I had to run it at two-thirds of its volume control's range with a boost in the receiver's Sub output.
I've seen the future in The Sixth Day, and it's full of whizzy synth noises. The Governator cruises through this human-cloning scenario in Dolby TrueHD, which made the synth noises as gentle as possible. One master volume setting sufficed—I didn't need to increase it for low-level dialogue or decrease it for aggressive effects. The satellites' aluminum diaphragm drivers could take a fair amount of power without losing their smooth character. The sub handled the rumble of a dammed river and other low-frequency effects with aplomb. Its pitches weren't surgically precise, but they were free from the worst excesses of overhang and bloat.
Urban Legend, also in Dolby TrueHD, uses more naturalistic music and effects to propel its story about an energetic and diligent serial killer running amuck at a college. The movie opens with a peal of thunder that had precisely the crackling midrange character (if not the floor-shaking bass character) of the real thing. I enjoyed the shrieking and raging of the orchestral score as various unsympathetic characters got what was coming to them. And the sound didn't become unduly bright or fatiguing at the most murderous moments.
Sex and Death 101 is sort of a low-rent Hugh Grant movie, with Simon Baker subbing for Hugh Grant. A supercomputer spews out a list of all the women our hero has slept—and will sleep—with. This causes a lot of (mostly civilized) havoc that's vocalized at low to moderate levels. Here was where the RC-Micro got to shine in the dialogue intelligibility department. As the movie went on, the speakers did a nice job of layering music, dialogue, and effects.
Angels and Dracula
Randy Newman is best known for scoring films like Toy Story and A Bug's Life. But he still occasionally drops an album of songs on an unsuspecting world. Mitchell Froom coproduced Harps and Angels. Like many Froom productions, it suffers from reticent high frequencies but has a beautifully sculpted midrange that encourages high-volume listening. This played right into the RC-Micro's main strengths. Newman's New Orleans–accented voice emerged from the sat/sub crossover in excellent shape, with no undue booming from the sub. I switched between stereo and the Dolby Pro Logic II Music mode. This revealed no tonal shifts between the center and the front left/right satellites. Since they're almost identical, except in enclosure size, that wasn't much of a surprise. Without a lot of phase cues in the mix, DPLII couldn't throw out much of a soundfield, so the album sounded equally rich in surround and stereo.
What would a string quartet sound like on one of the movie industry's finest recording stages? The answer came in Dracula, the Kronos Quartet's performance of a relatively new score by Philip Glass for the 1931 classic. Here the DPLII stereo-to-surround treatment was the right choice. It reconstructed Skywalker Sound in huge proportions. There was no sense of where the walls were—perhaps a higher-end product would have done that better—but I could not mistake the feeling of enormous open space. The stringed instruments' timbre was ravishingly full and gently listenable. Because of this, I played the music at something close to the instruments' natural acoustic output. (I usually play string quartets at a lower volume.) Off-axis response was excellent, with no major tonal shift as I moved around the sofa. In fact, even when I moved to my desk (which placed me outside and to the right of the soundfield), the RC-Micros still staked out their spatial turf.
Jimmy McGriff Greatest Hits showcases the ace blues organist in a variety of acoustic environs. The earliest tracks have extreme stereo mixes that place McGriff at far left. These got radically bent out of shape in DPLII, so I didn't use it much. But DPLII did the best job casting a bright spotlight on the Hammond organ's incredible beauty. Subsequent mixes are more mainstream, moving McGriff to the center but missing much of his instrument's tone. The RC-Micro didn't go to heroic lengths to extract it from the excessive mellowness. This was even truer of live tracks recorded at the Golden Slipper, McGriff's nightclub in Newark, New Jersey.
Little Wonder
As HDTVs have gotten flatter and slimmer, the sat/sub category has really come into its own. That puts a company like Energy in an excellent position, thanks to its experience in designing space-saving speakers that don't look out of place when juxtaposed with a flat-panel set.
The RC-Micro has the aesthetic smarts, build quality, and engineering know-how that video-friendly speakers demand. It also shows evidence of a good ear and a shrewd way of living within limitations. True, it won't deliver the slam of a giant sub or the solidity of midbass (and lower) coming from more substantial satellites in all directions. It isn't the last word in high-frequency extension either. The sub can only work its modest magic in a small room, and the satellites can do the same in a small to midsized room. But this speaker package does a lot of things so well that you'll probably never notice what's missing unless you spend a lot of time in listening rooms demoing high-end speaker systems that sell for a lot more than this one. It can run off a budget receiver, and the midrange is revealing enough to warrant a better one, maybe something in the same $999 price range. However, this is about as small as very good-sounding speakers ever get.