Epos M12i Speaker System
Too good to sit on the shelf.
In these pages, you'll see small speakers referred to as monitors, stand-mounts, or—if they're small enough—satellites. But rarely as bookshelf speakers. As I've often said, a bookshelf is a terrible place for a speaker. Unless it's designed specifically for in- or on-wall use, a speaker belongs a few feet out from the wall to minimize undesirable acoustic interaction with the wall. So don't refer to the Epos M12i as a bookshelf speaker. They'd never forgive you for it. They have an artistic sensibility, and that extends to the M8i center-channel speaker and M SUB subwoofer.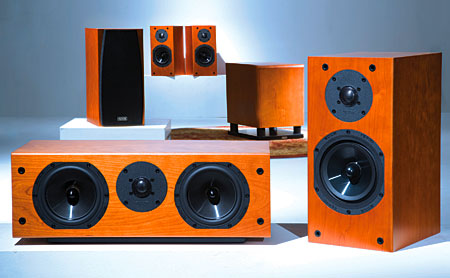 Epos was founded in 1983 and eventually acquired by Mike Creek, the owner and lead designer of Creek Audio. Regrettably, Creek doesn't offer surround electronics to partner with Epos speakers—although if you're in the market for a stereo integrated amp, the Creek 5350SE is a widely hailed value performer. The Epos M Series made its debut in 2001. Its replacement, the Mi Series, follows the same train of thought but with a thorough updating.
Where All the Children Are Above Average
The M12i is above average in looks, thanks to wood-veneered enclosures that are hand-matched for each pair. Ours came in light cherry. The enclosures are quite hefty, as nearly 0.75 inches of vertically and horizontally braced medium-density fiberboard ought to be—especially when it comes with a phat 1-inch MDF baffle. The silk grilles are lop-cornered to expose a little of the baffle's handsome woodwork.
At first glance, the M12i is a conventional two-way design with a 1-inch aluminum-alloy fluid-cooled tweeter, a 6.5-inch polypropylene woofer, and a back port. But there's plenty of secret sauce. The formerly gold-anodized tweeter is now silver anodized. According to Epos, this extends high-frequency response. According to my ears, the highs and mids still have that smooth golden Epos sound. The tweeter rests in a rubber suspension on a solid-aluminum faceplate with a protective metal grille covering the driver.
The plastic woofer has a phase plug and sits in a die-cast (as opposed to pressed) aluminum-alloy basket. Although there is a 5-kilohertz filter to prevent low-frequency information from getting into the tweeter, it does not directly affect the woofer. In lieu of a conventional crossover, the woofer cone's graduated thickness rolls off high frequencies naturally. All wiring is solid-core. Plastic-sheathed metal biwire binding posts, formerly set into a plastic cup, now jut proudly from a solid-aluminum plate.
In the M8i center speaker, the same tweeter joins two 5.5-inch polypropylene woofers. Most dual-woofer designs suffer from lobing, as the outputs of the two drivers sum and cancel differently at varying angles. Epos circumvents this problem by using a 2.5-way design that assigns the woofers overlapping but different roles. They begin diverging at 400 hertz and are 6 decibels apart at 900 Hz. One driver runs right up to the tweeter crossover at 3 kHz, essentially making it a midwoofer, while the other is more of a bass driver.
When I set up the speakers using test tones, it became immediately apparent that the M8i's tonal balance differs from the M12i's—the pink noise shifted its frequency contour when it moved into the center. And when I switched from stereo to the Dolby Pro Logic II music mode, which normally would be tonally neutral with identically matched speakers, the soundfield's frequency balance became noticeably lighter. If you'd like to match the center's woofers more closely with the other channels, consider mating the M8i with the M5i monitor. (The only reason I gave the M5i a miss is that Home Theater had previously reviewed its predecessor, the M5. You're under no such limitation.)
Epos recognizes that, when it comes to making speakers sound good, correct placement is half the battle. The manual recommends that you place the speakers at least 8 inches from the wall—I gave them a couple of feet. And the center comes in a cabinet that's straight at the top and curved on the bottom. It rests on a separate plinth, which can aim its firing angle directly at the listening position. That can be helpful if it's not convenient to place all three front tweeters at the same level—you can place the center atop a TV pointing down, or below the screen pointing up.
The M SUB uses a sealed enclosure with heavy internal bracing and achieves remarkably high volume levels. Most subs use a port to supplement output at certain frequencies, often at the expense of transient response—but the M SUB dispenses with this crutch. Designed as much for music as for movies, it includes both low- and high-pass filter adjustments, so it will work equally well with either a line- or speaker-level input.
The sub's 10-inch paper-cone driver fires downward into a 2-inch space between the enclosure and the plinth (or plate) below it. That enables the sub to function well on a rug, whether or not you attach the spikes to the bottom of the plinth. Epos ships the sub with the plinth detached, but attaching it is quite easy—I managed it in about three minutes.
Voiceover, Screaming, and Lou Reed
The composite portrait that emerged from movie and music listening featured a top end that was polite—at least, relative to other manufacturers—but not excessively soft. Mids were richly physical and detailed but not overbearing or congested. No one listening in a midsized room will complain about the quantity or quality of sub output. The M12i monitors integrated well with the M SUB, with no obvious
upper-bass gaps, although the M8i center's distinct and separate personality made for a less than perfectly integrated front soundstage. As a result, I did more than the usual minimum of listening in stereo.
In Revolver (DVD), Jason Statham is an ex-con who is mind-controlled by two sinister masterminds he's never met. The sonic highlight of the Dolby Digital 5.1 soundtrack is unquestionably Statham's low, breathy, baritone voiceover, which poured out of the center like buckwheat honey (more potent than clover honey). Bass lines busily erupted from the sub, maintaining a constant commentary on the action and driving it forward. They had a full, rounded feel. When the soundfield got busy, the M12i showed off its characteristic warmth, which immediately put me at ease and drew me into the story.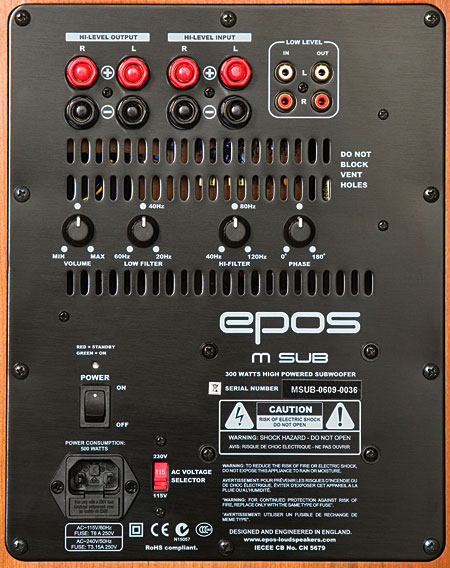 The Sickhouse (DVD) scored a buzzkill right from the opening song, with a vocal that builds from a yelp to full-throated screaming in tandem with savage synth riffs. Then the archeological ghost story plunges under the streets of London into a labyrinth of doom where there is little color but plenty of ominous sound effects. The four M12is did a good job of constructing a threatening soundfield that conveyed claustrophobia.
Things We Lost in the Fire (DVD) hinges on good writing, acting, and delivery of low-level dialogue. When Benicio Del Toro's character dons headphones, the speakers filled with whatever he was listening to, and these fleeting musical moments had a jewel-like clarity and beauty that was all the more striking because the remainder of the soundtrack is so low-key. The snatch from Lou Reed's "Sweet Jane" made me run to my LP shelf.
More Lou Reed
The album I ran to get was not the Velvet Underground's Loaded, but Lou Reed's live record, Rock n Roll Animal, in which the rock poet delivers flowing, epic-length performances of his classics. This live LP features hot guitarists Dick Wagner and Steve Hunter, years before Reed would rediscover his own guitar playing. I ran the M12i in stereo to keep the M8i's non-matching midrange out of the mix. The monitors delivered a wide, deep soundstage with loads of warmth. At low volumes, the midrange seemed a little vague, but a large volume hike made the problem go away and gave the live mix a pleasing immediacy. This record was designed to be played loud.
Rolling kettledrums kick off Britten's Young Person's Guide to the Orchestra (Telarc SACD, Paavo Järvi, Cincinnati Symphony Orchestra). The M SUB did such a good job with the disc's abundant low-frequency content that I had to knock down the sub volume. In the middle of the work, as Britten methodically highlights each instrument in the string section, I suspiciously listened for congestion in the middle instruments, sometimes a flaw of speakers with strong lower-midrange response. But the speakers had no trouble delivering the distinct signatures of the violins, violas, cellos, and basses in the right proportions.
Mysterious Shorter is a multichannel SACD with Chesky's typical underuse of the center channel—here, it's totally eliminated. But it's hard to complain when what remains is so rigorously pure—as the packaging says, "no overdubs, no compressors in the signal path, no multitracking, no large mixing consoles." The M12i anchored all four corners of a smoky soundfield filled with Nicholas Payton's trumpet, Bob Belden's saxes, the Hammond B3 organ of Sam Yahel, John Hart's guitar, and Billy Drummond's drums. Close-miking wasn't dominant, so the sense of guys playing in a room was natural and unforced. For the trumpeter in particular, this combination of recording and speakers was the best-case scenario. Payton's instrument emerged metallically resonant but not ringy. Mids and highs were fully developed and integrated. There was plenty of dynamic definition and ambience but no hype or gross distortion. This is how a trumpet should sound.
I returned again to both vinyl and stereo with Karl Munchinger's 1969 recording of Bach's Easter Oratorio. The voices were euphonious and beautifully fleshed out, but what gripped me were the solo instruments. Rather than clinically detach the solo violin and oboe from their surroundings, the M12i interwove them with their reverb and decay, giving them a golden wholeness that felt more like being in a concert hall than listening to a recording. Massed flutes were as thick and tangible as a flock of butterflies.
If you find most speakers fatiguing, the Epos Mi Series may be exactly what you're looking for. These smooth performers offer a distinctively rich midrange that allows a high comfort level while still delivering loads of the little details that make music and movies—especially music—involving. Sweet-tempered they are, vague and fuzzy they are not. The M12i deserves special praise as a speaker that can stand on its own in a stereo or 2.1-channel configuration with the potent M SUB.
Highlights
Monitors deliver a strikingly silky-smooth midrange
2.5-way center design lessens lobing problem
Sub achieves solid output even at low volume settings