Dynaudio Excite X12 Speaker System
Guess Who's Coming to Dinner
Like the dinner guest who invariably brings a bottle of fine wine and flowers for the table, Dynaudio is welcome in these pages. The suave Danish manufacturer never fails to entertain with its scintillating conversation—both musical and cinematic. Yet its products are down to earth and mindful of the fundamentals. You don't need to be a golden-eared audiophile with years of critical listening skills to "get" Dynaudio. Nearly everyone can understand the qualities that animate products like Dynaudio's new Excite range. They appeal to anyone who knows what a human voice sounds like, how musical instruments sound, and even what it should feel like when a car runs off a cliff and explodes.
A Little Excitement
Dynaudio offers a half-dozen lines, or ranges, as the company calls them. That doesn't count the company's miscellaneous models it creates for custom installs and other special needs. Excite is the second range from the bottom; it falls between the higher-end Focus (reviewed September 2007) and the more affordable Audience (reviewed May 2005). In this review, the baby of the family, the Excite X12 monitor, anchors the four corners of the soundfield, along with the X22 center. The range also includes the slightly larger X16 monitor and the X32 and X36 floorstanding speakers, which are not reviewed here.
The Excite X12 is my favorite kind of speaker. It's large enough to produce decent bass down to an 80-hertz crossover to the sub. Yet, it's small enough to sit quietly on a stand while life goes on around it. Its thick, die-cast aluminum basket comes right out to the edges of the contoured 1-inch-thick baffle. This allows the speaker to use a 5.7-inch woofer, accompanied by a back port, which you can optionally block with a supplied foam bung.
Dynaudio designed the X12's gold-plated, plastic-sheathed binding posts to be very versatile. They can accept reviewer-friendly banana plugs from either top or side. I wish all my subjects were so considerately designed. Speakers that don't accept banana plugs have always been a pet peeve of mine.
The Excite line's horizontally arrayed center, the X22, includes a pair of smaller 4.33-inch woofers. The X22 rests on a black metal plinth that angles it upward. A picture on Dynaudio's Website shows the X22 sitting on a low credenza below a wall-mounted flat-panel display. Just two Allen screws hold the plinth in place, which makes it easy to remove it. You can also reverse it so that the X22 will fire down from the top of a rear-projection display.
Baby, You Can Driver My Car
Dynaudio is famous for making high-quality drivers both for its own brand and for many other brands. Both the X12 and X22 use a silk-dome tweeter coated with a proprietary doping compound. To me, Dynaudio's tweeters are among the smoothest and most innately musical in the business. Dynaudio made the woofer cones (including the one in the sub) out of magnesium silicate polymer. According to Dynaudio, its benefits are "low weight, controlled rigidity, and low internal resonance that, in combination with the motor structure and driver frame, provide a very linear frequency response with excellent dispersion characteristics and extraordinary absence of resonance and a neutral, uncolored sonic character."
Dynaudio describes the Excite as, "a high-end loudspeaker that does not require the highest-grade amplifier." By Dynaudio standards, that's true. However, the rated sensitivity of 86 decibels for both the X12 and X22 is slightly lower than average. The rated impedance is 4 ohms. That's probably not entry-level receiver territory, but Dynaudio says it's linear above 100 Hz because of an impedance-correction circuit. I ran the system with my high-current reference receiver's master volume set 5 to 10 percent higher than my average review setting for most of the material. But keep in mind that I tend to seek out speakers of average or greater sensitivity.
The sub uses a 10-inch front-firing driver with a down-firing port. A monster heat sink on the back demonstrates the potency of the 250-watt amp. The sub includes both XLR and RCA ins and outs. A card-size remote control adjusts four crossover settings, four phase settings, four presets (presumably for different applications), On/Standby settings, and the sub volume level (my favorite). You can wire the sub in series with other subs and designate it as either a master unit, with settings, or a slave unit, which operates from the master's settings.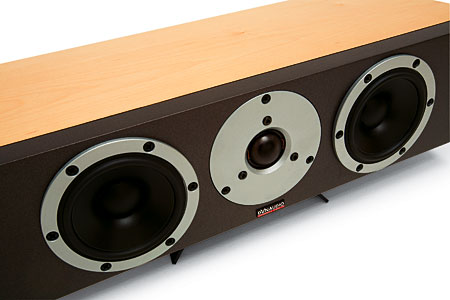 I used the Rotel RSX-1065 A/V receiver, with an Integra DPS-10.5 universal disc player and a Pioneer BDP-HD1 Blu-ray player. My movie test material was all Blu-ray. I also used all high-resolution music test material, in both digital and analog formats.
Pulses, Purrs, and Punches
Early in The Orphanage, there's a brief but vivid scene that involves rain and thunder. It shook me up a little, because the real thing was happening right outside my windows. For a moment, I wasn't sure where the highly naturalistic sound was coming from. The effect was eerie, even when the first-generation Pioneer player output the DTS-HD Master Audio soundtrack as a pared-down core signal. Synthesized pulses representing pounding hearts and other traditional horror-movie effects sounded deep and relatively unbloated. The creaking-house effects were best in class. In general, the movie made me jumpy, in a good way.
In my mind, The Bucket List, in old-school Dolby Digital 5.1, offers the ideal movie soundtrack. It's the sound of two intelligent men, Jack Nicholson and Morgan Freeman, talking. Their beautifully conditioned baritones purred with the polished-leather tone that comes with age. Not that I have a vocal fetish. It's just that the human voice is the most familiar sound to human ears. It's one of the best ways to spot midrange coloration and flaws in a loudspeaker. The X22 center sounded clean, natural, and "unringy." The one loud sports-car demolition scene interrupted a soundtrack that was otherwise at the level of normal human existence.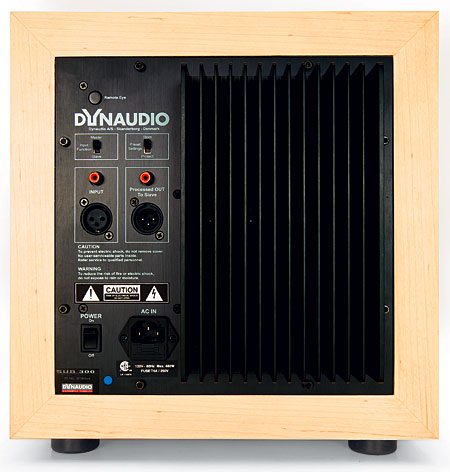 Jumper, a sonic waste of DTS-HD Master Audio, introduced me to the sound of teleporting. If you could instantly zoom through space, it would sound like a cheesy synthesized whoosh, punctuated by a crash. The plot is one long, noisy fight scene that's relieved only by demographically appropriate songs. The Dynaudios were honest enough to not sweeten this substandard source material and slick enough to not exacerbate its harsh treble.
Vivid Voices, Fretless Bass, Rock Colossus
As I'd expect from a set of Dynaudios, this one could stride into a concert hall and wield the baton. Voices (again) grabbed me in the Telarc multichannel SACD of Brahms Ein Deutsches Requiem, performed by the Atlanta Symphony Orchestra & Chorus with conductor Robert Spano. The chorus blended into a single, dynamically versatile instrument that seamlessly tracked up and down in volume. The silk-dome tweeter reveled in dynamic subtleties, and the orchestra had the Atlanta Symphony's traditional soft-edged string sound. But the presentation sounded far from mushy. This became especially apparent during the vividly imaged solo voices in the third movement.
Brian Eno's Another Green World, on vinyl, leads off with "Sky Saw," which features fretless bass, massed violas, and Eno's own multitracked chorus vocals. In the late 1970s, one of my hi-fi initiations was hearing this analog recording in an analog medium. When I heard it again on the Dynaudio system, it made a good thing even better. The sub controlled and articulated the pitches of the bubbling fretless bass, and the main speakers presented the other elements well in their separate midrange beauties.
Tusk, again on vinyl, is my favorite Fleetwood Mac album. With its emphasis on uncluttered mixes, slow tempos, and under-stated guitar and keyboard parts, it's the rock equivalent of a Zen-inspired watercolor of some misty mountain landscape. I divided the percussive labor at 80 Hz. Despite their size, the monitors and sub conjured the rhythm-section colossus of Fleetwood and Mac (Mick Fleetwood and John McVie). The drums had a tight, clean impact, and the sub's tunefulness emphasized the melodic fluidity of the bass.
The voices of Christine McVie, Lindsey Buckingham, and Stevie Nicks emerged as astonishingly distinctive instruments. I've always thought McVie's voice and songwriting were underrated, but this particular audition of Tusk finally turned me into a Stevie Nicks fan. It only took 29 years for the penny to drop. Maybe I just needed the right speakers to bring out her honey-drenched vocals on the incredible "Sara." Despite the center's nonmatching woofer size, the X22 blended well with the X12 monitors as I repeatedly switched from stereo to Dolby Pro Logic II.
Forgive me if I seem more subjective than usual (I'm all about subjectivity), but Dynaudio gear generally affects me that way. Dynaudio designs speakers as well as Denmark designs cities. The Excite line delivers everything a speaker should at this price range. It also provides a large percentage of what a much more expensive product would muster. These speakers will probably work with any receiver, but a mid-priced or top-of-the-line model will get the best out of them. I could easily live with these for a long time.
Highlights
Small look, big sound
World-class silk-dome tweeter
Remote-adjustable subwoofer