Denon AVR-X6700H 11.2-channel A/V Receiver Review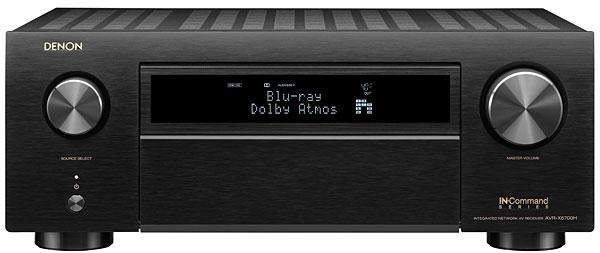 PRICE
$2,499
AT A GLANCE
Plus
Superb performance
Pre-amplifier Mode
Excellent onscreen setup guidance
Minus
Runs hot
Non-backlit remote
THE VERDICT
Denon's 11-channel AVR does its formidable job with great style. It may have a few quirks, but none detract from its exceptional audio and video performance.
Denon's AVR-X6700H, made in Japan, is one of four new models in the company's X-Series A/V receiver family. The new models start at $849 for the AVR-X2700H and extend up to $2,499 for the AVR-X6700H under review here. (The company's current $4,000 AVR-X8500H carries on as the X-Series flagship.) The AVR-X6700H is notable for its next-gen HDMI 2.1 connectivity, which supports pass-through of 8K video and multiple gaming-oriented features. (Editor's note: See Denon parent company Sound United's statement at the end of this review regarding HDMI 2.1 incompatibility issues with Xbox Series X gaming consoles and certain graphics cards, along with suggested workarounds—AG.)
Features
The AVR-X6700H packs 11 onboard channels of class-A/B amplification. That's enough to cover a 5.2.6 system or 7.2.4 system, or the 5.2.4 one I used with two channels left over for other applications such as bi-amping the left and right front speakers or powering a second audio zone.
The Denon has two additional, fully functional preamp outputs, increasing its total processing power to 13 channels with the addition of an outboard stereo amp. There's a pair of independently adjustable line-level outputs for powered subwoofers, though for my evaluation I used just one, with a Y splitter, to drive two subs.
With the X6700H rated at 140 watts per channel into 8 ohms (20Hz-20kHz, two channels driven) most users won't require more power. Though not specified, Denon states that its receivers can drive five channels with at least 70 percent of rated two-channel power (about 100 Wpc for this model).
The X6700H has Audyssey MultEQ XT32 room equalization. When I employed Audyssey for this review, I used just basic EQ without Audyssey's other features: Dynamic EQ, Dynamic Volume, and Low Frequency Containment. All of these are selectable on the Denon, and there's an optional $20 Audyssey Editor App that brings additional flexibility.
The Denon will also support DTS:X Pro, the latest immersive audio format from that company, following a future software update. DTS:X Pro can service up to 32 rendered channels, though it's limited to 13 on the X6500H when you add in the two external amp channels as mentioned above.
Each amplifier on the Denon has a corresponding preamp output. For those who might want to use the X6700H as a standalone A/V preamp-processor either now or later, there's a Pre- amplifier Mode that disconnects all of the internal preamps from their internal amps. (The latter remain on but undriven.) This feature is all or nothing since you can't disable the internal amps individually.
According to Denon, when Pre-amplifier Mode is engaged the receiver's preamp outputs can provide up to 4.8Vrms—more than enough to drive any outboard amplifier to full power. If you use the preamp outputs (which are always active) with their internal amps still connected, they will be limited to as little as 1.44Vrms, which is not enough to drive some external amps to maximum power. A third option would have been nice: disconnect only the three front internal amps to allow the use of external power for the critical LCR front channels, letting the other internal amps handle the surround and overhead effects speakers. (The only Denon AVR to offer full on/off control over each separate channel's individual amp is the AVR-X8500H.)
The X6700H has an ECO mode with On, Off, and Auto settings. On isn't recommended for most applications as it drastically limits the available power output. The only time it makes sense is if you're using the Pre-amplifier Mode mentioned above where the internal amps (while still on) aren't being driven. The Auto ECO setting is recommended for normal use. This employs a low voltage power supply rail most of the time, jumping nearly instantaneously to a high voltage rail only when more power is needed (similar to class-H operation).
While the Denon runs hot in use, it was never uncomfortable to the touch. According to the company, it has three internal fans to keep heat under control, but these were so quiet that I never heard them. Nonetheless, packing 11 class-A/B amplifiers into a relatively small chassis leaves no room for huge heat sinks, so if you mount the X6700H in a cabinet I would strongly recommend adding one or more outboard fans to circulate air.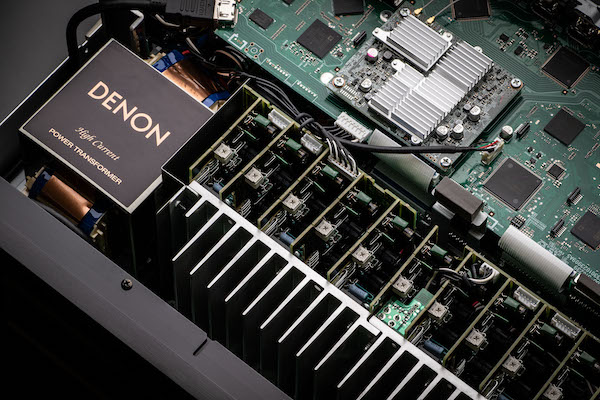 The Denon handles all existing immersive audio formats, including Dolby Atmos, DTS:X, and Auro-3D, and offers a range of other processing modes. It also supports playback of FLAC, ALAC, and WAV high-res audio files at up to 24-bit/192kHz resolution, along with 2.8/5.6-MHz DSD, via a network connection or its front-panel USB port. Note, however, that Audyssey MultEQ XT32 is limited to a sampling rate of 48kHz, which limits response to 24kHz. Along with Audyssey, the X6700H has bass and treble controls plus several bands of graphic (not parametric) equalization. The Graphic EQ is inaccessible when Audyssey is engaged, though the bass and treble controls remain available.
The X6700H's video connections include 8 HDMI inputs (one in front) and 3 HDMI outputs. Of these, one input and two outputs are 8K-capable. The AVR can also upconvert 4K or lower-res signals to 8K and its i/p scaler controls can be used to set video output resolution. Of course, there's no benefit to the 8K feature without an 8K TV (still very pricey) and little benefit without native 8K sources (currently nil).
The Denon will pass-through all flavors of HDR, including Dolby Vision and HDR10+. But apart from its video upconversion capabilities, it's essentially a highly sophisticated switcher/distributor that can pass through any signal format currently available or likely to appear in the foreseeable future. That's no small thing. I connect my video sources directly to the display, but rarely use more than two HDMI sources. Having a centralized switcher can be useful if your needs are greater, and the Denon's video distribution capability allow you to simultaneously output to two displays such as a TV and a projector.
The Denon offers HDMI 2.1 features, handling sources at up to 40 Gbps. In theory, HDMI 2.1 should accommodate 48 Gbps throughput, but the hardware needed to achieve that would notably increase the AVR's price with no real consumer benefit. Denon makes a convincing case that no consumer sets can display greater than 10-bit video (and there's no industry movement toward 12-bit displays), so 40Gbps is sufficient to handle any current or anticipated source material, including 8K. Dolby Vision is a 12-bit format, but all consumer displays truncate it to a 10-bit format (and streaming services do the same even before it gets to your router).