Star Wars: Episode VIII-The Last Jedi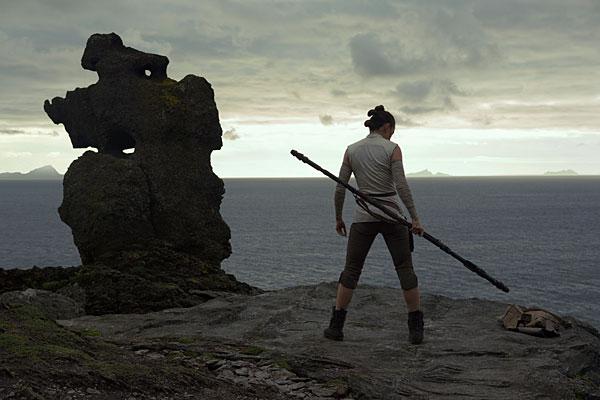 The fact that it manages to be so outright fun in the process is a minor miracle in itself. Simply put, The Last Jedi is truer to the spirit, intent, and philosophy of Star Wars than any Star Wars film has been in years. Perhaps decades. And its UHD Blu-ray release is the sort of home video treatment that the saga has always deserved but rarely gotten. To call this—the first Star Wars film to drop in 4K, and the first Disney disc with Dolby Vision—the best-looking release in the saga to date would be to imply that any of the other films give it serious competition.
They don't. Even in HDR10, color and contrast are simply reference quality. Shadow detail is impeccable, though the image never quite as blinding as other HDR reference discs. It's also one of a handful of UHD releases to truly outshine its 1080p equivalent in terms of detail, texture, and crispness, due largely to its predominantly 35mm source and 4K digital intermediate.
While the film's Dolby Atmos soundtrack will certainly be lauded for its intense directionality, thunderous bass, and overall density, it actually deserves more attention for the way in which its height channels are employed to enhance the scale of the film. Outdoor scenes on Ahch-To, the island refuge of Luke Skywalker, truly feel open, expansive, limitless. Indoor sequences, by contrast, feel more constricted and walled-in (or should that be ceilinged-in?).
It's just a shame that John Williams' isolated score track—another first for Star Wars—isn't given the same sonic treatment. It's limited to DD+ 5.1 via the Movies Anywhere digital version, a code for which is included with this set. So, too, is a separate Blu-ray containing some of the most insightful and brutally honest behind-the-scenes features we've seen since the original Episode I DVD release. The only thing missing here is a standalone tribute to Carrie Fisher, whose legacy is dealt with lovingly and tastefully, but not nearly enough. —Dennis Burger
STUDIO: Walt Disney, 2018
ASPECT RATIO: 2.40:1
HDR FORMAT: Dolby Vision and HDR10
AUDIO FORMAT: Dolby Atmos with TrueHD 7.1 core
LENGTH: 152 mins.
DIRECTOR: Rian Johnson
STARRING: Mark Hamill, Carrie Fisher, Adam Driver, Daisy Ridley, John Boyega, Oscar Issac, Andy Serkis, Lupita Nyong'o, Domhnall Gleeson, Anthony Daniels, Gwendoline Christie, Kelly Marie Train, Laura Dern, Benicio Del Toro, Frank Oz
Is Star Wars art or entertainment? The simplest answer to that question is, "It's both, of course." But Episode VIII: The Last Jedi proves the question to be less simple than it first appears. Because of all its silly creatures, swashbuckling adventure sequences, million-dollar-a-minute special effects, and cheeky humor, The Last Jedi is at its heart a deeply personal, deeply thematic, deeply deconstructive, big-budget indie film that forces longtime fans to contend with questions about what Star Wars even is and why its unique blend of mythology, arthouse pastiche, and B-movie kitsch works as well as it does.