Anthem MRX 710 AV Receiver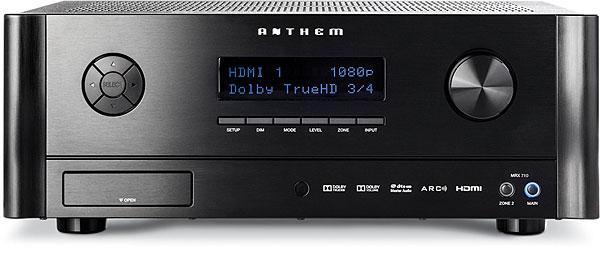 PRICE
$1,999
AT A GLANCE
Plus
Advanced build quality
Subtle room correction
Crisp, dynamic sound
Minus
No wireless anything
A tad analytical
THE VERDICT
The top model among Anthem's second-generation receivers omits needless features and splurges on performance.
"From Canada with love," says weatherman Mr. G of WPIX New York every time a sinister polar vortex is about to sweep down from the frozen north. That cool Canadian breeze can be a trial in winter. In summer, however, it's a breath of fresh air—and that's also a good description of AV receivers from Ontario-based Anthem. They're built like tanks, obsessively performance-oriented, and shorn of (what some might deem) frivolous features.
Papa Bear
The MRX 710 ($1,999) is the top model out of three new Anthem GEN 2 receivers, above the slightly less powerful MRX 510 ($1,599) and the five- (not seven-) channel MRX 310 ($1,199). Rated power is 120 watts x 7 with two channels driven or 90 watts with five channels driven. Note that few manufacturers dare to quote the tougher five-channel spec. See the Test Bench for our independent assessment of two-, five-, and seven-channel performance.
Anthem's GEN 2 models offer more than a dozen enhancements from the originals, some of which seem like generic receiver features: dual HDMI outputs, 4K upscaling and passthrough, etc. The video processor is an Analog Devices ADV8003 running custom software developed to Anthem's specifications. The most significant improvement is ARC 1M, an overhaul of the Anthem Room Correction system. Other upgrades include support for as many as 20 input-configuration options, forthcoming iOS and Android remote apps, improved menu and status graphics, and IP and RS-232 control drivers.
The amp is a bruiser. Anthem's heatsink tunnel uses heavy extruded (as opposed to stamped) metal, with output transistors mounted on it, further cooled by a fan that operates at two speeds (not counting fully off). "Advanced load monitoring" tracks temperature, voltage clipping, current clipping, and DC offset, running the fan as required (or in extreme cases, shutting down the receiver). It's another beneficiary of GEN 2 improvements in the protection circuitry and software.
Anthem's front panel is thick metal, not plastic, with column-like accents at the sides. HDMI and quarter-inch headphone are the only front-panel jacks. There's a volume knob at right, which adjusts the sound level in 1-decibel increments. In lieu of the customary input knob at left, there's a circular cluster of navigation buttons that step through whatever menu you select from the half-dozen buttons in the center: setup, dim, mode, level, zone, and input.
The remote control is relatively simple, with only 44 buttons—on the low side of average for an AV receiver. However, some of those buttons are usefully dedicated to controls such as on-the-fly channel-level adjustment, Dolby Volume low-volume listening mode, bass, treble, balance, and lip sync. Smart! The GUI look is plain and alphanumeric but has a sporty splash of red.
One of the eight HDMI inputs is designated 4K, and both of the HDMI outputs are designated ARC (with the Audio Return Channel that allows TV-originated audio signals to be processed by the receiver). HDMI switching is faster than on first-gen Anthem receivers. However, the HDMI version is 1.4, not 2.0, the latter of which would have offered support for 4K video at 60 frames per second, among other video and audio niceties. (HDMI 2.0 is making its debut in Pioneer and Onkyo receivers.)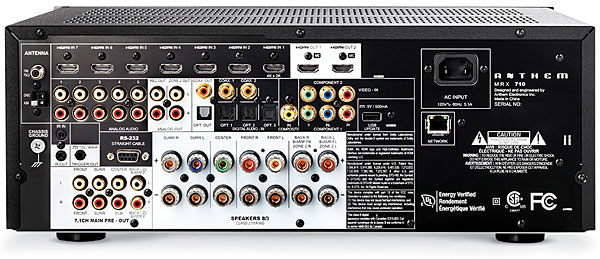 Anthem isn't enthusiastic about legacy video interfaces: The two HD-capable component video inputs aren't accompanied by an output. There is only one composite video in and no outs. There's no 7.1-channel multichannel analog input, either (though there are 7.1-channel analog preouts). Analog and digital stereo ins and outs are plentiful, and anything plugged into them can be routed to the second zone.
Anthem's choice of Dolby Volume as low-volume listening mode is a step up from a generic dynamic range control—and on a par with Audyssey Dynamic EQ/Volume and THX Loudness Plus. As Dolby says, it "monitors and adjusts the volume level in real time, intelligently compensates for the ear's changing sensitivity as the gain changes, and delivers a consistent sound level that's true to the original recording," with nine levels of adjustment.
Notable in their absence (though arguably dispensable) are listening modes that repurpose back-surround channels for height or width manipulations. However, the extra channels can be used to biamplify the front left/right channels. To adapt stereo signals to surround for either movies or music, the customary Dolby Pro Logic IIx and DTS Neo:6 are supplemented by AnthemLogic. It adds subtle surround effects to stereo content, but with no artificial echo or reverb, and to ensure the purity of the soundstage, it doesn't activate the center channel. It works as advertised. (The AnthemLogic-Cinema mode does use the center channel, though I typically tap DPLIIx for center-active music playback in my full timbre-matched system.)
Anthem receivers make no provision for Bluetooth, AirPlay, or Wi-Fi, either built in or as optional accessories. You'll have to buy the necessary adapters from someone else.
Anthem's ARC 1M PC-based auto setup and room correction program is proprietary and unusually sophisticated. The latest version has improved digital signal processing for more fine-grained acoustic tweaking. It not only measures your room's acoustic properties but also lets you print charts, both before and after correction. An added Ethernet connection allows the process to run more quickly than its predecessor.
Each ARC setup microphone includes a tripod, has been measured, and comes with a profile of its individual characteristics supplied on CD along with the room correction software. Install the latest version of ARC on your PC, connect the setup mike to the PC via USB, and run the program, which measures from five listening positions. (While the PC app runs in Windows XP, Anthem recommends Win Vista and up. For Mac, use Windows emulation mode.)
ARC 1M set a subwoofer crossover of 50 hertz (front) and 70 Hz (back) for my speakers, though I changed the setting, per my standard procedure, to 80 Hz all around. The latest Anthem receivers set crossover in 10-Hz increments starting at 40 Hz, as opposed to the formerly limited choices of 60, 80, 100, 120, and 150 Hz.