Anthem MRX 710 AV Receiver Page 2
Associated equipment included five Paradigm Reference Studio 20 v.4 speakers (from Anthem's sister brand) along with an Oppo BDP-83SE universal disc player. All movie demos were on Blu-ray Discs with DTS-HD Master Audio soundtracks.
No Nonsense
The MRX 710 had a no-nonsense personality that combined a crisp presentation with strong dynamics. It was voiced on the analytical side, favoring detail over warmth—though this was only intermittently apparent, not a painfully obvious one-size-fits-all approach. The ARC 1M room correction was subtle, leaving the midrange character of my room mostly intact while making modest imaging and bass improvements. In fact, to make sure it had taken hold, I ran it a second time with slightly wider mike placements. In my room, at least, ARC 1M tread lightly.
Iron Man 3, with Robert Downey Jr. once again in his robot suit, posed the stiffest dynamic challenges. Dialogue was exemplary. ARC 1M allowed a full-bodied, even aggressive bass (as my ears told me), but it did smooth out my room's two bass peaks (as the charts told me). The final half-hour was over-the-top loud, which presented me with several options. I could just knock down the master volume and count on the receiver's way with dialogue to keep me in the loop. That worked for a while. Or I could use the remote's dedicated treble control to take the edge off—a crude solution. The best option was to invoke Dolby Volume at a moderate setting, which rebalanced all soundtrack elements at saner levels.
Now You See Me—think Jesse Eisenberg, Vegas magicians, and a gush of effects—sounded so solid, with such strong bass and so big a soundfield, that my customary chunky-monitors-and-sub setup resembled a roomful of full-range speakers. The Anthem ticked off all the desirable boxes: big soundfield, smooth music, natural and unetched voices, powerful pounding drums, bombastic but well-controlled car chase.
Elysium imagines a future of haves (who live on a space station that doubles as a gated community) and have-nots (marooned on a polluted Earth), with Matt Damon trying to bridge the chasm. This slightly more treble-forward soundtrack highlighted the receiver's intermittently analytical voicing. However, the precise imaging and detail were still treats, and the receiver integrated all major soundtrack elements (dialogue, music, effects) into a coherent and involving whole.
Treble Rich
I listened to a lot of music while the MRX 710 was in the rack. First impressions were deceptive. The character of the receiver's treble seemed to be too much of a good thing when combined with the Symphony Edition devoted to Herbert von Karajan and the Berlin Philharmonic. (I listened to several Bruckner and Haydn selections from the CD box set.) It hardened the glossy sheen of Karajan's already prominent string section. But when I switched to virtually any piano recording—for instance, Rudolf Buchbinder's complete cycle of Haydn piano sonatas—the receiver's thorough excavation of the instrument's rich ringing overtones conjured a wonderland of feeling.
With a recently acquired amber-vinyl pressing of Steely Dan's Aja—which sounds just about as I remember my old black-vinyl pressing, but with less warpage and noise—I compared the two ARC 1M setups with correction switched off and on several times. Aside from the minor imaging and bass tweaks mentioned before, the results were surprisingly consistent. While the receiver doesn't have a mode labeled "pure," it does have a "process analog audio input" menu setting that functions similarly, cutting out all room correction and bypassing analog-to-digital conversion in the chain and defeating tone controls and surround modes in the process. I tried that, too. Anthem's unvarnished amp delivered a strong rhythm section (even with the limited bass of my stand-mount speakers) and delighted in the texture of the harmonically complex horn charts, some of which are fleshed out with synthesizer, a distinctive Dan-ism.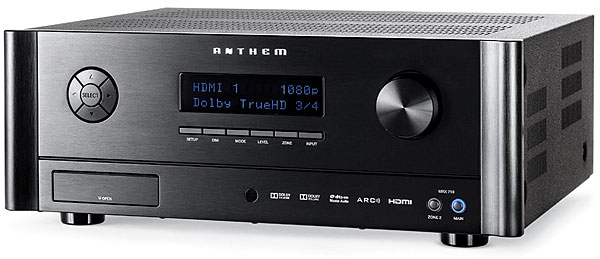 High Altitude Drums (four-channel SACD) features the Blue Knights Drum Corps of Colorado and the Troopers Drum Corps of Wyoming in an isoMike recording, which uses specially baffled microphones to cancel crosstalk. Brass and percussion instruments can make an unearthly sound, especially when they're playing Shostakovich. The Anthem, never less than controlled in its approach to anything, turned the brass into an unearthly buzz unlike anything I've heard before, with a strange sparkle of glockenspiel, all in a nonreverberant outdoor space.
The Anthem MRX 710 is a high-performance receiver with state-of-the-art room correction that miraculously does no harm (as the Hippocratic Oath would have it). The underlying amplifier sounds great on its own. A lot of what has become standard equipment in receivers is absent here, but you're free to add adapters for your favorite wireless scheme, and I can't imagine anyone boycotting an AVR maker for omitting height and width modes. While I'd pair this receiver with speakers that have a gentle top end, that's not an absolute must, and the confidently dynamic Anthem sound is one that'll please the overwhelming majority of listeners.