LG 55LM8600 3D LCD HDTV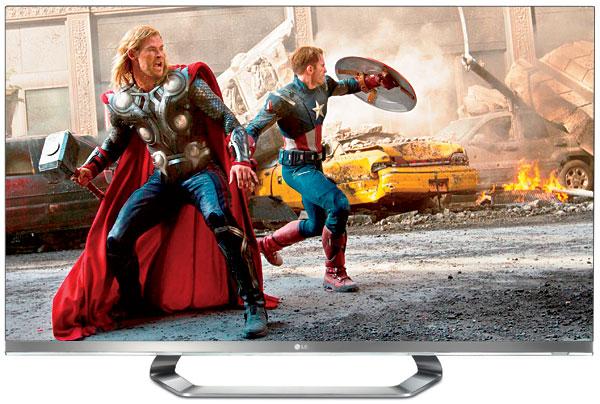 Price
: $2,900
At A Glance
: Exceptional detail • Rich, compelling color • Solid black level and shadow detail
Full LED backlighting with local dimming, when properly implemented, is the gold standard for achieving the best black levels in an LCD HDTV. But such a set also requires a lot of gold to acquire. LED edge-lit designs, needing fewer LEDs and less complex processing, cost less. While LG makes fully LEDbacklit local-dimming sets (its LM9600 Nano designs), the company's premier, edge-lit LM8600 offerings also include local dimming. Local dimming, even in an edge-lit set, is usually better than none at all, but it's less comprehensive and in theory less effective than the fully backlit variety. We reviewed the 55LM9600 Nano back in our September 2012 issue. But the 55LM8600 now lays down a strong challenge to its pricier sibling.
Description
Unlike the Nanos, the two LM8600 models are not THX certified but do offer ISFccc features in their two Expert picture modes. The 55-incher, our subject here, is nearly as thin as the Nanos. Its screen is reflective, as are most of today's sets, and the detachable stand offers 10 degrees of rotation in either direction. The printed manual is a basic guide to connection and setup. There's a more thorough onscreen manual, and a complete, downloadable owner's guide is available online.
The set has both two-point (high and low) and 20-point white balance controls and a CMS (color management system). While only a trained technician with appropriate test tools can properly use these features, LG's Picture Wizard II onscreen test patterns enable the user to accurately set the basic picture controls without a setup disc.
LG's motion compensation system, TruMotion, can make film-based material look like video—a characteristic common to most such systems that smooth motion by interpolating new frames. I left it off for all of my 2D viewing, but I did find the User mode, which offers separate control over judder and blur, useful for 3D watching.
The set's native refresh rate is 120 hertz, but it simulates 240 Hz with a combination of scanning and modulating the LED lighting. The LG raises 24-Hz 2D sources to match its refresh rate either by repeating (TruMotion off) or interpolating (TruMotion on) the added frames as necessary. In 3D, however, 24-Hz sources undergo 3:2 pulldown, converting them to 60 Hz prior to display.
A Gamma control offers three settings: 1.9, 2.2, and 2.4. The actual gammas were lower (lighter mid-brightness tones) than these numbers suggest.
While our sample of the set came with two remotes, the manual suggests that only LG's RF Magic Remote comes standard. Shaped like a chubby wand, it operates much like an air mouse for adjusting onscreen menu selections. While technically impressive and likely to wow the kids, I found it frustrating to use. The standard remote was far better (and may be available through LG dealers—model number MKJ61841813), although the latter lacked a Home menu and could not call up the Smart TV menu. LG's promotional copy and downloaded manual also suggest a voice recognition capability for the Smart Remote, but this feature was not available on this set.
Most flat-panel displays have atrocious sound. Not the 55LM8600. While I wouldn't declare its audio home theater worthy, it's well balanced and easy on the ears for noncritical listening.

LG's 3D technology uses light and inexpensive passive 3D glasses. The set comes with six pair. As with any of today's passive 3D televisions, the resolution seen by each eye is reduced to 1920 x 540, though this loss in detail is harder to spot than you might imagine and is not likely to be an issue for most viewers. The set also offers 2D-to-3D conversion. The 55LM8600's Dual Play gaming feature allows two players, each wearing special optional glasses (different from the standard 3D variety—Dual Play functions in 2D only), to view just their own part of the action without the need for a split screen.
LG's Smart TV design offers a boatload of Web-based services accessible with either a wired or wireless connection (the Wi-Fi receiver is built in). These include Skype, YouTube, Vudu, Hulu Plus, Netflix, Twitter, Facebook, and much more. You can also play back music, videos, and photos stored on your home network. The online selections I watched, including some claimed to be high definition, were tolerable but not up to even average Blu-ray HD standards—a shortcoming most likely due to the sources themselves, not the set.
LG's onscreen Internet navigation menu is complex but as well designed as any, considering the number of selections offered. The Smart TV default settings do, however, give you an overly bright picture with TruMotion engaged and pumped-up color. To dial in better picture settings for your Internet viewing, you must use the remote's Quick Menu. If you select the Home menu while in Smart TV mode, the set exits the Internet.
2D Performance
The LG's video processing (see the Video Test Bench chart) was virtually flawless. The MA (Motion Adaptive) HD test pattern we use flickered slightly as the test's rotating bar moved through certain angles but showed no significant jaggies.