Onkyo TX-NR3010 A/V Receiver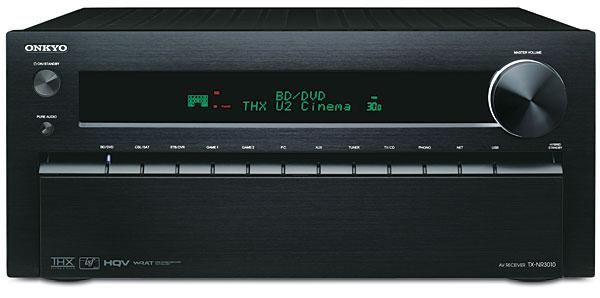 Price
: $2,299
At A Glance
: Audyssey's best room correction • ISF, THX certifications • Nine amp channels
Onkyo is the quintessential feature-conscious audio/video receiver maker. The company is the champion of the mid-priced receiver, providing things like THX certification, Audyssey room correction, and other goodies at a poor man's price point. The upper reaches of Onkyo's line get a bit less attention in the press, however. So today we swing the spotlight onto the Onkyo TX-NR3010, second from the top of the line. At $2,299, it has a few logo-tattoos you may not have heard of before. It also has a lot more power and more ambitious build quality than its slightly less tattooed siblings.
Number Nine, Number Nine...
The Onkyo Website showed a whopping 21 surround receivers at press time (in addition to two stereo receivers), representing models from at least two model years. The top three models ending in –010 are brand new. Of those, the TX-NR3010 occupies the middle ground, its $2,299 price tag sandwiched between models selling for $2,999 and $1,700. Both the TX-NR3010 and the top-of-the-line TX-NR5010 boast nine amplifier channels; the rest have seven channels. Additionally, the TX-NR3010 and TX-NR5010 provide line-level outputs for two additional channels and are said to be the first to offer full 11-channel playback via the DTS Neo:X format.
One thing you should get when you pay two grand for a receiver is a lot more power. That in turn allows you to run more speakers—up to nine in this case—or use the extra power to run five more power-hungry speakers. The TX-NR3010 is rated at 140 watts per channel into 8 ohms with two channels driven (only 5 watts fewer than the top-line model). See our measurements for an independent perspective with two to seven channels driven continuously. This beefy 55pounder comes with four discrete power transformers for audio and video circuits and anti-resonant top and side panels.
The nine available amp channels allow you to add more surround and ambience speakers to the standard 5.1-channel array. They might include height speakers using the Audyssey DSX, DTS Neo:X, or Dolby Pro Logic IIz height modes, DSX or Neo:X width channels, back-surround channels, or biamplification of the front left and right channels. A digital crossover is provided to make biamping more flexible.
As noted, you're free to add additional amplifiers and use the receiver's 11.4-channel preamp outputs. This is the first receiver I've noticed with four subwoofer outputs. While they all get the same signal, you might improve your room's bass coverage with more subs without having to resort to a handful of Y adapters to connect them.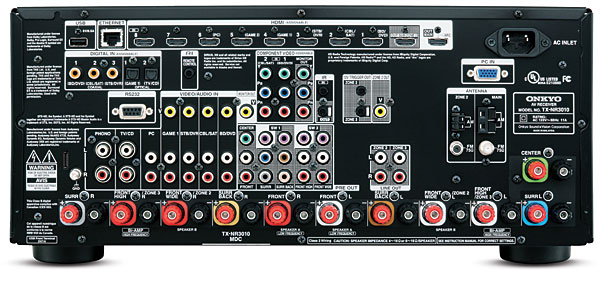 I'm looking at the Onkyo Website—specifically at a page festooned with logos, four rows of nine items, totaling 36. I'll go out on a limb and say that the most significant of these is Audyssey MultEQ XT32 auto setup and room correction. Audyssey offers a total of four room-correction schemes. They differ in the amount of filter resolution and processing. MultEQ XT32 has the highest filter resolution with 10,000 individual control points, applied to all channels and multiple subs. That's 32 times the resolution of the next best option, MultEQ XT (hence the name XT32). By the time I got around to switching XT32 on and off, during the music demos, I was impressed at how fabulous it sounded compared to a direct unprocessed signal with most content.
This receiver carries a few significant certifications. It is certified by the Imaging Science Foundation (ISF) to provide optimum video performance when set up by someone who knows what he's doing. At this price, you might want to invest a little more to have an ISF-certified technician come in and tune the receiver's dual-core video circuitry—including up to 4K upscaling from Marvell Qdeo and 1080p conversion from HVQ Vida—for your display.
Another meaningful form of certification, on the audio side, is THX Ultra2 Plus, which indicates that the receiver has been tested in various aspects of performance and found to produce sound pressure levels of up to 105 decibels in rooms of up to 3,000 cubic feet when used with Ultra2-certified loudspeakers.
The Plus in the name refers to the Loudness Plus mode, which adjusts response and channel balance to keep vocals intelligible and surround levels solid at below-reference-level volumes. Audyssey's Dynamic EQ and Dynamic Volume, also provided here, have a similar mission, but Dynamic Volume also introduces compressors to limit dynamic range. I prefer it to Loudness Plus for that reason. When a steroidal action movie soundtrack pins my ears to the wall, I resort to the dynamic range compression offered by the lowest Dynamic Volume setting that affords relief, stepping up to higher settings only under extreme duress. I don't hesitate to tamper with the dynamics of a soundtrack when pleasure turns to fatigue and irritation, but I prefer to keep the tampering to a minimum, staying as close as I can bear to the mixer's intention.
Other new and unusual features: Mobile High-Definition Link (MHL) enables you to connect a compatible smartphone to the receiver's front panel to access its audio/video contents. InstaPrevue picture-in-picture shows you a small picture inset for each HDMI-connected device, so you can identify input sources by their video content as opposed to their HDMI jack number. Cisco SimpleTap (available with firmware upgrade) attempts to make home network setup easier. For wireless connection of audio content, an adapter provides compatibility with Bluetooth 3.0 and the aptX codec. You can also connect your iOS device directly to the front USB jack. An iOS remote app can substitute for the supplied remote control.
Those running multiple zones get a couple of niceties. If you want high-def video in a second zone, one of the HDMI outs is configured for that purpose—a big improvement over the crummy standard-def composite video most multizone receivers provide for Zone 2. The back panel also provides dual AM and FM antenna inputs for both primary and second zones (and two of each antenna are supplied). That's something I've never seen before. Maybe I should get out more. Digital terrestrial HD Radio is supported, so you can hear what your local stations are sending out over their alternative digital channels.