Wading into the Wholehouse Audio Pool
Wholehouse systems are primed for a run, and one-box solutions may be the trigger.
Every year, predictions that the fully connected home has almost arrived resound across the country. To hear it told, someday soon, we'll all look back and laugh at how barbarian we were back in the dark ages before we could walk into a room, hit a button, and instantly be swept up in music or movies that originate in a remote closet or basement that never offends the eye with its black-box contents. Why does the optimism continue year after year without blockbuster results? Because it is true. Wholehouse audio/video and home networking are going to explode; it just hasn't happened yet.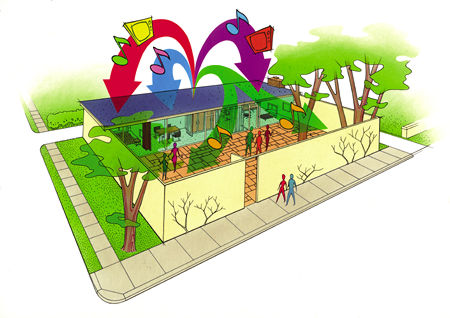 What makes me so sure that wholehouse audio's future is bright? Many things, starting with simple logic. People love music, they love movies, and they love convenience and simplicity. As technology continues to make the prospect of having a wider range of music and movie options available without dramatically adding to a home's complication factor, more people are going to take notice. Another bullish sign is outside interest. A few companies you may have heard of—Microsoft and Cisco Systems, to name two—have been talking more about distributed A/V and home networking lately. Cisco has even set up a separate department to deal with the topic. The ramifications of these companies invading the home theater and custom world is a legitimate topic for another time, but their interest tells me that this market has serious potential.
There's nothing like cold, hard evidence, though. While wholehouse audio may not yet have attained the kind of recognition that people have predicted, the lock on the floodgates seems to be getting rustier. Here in the Los Angeles/
Orange County area, the custom folks are making major headway with homebuilders, which is a huge factor in making this whole thing move forward. Prewires and other forward-thinking accommodations for wholehouse audio and networking systems are quickly becoming the rule rather than the exception—and not just in big-ticket homes. While it's sometimes good when things that start in Los Angeles, New York, and other high-profile locales don't filter out to the rest of the country, it's very good in this case that they will.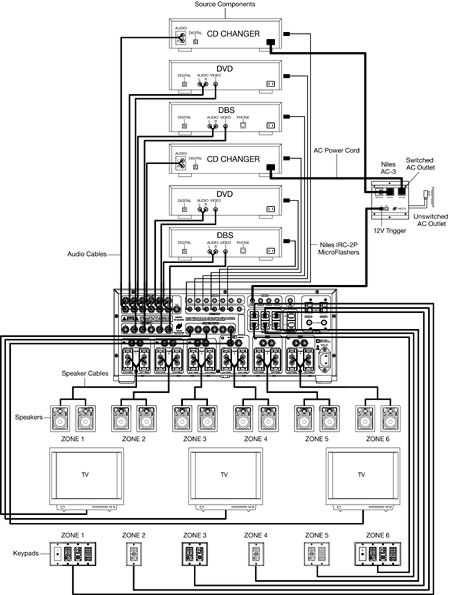 As we all know, something can't take off in this country until it resonates with the masses. One of the last major hurdles that the wholehouse-audio camp faces is one of the tallest: perception. Most people still believe that wholehouse audio is a plaything of the rich, that it's too expensive and too complicated for the average Joe. When they see an exotic system that features 30 zones of audio in an A/V magazine, they never think about the fact that there are far more systems designed for six rooms. While a variety of options are available for wholehouse audio, my goal here is to concentrate on the systems that make leaping into this genre less expensive, less complicated, and, most of all, less intimidating.

Just as with home theater, one of the keys to simplicity in the multizone/multisource world is the integrated amplifier or receiver—a one-box system that provides pre-amplification, amplification, and control. Naturally, this receiver differs from the standard A/V receiver in many ways, chief among which is the absence of processing and, naturally, a far different complement of connections. However, it shares the A/V receiver's appeal of simplicity and approachability. As a far more-realistic entry point for most people, the A/V receiver was one of the primary triggers of the recent home theater explosion. The custom world is hoping that multizone receivers and integrated amplifiers will have a similar effect for wholehouse audio.
When you look at multizone/multisource receivers and integrated amplifiers—or any other wholehouse audio system, for that matter—the first things you should look for are how many sources it accepts and how many zones it distributes to. One of the primary features that distinguishes multisource/multizone systems from simple speaker-distribution systems and other approaches is that they offer independent control of several different sources in any of the zones, and zones can operate independently of one another. In other words, Mom can listen to the CD player in the living room while Dad listens to the DVD player in the office and the kids listen to an MP3 player in their bedroom. All that you need in the listening area are speakers and some sort of local control. You can control the volume independently in each zone, too. A basic multizone system must share a single source, or a few sources, and it may or may not offer zones that have independent sound, let alone independent volume control (usually, they don't).

Other key issues are amplifier power—how much wattage the system supplies to each room—and whether or not the system has preamplifier outputs that, among other things, allow you to use a separate amplifier for zones where you want more power. You should also seriously consider system expandability. Many systems offer subzone support, usually through the growing segment of A-BUS products. With the addition of extra components, you can turn these systems into rather elaborate wholehouse systems down the road.
System control is another critical issue that you should consider. After all, a good multizone/multisource system is one that you can tuck out of the way and forget about. Your daily interaction with the system will be via a keypad or other controller. It can be highly complicated to mix and match different brands of keypads and systems—and this usually isn't an option, anyway—so it's often just as important to find a controller that you like as a system that you like. Keypads are still the primary form of wholehouse audio control, but more systems now offer handheld remotes for their zones, as well. Handheld remotes send IR commands to the main system through IR receptors in the wall keypad or through other IR-routing systems. Controllers can get as elaborate (and expensive) as you want, ranging from big-ticket touchscreens with a plethora of programmable features to simple keypads that cover the most basic system functions. Remember that the amount of system control and the programming options available to you are more a function of the keypad than the receiver or integrated amplifier, so you should focus at least as much of your attention in this area as you do anywhere else.