Denon AVR-4810CI A/V Receiver
Price
: $2,999
At A Glance
: First Denon A/V receiver with nine channels of amplification • Networked audio features include Wi-Fi • Strong audio fundamentals
Need Supersizing?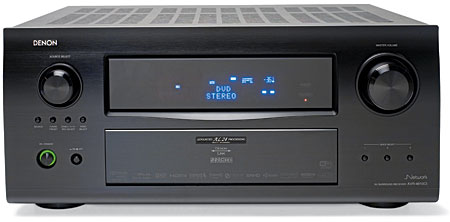 Has the concept of supersizing peaked? The McMansion-driven housing boom is a bust. Some SUV owners are trading in their gas-guzzlers for more efficient hybrids of the same size, while others are opting for more efficient hybrid sedans. Fast food addicts are counting the calories in their Happy Meals.
In video for home theater, the trend is more ambiguous. Con- sumers are still upsizing their displays, but manufacturers are compensating with energy-efficiency gains. Moreover, state regulations—notably in California—may trigger further efficiencies.
In audio for home theater, the trend is downsizing. The slim- ming of displays has pushed a complementary response in surround systems. Soundbar speakers are rushing to market like logs speeding down a tumul- tuous river, with sat/sub sets bobbing alongside them. While energy-efficient amplifier topol- ogies (Class D, Class G, Class H) haven't toppled conventional Class AB, they're certainly nib- bling around the edges. So this seems like an odd moment to supersize a Class AB A/V receiver.
In November 2009, I reviewed the Denon AVR-4310CI, the first A/V receiver to feature Audyssey's DSX height and width enhancement. It also boasted Dolby's Pro Logic IIz height enhancement, which has spread through Denon's entire line. With two extra amp channels, the new AVR-4810CI kicks it up another notch by running two of the following three surround enhancement options simultaneously: front height, front width, and back surround. A regular seven-channel AVR can add only one of those three items to sur- round sound's standard 5.1- channel array. A single mono subwoofer channel also supports up to three subwoofers.
Two More Channels, Ten More Watts
At 44 pounds and $2,999, the nine-channel AVR-4810CI is 9 pounds heavier and $1,000 more expensive than the seven-channel AVR-4310CI. At a rated 140 watts per channel, it's also nominally 10 watts per channel more powerful. However, as always, our measure- ments should be your ultimate guide, and it might be instructive to compare the charts for both models. (Check your November issue or HomeTheaterMag.com). Otherwise, their feature sets are similar and quite enviable. Besides DSX, they feature Audyssey's MultEQ XT auto setup and room correction, plus the one-two punch of Audyssey Dynamic Volume and Dynamic EQ for greater flexibility in low-volume listening.
On the right side of the AVR-4810CI's front panel is a volume knob, and below it are three tiny Quick Select buttons that combine source selection with a default volume setting. The left side features a source select knob and four buttons that select up to four zones (among other things). Below the white fluor- escent display in the center is a flip-down door that conceals a fairly comprehensive selection of controls, including navigation buttons. So for many functions, you won't be limited to the remote. The full-color graphic user interface (GUI) is attractive. This is a good thing, because the AVR's many features will have you using it often. Denon provides two remotes, including one with a touchscreen and a few simplified buttons, plus a more conventional one with no touchscreen and more buttons.
The touchscreen remote is a little perplexing at first (and Denon's cryptic surround-mode nomenclature doesn't help). It took me a while to realize that the source-input labels at the top of the touchscreen only affect the command menu at the bottom of the touchscreen. You can only select source inputs with the hard buttons on the bottom of the remote or with the left knob on the front panel. I felt pretty silly when, after a week of mystification, my technical contact explained how it worked. Once you get the hang of it, you may prefer it to the sea-of-buttons approach.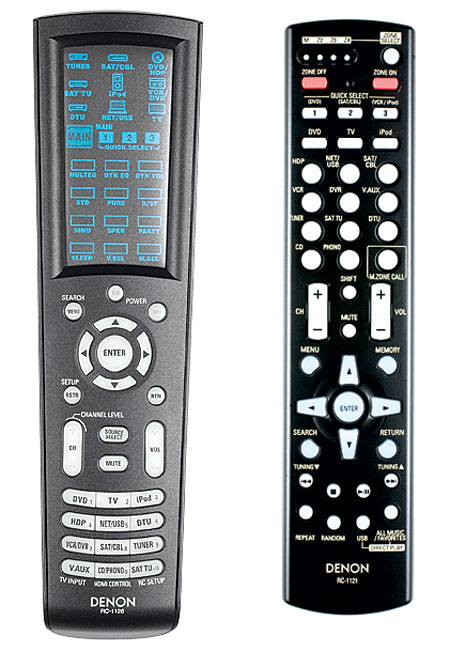 The front panel also has a couple of welcome rarities behind its flip-down panel: HDMI and USB inputs. The USB input can accept an iPod directly without the need for an extra-cost dock. It has a mate on the back panel, but you can't use them simultaneously, and you must select the operative one in the GUI. iPods can function in either GUI Mode (operating with remote and onscreen display) or Remote Mode (operating directly with iPod controls). The manual says the AVR is compatible with iPods 5G and later, nano, classic, and touch. In addition, Denon told me that only 5G nanos work. The manual adds that Remote Mode is not supported on 5G iPods or nanos. For non-compatible iPods, you'll need the optional dock.