Integra DTR-8.4 A/V Receiver and Tannoy Arena Speaker System
The international systems tour rolls on.
You may recall that I've usually tried to dip into the historical well when introducing the many international audio systems that we've reviewed lately. This at least spares you from yet another opening paragraph of worn-out exaggerations about paradigm shifts and in-your-face phrases like "in your face." I'm somewhat stumped here, though. The Japanese and English seem to have avoided pairing up, or squaring off (directly, at least), in any high-profile military conflicts. There have really been no economic or cultural wars between them. I can't even find a case where they've faced off in a major sporting event. But one place they have gotten together often is in the listening room—and I suppose that is what we're here for, after all.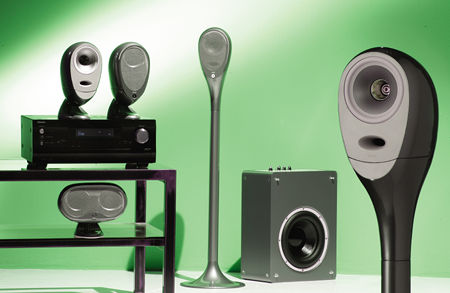 The collaboration between the Japanese and English almost always takes on this form, with electronics from the former and speakers from the latter. (It's not easy to find Japanese speakers on these shores, and English electronics aren't much more plentiful here in the lower price brackets.) We followed suit with the Integra DTR-8.4 A/V receiver and the Tannoy Arena 5.1-channel speaker system. Both are priced in that meaty middle range of A/V gear and come well armed for the competition.
Second only to the build-to-order (and considerably more expensive) DTR-10.5, the DTR-8.4 has a lofty standing in Integra's receiver line and is outfitted accordingly. Standard features and connections are ample, and there are some legitimate bonuses, as well. Power gets 110 rated watts for each of the seven channels. Processing gets the main contingents from Dolby (including EX and Pro Logic II) and DTS (including ES Discrete, 24/96, and Neo:6), as well as the receiver-requisite DSP modes. It also has THX postprocessing and is THX Select–certified. A solid list of internal components includes 24-bit/192-kilohertz digital-to-analog converters and dual 32-bit DSP chips.
The standard connections on the DTR-8.4's rear panel speak to its potential as a system centerpiece. There are several digital and analog audio inputs and outputs and several composite, S-video, and component video ins and outs. There's also a 7.1-channel analog input and 7.1 channels of preout. The second zone gets audio and video output and power, should you choose to dedicate the last two amp channels to a second zone instead of rear surround speakers. Power for a second zone is always a major receiver perk in my book. The front panel offers an additional A/V, S-video, and optical digital input.
The nonstandard connections on the DTR-8.4's rear panel speak to its less common abilities. It's not often that you'll see an Ethernet connection on the back of a receiver, but there's one here, for use with the proprietary Net-Tune system. This lets you directly access music stored on your computer's hard drive and Internet-based servers and radio stations. You can also use the Ethernet connection to download software upgrades for the DTR-8.4. An RS-232 connection is aboard, which allows connection to more advanced control systems and isn't very common on receivers outside the $3,000-to-$5,000 crowd.
It's clear as soon as you open the boxes that Tannoy plans to complement audio performance with aesthetic flair in the Arena system, right down to the slick stands, which play an integral part. Four identical two-way satellites, each with a 0.8-inch titanium-dome tweeter and coaxial 5-inch midbass driver in Tannoy's Dual Concentric deployment, handle front and rear duties. Two floor stands for the fronts and two tabletop stands for the surrounds is the typical stand configuration, but you can use any setup you want. The tabletop stands can also be wall-mounted. Speaker-wire conduits are supplied in the stands and are in fact necessary to get the speaker to sit properly in the stand. This is fine with the floor stands, which have large wire channels, but it can be problematic with the tabletop stands, where the narrow channel won't allow much more than small, basic speaker wire. Once assembled, the satellites and stands become an eye-catching and relatively seamless combination that will look good next to just about anything. A variety of cabinet colors only adds to the aesthetic options.
Rounding out the Arena system is a horizontal center channel that uses the same 0.8-inch dome tweeter and 5-inch midbass driver in the Dual Concentric form, plus another 5-inch bass driver. It comes with an appropriately aligned tabletop stand. The equally eye-catching Arena sub supplies a rated 300 watts and a 10-inch cone in a sealed box that can be configured, via supplied floor spikes, to be outward- or downward-firing. Phase, gain, and crossover (50 to150 hertz) control are offered, along with a crossover-bypass switch. There's also an LF extension control with music and theater options.
Setup is short and simple, as you'd expect from a system like this. A good Integra remote and onscreen interface help the process considerably. There's not much to setting up the Tannoys, either. The stands are essentially already assembled; all you have to do is run the speaker wire through, connect it to the high-quality binding posts, and then secure the speakers to the stands. The whole process, from unboxing, to setup, to adding a Marantz DV-8300 universal player, took me less than 45 minutes.
The first things to grab me with CD material were a crisp, prominent top end and a highly effective blend between the sub and satellites. The high frequencies will get your attention quickly. They are aggressive without being overly aggressive and slightly forward without being overly forward. The result is an immediacy that is engaging, especially with up-tempo tracks. I usually find more aggressive top ends to be fatiguing after sustained periods of listening, but that wasn't the case here. These tweeters get your attention, but they don't scream at you. The same could be said about the bass. It too will let you know it's there, but it doesn't bombard you with bloated, monotone mush. It kept up with these snappy little satellites nicely, and there were only a few instances where I felt that it lagged behind slightly. It showed no particular fear at driving the lower frequencies. I hit it with the cage-rattling pipe-organ barrage of "Lindenkirche Berlin" from the second Burmester collection, and it responded with authority and composure.
High-resolution material filled in some of the midrange presence that was lacking at times with CD material—which is usually par for the course with sub/sat/receiver combos. The Integra/Tannoy combo delivered more midrange punch than much of its competition in this price bracket, but it was still laid-back at times and was occasionally overshadowed by the upper and lower frequencies with CD material. This was not as much the case with SACD and DVD-Audio. The SACD version of the O Brother, Where Art Thou? soundtrack, which deals almost exclusively in the middle frequencies, was excellently handled, with pure, natural treatment of voices and ample body to guitars, banjos, and most everything else that can be picked or strummed. The real test came with material that hammers the entire frequency range, as classical music does so well. In went the DVD-Audio of Respighi's Pines of Rome (AIX Records), and out came a strong midrange presence that held its own with the tweeters and sub. The upper frequencies continued to be prominent but were much smoother and inviting, due to the inherent nature of high-resolution material's top end.
Dominance at both ends of the frequency range naturally set the stage for soundtrack reproduction with an obvious excitement factor. I looked to exploit this right away, and what could be better-suited than a good combat scene? Easy Company's assault on Foy from chapter 7 of Band of Brothers kicked things off, and I was immediately taken in by the immediacy and dexterity of the transient sounds of the smaller ordnance and the big, rumbling blasts of the heavy shells. As you should expect, this system won't blow your doors off with a limitless soundstage and off-the-charts dynamic range, as big towers with hundreds of watts behind them can. Within its comfort zone, which is larger than most systems of this size, it will grab you and toss you around. It can handle significantly more volume before it starts to break up than its size would suggest. Compression and fatigue only come into play past the point where most people will set the volume.
The center and surround speakers do their work impressively for their size, too. The center channel didn't avoid all the trappings of small models, but it did a lot better than I'd expected, considering its compact dimensions. Small centers face a stiff challenge from Hollywood, which loves to drive that channel hard. The results in small models almost always sound puny, but this one only seemed to sound this way when it got especially overrun by heavy amounts of music, effects, and dialogue at once. Even when doing so, the effect seemed to be contained more to the ancillary sounds, while voice reproduction (the most important aspect of center-channel performance) stayed relatively natural and unforced. Creating a believable surround soundfield from small, direct-radiating speakers is no easy task, either, but the Tannoys' effort was commendable. This surround field has its boundaries, but it is broader and more diffuse than is often the case. I aimed the surround speakers more toward the back of the room to eliminate some of the tweeters' localizing effects. These surrounds offer a good tradeoff between music and movies in what will surely be, in most cases, a multipurpose system.
We may not know what the Japanese and English can do together on the battlefield—or even the sporting field—but they usually get together effectively in the listening room. The collaboration of Integra's DTR-8.4 A/V receiver and the Tannoy Arena speaker system was no exception. It is a slick, unobtrusive system that will do good service in a variety of different environments and applications. There's no doubt about the competition's stiffness in these middle price points, but this is a system that is worth making an effort to listen to as you make your way through the crowd.
Need a Display?
We recommend the following displays to mate with this Integra/Tannoy combo: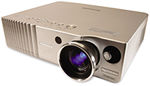 Panasonic PT-AE700U LCD Projector, $2,999
Resolution: 1,280 by 720
Best video connection: HDMI
Weight: 7.9 pounds
Hitachi 32HDL51 LCD HDTV, $3,999
Screen size: 32 inches
Best video connection: DVI
Weight: 86 pounds
**Please remember that if you decide to use a projector, you will also need to purchase a screen.