Harman/Kardon AVR 7000 A/V Receiver
No matter which side of the receivers-versus-separates debate you find yourself on, it's simple to understand why A/V receivers have the broad appeal among home theater buyers that they do—they're easy, period. A well-executed receiver is easy to purchase, easy to set up, and easy to use. These are commodities that go a long way in any market today, regardless of bottom-line performance. And let's face it, the performance of receivers has improved considerably in recent years. You're still not going to see dedicated theaters or music rooms built around a receiver, but you won't get laughed out of the room anymore when you start comparing its performance to that of comparably priced separates. Context is key in the receiver game. What do you really need, where do you need it, and how much are you willing to pay for it?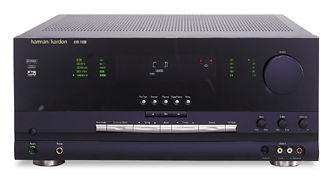 Harman/Kardon understands this, and their flagship AVR 7000 A/V receiver gives them an interesting position in the product genre that they helped create. At $1,799, it's priced well below the flagship models of its main competitors, yet it has enough worthwhile features to differentiate it (and justify the extra dollars) from the $1,000 to $1,200 crowd. It's priced high enough to offer legitimate technology and build quality but low enough to avoid drifting into a realm of stiff competition from separates, as its $2,500-and-up peers do.
The AVR 7000 is well-covered in the now-standard-for-higher-priced-receivers realm of features. It offers: Dolby Digital and DTS processing; six-channel external inputs (DVD-Audio fans, take note) and pre outs; a second-zone output for audio and video; four digital inputs (two optical, two coaxial); two digital outputs (one optical, one coaxial); five video inputs with four outputs (each in composite and S-video); and seven analog audio inputs with four outputs. It supplies 100 watts by 5 into 8 ohms. Important perks include HDCD decoding, a dedicated remote for the second zone, and component video switching—a welcome addition to the receiver world that's not yet a given in any price range. Notable omissions include THX and Surround EX processing, which is why this unit is priced as it is while most (but not all) other models that offer these modes are priced in the mid-$2,000 range.
As receivers go, the AVR 7000 may appear light in DSP-mode quantity, but don't let this deceive you. Incorporating 20 or 30 bogus surround modes is far more valuable for press releases and Circuit City placards than it is in reality. Most people turn these "features" on once for the novelty and never think about them again. The AVR 7000 does offer a theater mode, two hall modes, a Dolby 3 mode with phantom surround channels, and Harman's proprietary VMAx mode that's designed to deliver a three-dimensional soundstage from only two front speakers using phantom center and surround images.
Logic 7 decoding, which you may recognize from other Harman-family processors, is also onboard, although it's a bit of a misnomer here. On the Lexicon and JBL Synthesis processors, Logic 7 creates a 7.1-channel soundfield (hence the name) by deriving additional channels from 5.1, Dolby Surround, or even stereo sources via intricate active-matrix techniques. Logic 7 offers the same idea on the AVR 7000, albeit in 5.1 channels. In addition to stereo front channels and a matrixed center channel, it delivers full-bandwidth, stereo rear channels from both surround-encoded and two-channel sources—compared with Pro Logic, which delivers mono rear channels from surround-encoded sources only. There are separate settings for Logic 7 music and Logic 7 cinema.