JVC Alneo XA-HD500 MP3 player
Will better sound help a non-iPod product succeed in a iPod-centric world? JVC is betting on it with the Alneo XA-HD500. Now, I'm not saying the iPod sounds bad. The minis and nanos I've heard sound pretty good. But the Alneo has an edge in transparency that becomes immediately obvious with a high-end classical recording like Mozart's
Clarinet Concerto (K622)
, as played by the Michelangelo Chamber Orchestra with soloist Antony Michaelson. Normally I don't expect miracles from MP3 files, even when ripped at 192 kilobits per second, but I was amazed at the fragile beauty of the string sound and the air that surrounded the solo instrument. I was hooked.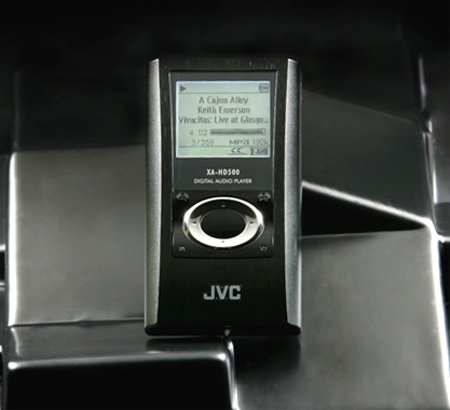 The Alneo is 3.6 inches tall, roughly the same size as the nano, though its width is closer to Apple's hard-drive-based players. It has a 6-gigabyte hard drive. Supported file formats include MP3 and WMA, with or without Microsoft's digital rights management.
A charging dock is the most significant supplied accessory. Its protruding connector fits into the bottom of the player. You can charge the player and load files using either the dock, which has a USB jack, or a direct USB connection from player to PC. The unit also includes a set of earbuds, a minijack patch cord-both of them are gold tipped-a USB cable, and for the ultimate in audiophile street cred, a TDK ferrite clamp filter, which attaches to any cable and filters out electromagnetic interference.
The nano-shaped remote replicates all the controls on the player, which include two function keys, four navigation keys, enter, menu, and play/pause. JVC claims 30 hours of battery time-but with a catch. That number applies only to MP3 files ripped at a horrid sounding 64 kbps. No one with two good ears would tolerate such a low bit rate. Additionally, the player supports 18 languages in the menu and 27 for tagging info.
OK, the 1.5-inch black-and-white display is not as pretty as the color ones on newer Apple products. The use of four navigation keys in lieu of a click wheel leads to more button punching. Otherwise, the player's interface should be roughly familiar to those who have encountered iPods.
Though the product is packaged with Windows Media Player 10-incidentally, the first version to rip MP3s without need for a plug-in-you don't need it to get music into the player. The Alneo shows up as a disc drive in Windows, so you can use Windows Explorer to drag files onto it, as I quite happily did. You can also use the unit as an external drive for file storage.
Why does this player sound so good? JVC credits its K2 CC Convertor. Despite the suspiciously fancy name, this little circuit represents some serious and original engineering, and the end result is greater refinement in playback of compressed audio.
Of course, what made the iPod a phenomenon isn't sound. But maybe good sound will be the next step in the MP3 revolution. We can only hope.
Price:$249.99
Mark Fleischmann is the author of the annually updated book Practical Home Theater. For links to the latest edition, visit www.quietriverpress.com.