Apple iPod touch 16GB
It's all been leading up to this.
Airport crowds, metal detectors, ticket prices, and malodorous seat neighbors notwithstanding, now is a really good time to be a commuter.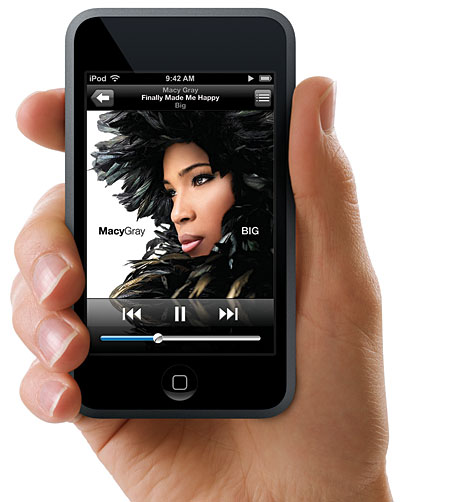 Speculation has run wild for years about potential changes to the iPod and its screen, in particular. When will it be bigger, or wider, or even touch-sensitive? The first hint of things to come was, of course, the iPhone, with its host of new features; but the similarly styled new iPod touch stands alone. Combining large quantities of flash memory to store content (8 or 16 gigabytes) with a bold new array of capabilities, the touch represents the huge evolutionary leap that Podophiles have been waiting for.
The Big(ger) Screen
The 3.5-inch screen appears much bigger than the narrower 2.5-incher on iPods of the past, as such a large percentage of the face of the unit is now covered with bright liquid crystal. It is also a touchscreen, or what Apple calls "multitouch," which renders all of the various functions as a series of interactive icons and controls. The only hard keys remaining are a Home button to return directly to the main menu and a Sleep/Wake switch. I do miss the volume knob, as I tend to adjust frequently. Multitouch took a bit of getting used to after generations of the iPod's ubiquitous click wheel, and I made more than a few frustrating errors—born of my clumsiness—as I rode the learning curve. And there was a lot to learn. Most significantly, the touch is impressively Wi-Fi enabled, with Apple's Safari Web browser to take full advantage. You can choose Google or Yahoo! as your default search engine, and a world of YouTube videos is accessible with just a tap, fast-loading with full bookmarking and searching. In general, you should invest time with the touch's layers of interactivity, and don't be afraid to experiment.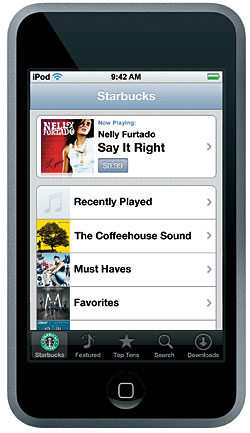 The touch automatically displays all videos (including TV shows, music clips, and your own movies) horizontally, while it can display Safari Web pages either horizontally or vertically, depending upon how you're holding the unit. It adjusts automatically, thanks to the onboard accelerometer. The zoom quality is extraordinary. Just double-tap a page, and it blows up, all fuzzy-like. After about two seconds, though, it comes into clear focus. Conven-iently, you can blow up widescreen movies for clearer viewing or pull them back for full aspect ratio with a tap—without interrupting playback. The default settings support JavaScript and plug-ins, block pop-ups, and accept cookies from sites already visited, but all can be modified.
All right, some people practically live through the iTunes Music Store, always searching for and buying new music. For them, Apple now delivers the iTunes Wi-Fi Music Store, which is accessible from any open network. The touch automatically searches for nearby networks, and, unlike another so-called Wi-Fi-enabled MP3 player I tried this year, the iPod touch provides a virtual keyboard to enter any necessary name, password, client ID, or static IP address. If fees apply, a Safari page will appear with the appropriate information. This Wi-Fi version of the iTunes Music Store is streamlined, as you might expect, and is music-only at the present time. It is also remarkably quick and full of tiny animations to indicate download status and playback; there's even a simulated "bounce" if you scroll too far down a page. As always, 30-second snippets of songs are available for a free listen, and you can download full tracks, including DRM-free iTunes Plus, directly to the touch without a computer. Purchased tracks are copied to your home PC/Mac the next time you connect and sync. Considering the richness and complexity of both the e-commerce and the Web-surfing, the amount of setup that I was responsible for was. . . well, I didn't really do much of anything to enable these features; they just pretty much worked right out of the box.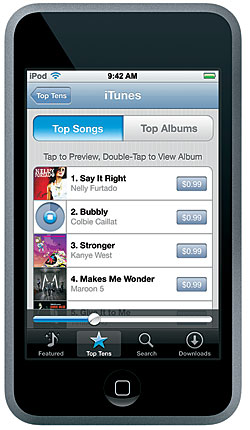 Nigh-Instant Gratification
As a happy little bonus—for people like me, anyway—a small Starbucks logo appears at the bottom of the iTunes Wi-Fi Music Store screen when the touch is inside a participating wireless-equipped coffeehouse. A tap will tell you which song is currently playing (Starbucks has become quite the musical mecca), as well as the last ten, so that you can sample and purchase any. Starbucks is in the process of rolling out more locations with this free access to the iTunes Wi-Fi Music Store.
A friend expressed the opinion that a portable media player necessitates at least 30 GB of storage. I countered that, in the tradeoff for lower-capacity memory, you should view a device such as the iPod touch as a modern-day Walkman. Only instead of popping in a new cassette, you just dock and reload content frequently, thankfully charging the battery each time.
Highlights
• Feature packed, with a much larger, touch-control screen
• A built-in Wi-Fi music store that really works
• Starbucks partnership means there's never been a better time to be a java junkie