Sony HES-V1000 Blu-ray Server
A media center…minus the PC.
In theory, I'm a big fan of the all-in-one media center, a single device through which you can enjoy all of your digital entertainment: DVDs, music, photos, and video. In practice, though, I've been less than impressed by the Media Center PCs I've used, of both the Windows XP and Vista varieties. Nothing ever works quite as seamlessly as it should, I don't want to keep a keyboard and mouse in my living room, and, most importantly, system crashes make me angry.
Sony's new entertainment server seems like the perfect answer. With nary a logo for Windows in sight, the HES-V1000 combines a 200-disc Blu-ray changer and a 500-gigabyte hard drive into one huge—and I do mean huge—box. The 105-pound chassis measures over 2.5 feet tall and sports a sleek, futuristic look, with black-mirrored panels and virtual buttons. At least one colleague likened its appearance to that of the monolith in 2001: A Space Odyssey, and, perhaps not coincidentally, a very HAL-like light emanates from its chest when the disc changer is in motion. The HES-V1000 is, indeed, a presence in your room—one you will either find exceedingly cool or inexplicably unnerving.
Sony sells Windows-based Media Center PCs, but the HES-V1000 is their attempt to offer a true living-room media product, and the elimination of the PC element has its ups and downs. On the up side, this is a stable product that never crashed or froze during my time with it, and you can perform every function using the supplied remote, a learning model with a logical layout but no backlighting. On the down side, the HES-V1000 lacks the speed, flexibility, and features you'll find in a comparably priced Media Center PC. Notably absent are TV/DVR functionality and an Internet browser to directly download media content from sites like Amazon and Netflix.
Sony is banking on the fact that the addition of a multi-disc Blu-ray changer will offset any omissions. This is currently the only 200-disc Blu-ray changer on the market, and it also supports DVD and CD playback and includes a burner so that you can archive content from the hard drive to Blu-ray or DVD. Before you get too excited, you cannot import copy-protected DVDs and Blu-ray discs to the unit's internal hard drive, which is solely for non-copy-protected music, video, and photos. Hence the value of 200 disc slots.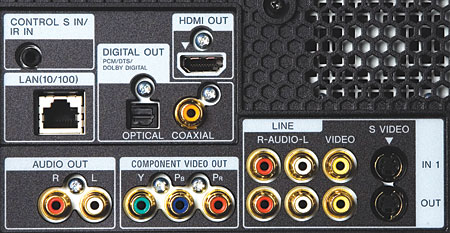 To import media to the hard drive, you can rip files off of a CD or DVD, transfer digital video via the iLink port or analog video via the A/V inputs, or download photos from a MemoryStick, CompactFlash, SD, or xD memory card. Sadly, there's no USB input to quickly load files from a jump drive, another PC-like function. Despite the lack of an Internet browser, the back panel does include an Ethernet port that serves three purposes: to automatically retrieve metadata from All Media Guide for music/movie files, to perform system software updates, and to add the server to your home network. Once the system is part of your network, you can load the supplied software on your PC and transfer music files to the hard drive. The software converts WAV files to LPCM and AAC, WMA, and ATRAC files to MP3. It's Windows-only (see, Sony and Microsoft still love each other), so this Mac owner couldn't test the process. The HES-V1000 can also serve as a central music server, as it can stream music files from the hard drive to up to four DLNA-compliant players, like Sony's VGF-WA1 or Denon's S-52.
The user interface makes or breaks a media center, and Sony employs its popular XrossMediaBar to maneuver through five different categories: settings, photo, music, video, and external inputs. Setup is very simple, and the menus are easy to navigate, but the playback and importing processes aren't as intuitive as they could be. One thing I like about Windows Media Center is that it automatically detects when you insert a disc or memory card and asks if you'd like to play it, import it, etc. The HES-V1000 doesn't do that. You do get a virtual import button on the unit itself, but I think onscreen prompts are a better way to go. Instead, you must navigate to each submenu and find your new source. The system will only load and retrieve metadata for a newly added disc if you aren't running any other function when you load the disc. If you try to load a bunch of discs while watching a movie, for instance, the HES-V1000 will file them as "Unknown Discs," requiring you to go back and officially "load" them later.