The Best of Everything for Your iPod
You've got the iPod. Now find some friends for it.
The Apple iPod was still selling out at stores this past holiday season, with an ever-expanding lineup that now includes the wafer-thin flash-memory-based nano and the fifth generation of the classic iPod, which now offers video playback in addition to music and still photos.
If you already have the iPod, get ready for the add-on gear that will make the most of it on the go, in the car, and in the home theater. We tried many accessories in several key categories and consider these to be the best.
As with all iPod accessories, be sure to check these manufacturer's Websites or the product packages for specific compatibility with your player.
Best Home Audio Solution: Klipsch iFi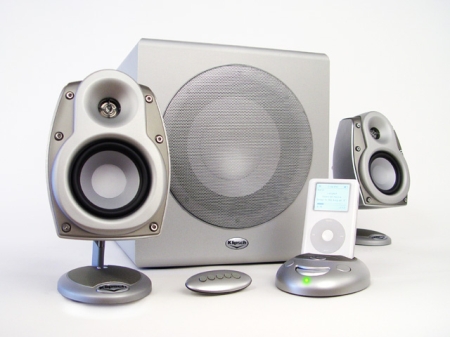 Can your iPod speakers sound better than your "serious" stereo rig? The status of the Klispch iFi as an iPod accessory is almost incidental, as it is first and foremost a killer sub/sat system. A Class D amp cranks 200 watts to the massive 8-inch, long-throw sub with a slotted port and the rock-solid, two-way RSX-3 loudspeakers. Style and convenience are certainly covered too, thanks to a sexy tabletop custom dock with a hand-friendly RF remote control. It's a deliberate move away from those ubiquitous white-plastic all-in-one systems you've no doubt seen everywhere from Best Buy to Bed, Bath & Beyond. Both the size and the separation that the iFi's design afford give it a drastic sonic advantage, a strength you can also leverage for more traditional gear, thanks to a miniature auxiliary input. In fact, the audio reproduction is of such high quality that you might want to re-rip your CDs at a higher bit rate or even as Apple Lossless, as you will likely hear what you've been missing with your MP3s. Yeah, it's that good.
$400 www.klipsch.com

Best Home Audio/Video Dock: Digital Lifestyle Outfitters (DLO) HomeDock
They had me at "S-Video Out." With an austere, classic design that fits seamlessly into a home theater (or almost any room, frankly), the DLO HomeDock mates perfects with all manner of dockable iPods, ably bridging that once unthinkable distance to your A/V stack—or just to a set of powered speakers for a simple, complete audio system. The benefit: the ease and performance of your existing sound system, and, if that happens to be a full home theater, then multichannel enhancements like Dolby Pro Logic II are now at your fingertips. To that point, a 14-function remote control is included, storing neatly as the iPod's new dock neighbor when not in use. And, of course, your TV can take part, too, to display favorite photos or whatever videos you might have on your fifth-gen iPod. I just downloaded a music video from iTunes and the quality definitely holds up on a big screen. S-video, composite video, and analog stereo are all supported, and composite/stereo cabling is in the box. And thanks to the miracle of USB, the HomeDock can also synch content from the computer and recharge the iPod without it ever leaving its new home.
$100 www.dlo.com

Best Remote Control: Advanced Bridging Technologies (ABT) iJet
Ready to play well with the growing number of tabletop and in-wall iPod docking stations or in-car adapters, the ABT iJet Wireless RF Remote for iPods can control your music from across the room or across the house and even through walls—up to 150 feet, the longest range of any such device. This newfound convenience and reliability also have less obvious uses, such as manipulating your tunes without ever removing the player from pocket, backpack, or hip. The water-resistant five-button remote can skip, scan, adjust volume, and more, with smartly recessed buttons, its own belt clip, seven-year lithium batteries, and a lifetime warranty. It also includes is a minijack-to-analog-stereo adapter cable to connect your iPod to most home audio/video gear. Optional interchangeable skins for the remote and faceplates for the compact receiver module, which plugs into the top of the iPod, can match or contrast the player, while an optional stand offers cable management and earbud storage.
$50 www.abtech2.com

Best Headphones: Logitech Wireless Headphones for iPod
Sadly, ever since my earliest Walkman days, if there's a way to catch my headphone cord on something, anything, I'll find it. In short, "wireless" is good, even better when it actually works. And these Bluetooth stereo headphones do indeed. A wireless adapter pops onto the iPod, then the otherwise ordinary-looking, skull-hugging backphones pop onto the cranium, with the cord noticeably, joyously absent. Lightweight and comfortable, they also deliver exemplary sound quality, rich and clear, even over a 30-foot range between iPod and phones, without so much as a whisper of interference. The rechargeable batteries inside the headphones and adapter can play together for up to eight hours per charge. Integrated controls over the right earcup—Volume, Select, Play, and Pause—all function dependably without the need to fumble with the iPod itself, and without even looking, although this last claim requires just a bit of practice.
$120 www.logitech.com

Best Portable Solution: Altec Lansing inMotion iM7
A modern riff on the classic boom box, the inMotion iM7 offers two distinct advantages over its inspiration—easier access to an entire music library than any cassette or CD player ever offered and incredible sound quality. This portable stereo is an ideal delivery engine for our thousands of different songs, with clean digital amplification, a booming, inMotion-designed XdB subwoofer, and responsive neodymium drivers. The iM7 incorporates all this into an overall cylindrical design that is at once sonically efficient and aesthetically striking. A miniature auxiliary input extends the iM7's solid, mighty reproduction to non-iPod sources. High-end features I did not expect include an extremely easy-to-use remote control, S-video and composite output for photo and video iPods (although cables for neither are included),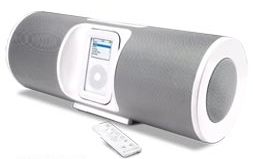 and a generous complement of international power-plug adapters. Two different carrying options are available—accessories for the accessory! —but I prefer the open-air Shoulder Harness to the nylon Shoulder Pack bag (each $50), as the harness provides some storage yet still lets us listen as we move from here to there, hands free. To accommodate both on-the-go and stationary use, the iM7 works on either AC or batteries. Betraying its street-corner roots, it takes eight D cells, like all great boom boxes.
$250 www.alteclansing.com

Best Complete Car Solution: Griffin RoadTrip
In the good old days of portable CD players, a cassette-shaped adapter was all you needed to add another level of entertainment to your car stereo. But how do you meld your iPod with a car that offers a CD slot instead of tape—or just an FM radio? The solution is, of course, an FM transmitter that utilizes an otherwise unused frequency, but since folks also want to charge their iPod battery and park the player in a convenient spot, the Griffin RoadTrip scores a sweet trifecta. Compact and sturdy, the main unit houses an easy-to-use, removable transmitter that you can also use to broadcast any audio from a USB-equipped Mac or PC. But for the retro crowd whose dashboards are still adorned with beloved cassette decks,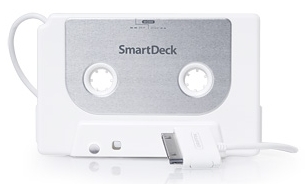 Griffin's simpler SmartDeck Intelligent Cassette Adapter ($30) perfectly fills that gap without the FM transmitter, charger, or holder. It instead detects the familiar commands of the tape-deck buttons and translates them for control of the iPod: Pause and Stop are straightforward enough, and the Mode switch lets users choose whether the tape player's fast-forward and rewind buttons become either the iPod's Scan or Skip.

Classiest Case: Belkin Lambskin Leather Wallet Case for iPod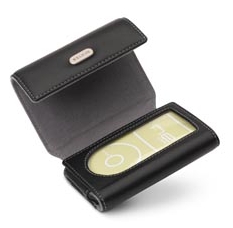 For some, ownership of an iPod is all about status. So, what is the fashionable iPod wearing this season? This classy little number is a vision in black lambskin, protecting its valuable contents like a fine wallet should, durable yet elegant with understated stitching and metal flap closures. It's comfortable in the hand and agreeable on the hip, thanks to a 360-degree-swivel belt clip. The case provides full access to ports and controls and a clear PVC over the screen. (Note: Presently, this style of case is available to fit 4th-generation 20-, 30-, 40-, and 60-gigabyte iPods.)
$50 www.belkin.com