Sharp XV-Z9000U DLP Projector
Welcome to a new era of DLP performance.
In terms of video performance, DLP-projection technology for home theater applications has just taken a major leap forward. Sharp's new XV-Z9000U is the first DLP projector based on Texas Instruments' new native 16:9, 1,280-by-720-resolution chip. This projector promises to radically change the front-projector market, as it offers unprecedented picture quality in its product category at a very reasonable price. At a list price of $10,995, the XV-Z9000U comes close to delivering the same picture quality as 7- and 8-inch CRT-based front projectors that range in price from $15,000 to $30,000. The XV-Z9000U is one of those rare products in the home theater industry that elevates its category to a performance level that many of us previously thought was unachievable.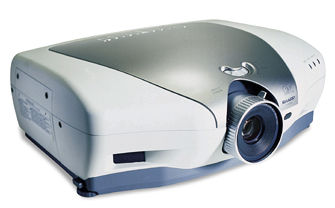 Compared with most of Sharp's previous LCD projectors, the XV-Z9000U's design is fairly handsome. The case has an off-white finish; the projector doesn't come in black, but I guess you can't have everything. The lens assembly is positioned directly in the middle of the unit. Well-laid-out and intuitive to use, the remote control backlights the keys for most of the commonly used functions, which is really useful when setting up the projector in the dark. The remote also allows for direct access to all five video inputs, as well as gamma, color-temperature, keystone, and resize functions. The unit weighs a very reasonable 20.9 pounds, and the box measures 18.7 inches wide by 7 inches high by 19.5 inches deep when the rear-panel cover is in place.
The XV-Z9000U's connection options are quite comprehensive. Rather than professional-style BNC connectors, this projector uses all RCA-type inputs and outputs. The unit sports one composite video input, one S-video input, two sets of component/ RGBHV inputs, a 15-pin VGA-style input for connection to a computer, a 12-volt DC output for triggering a drop-down screen, a wired remote-control jack, and an RS-232 port for control applications. There are no audio inputs, as the projector has no speakers. The component video inputs double as RGBHV inputs for use with either an outboard video processor or an HDTV set-top decoder box. There are three indicator lights on the front of the projector for temperature warning, lamp replacement, and power. Many of the remote's buttons (such as on/off, input select, resize, menu, enter, and undo) are duplicated above the jack panel on the unit's backside.
The XV-Z9000U has a claimed contrast ratio of 1,100:1 and a light-output rating of 800 ANSI lumens. The lamp is a 250-watt NSH high-pressure bulb, and its rated life is an impressive 2,000 hours, which is about twice that of most lamps used in this type of projector. The fan noise is rated at 32 decibels and should prove nearly inaudible in most ceiling-mounted configurations. The XV-Z9000U's setup features are remarkable, including mechanical lens shift, electronic image shift, and keystone correction. Combine this with the standard mechanical zoom-and-focus feature, and you get unparalleled setup flexibility. Sharp recommends that you position the projector with the top of the lens in line with the bottom of the screen material on a floor mount; however, thanks to the physical-lens-shift feature, I centered the image perfectly on the screen with no geometry problems with the projector's lens square in the middle of the screen. The throw on the zoom lens is specified as 1.35:1, but this distance didn't seem to correspond with my actual installation. The projector needed to be farther back than Sharp suggests.
A video colleague of mine has a theater that features an 11-foot-wide, 16:9 Stewart Filmscreen Studiotek 130 screen. It turns out that a DLP projector produces slightly better black levels on a larger screen. This screen proved to be a wonderful fit with the XV-Z9000U's light-output capability. Stewart Filmscreen's GrayHawk screen material is the reference for fixed-pixel projectors with poor black-level performance, as it aids in this crucial area of picture performance. At last year's CEDIA convention, I had a chance to see other 1,280-by-720-resolution one-chip DLPs with Stewart's GrayHawk screen, and I'm not sure you need to use this material for enhanced black-level performance. That's how good the Sharp's black-level capabilities are. Texas Instruments' new 16:9-aspect-ratio "Black Chip" has a black border around the chip itself, and the level of black it's capable of producing is excellent. Its black level still isn't as good as that of a CRT-based projector, but it's so good that I had no trouble watching very dark material on the XV-Z9000U. With previous 4:3-based one-chip DLP projectors, the poor black level, low-level noise, and artifacts would've driven me mad. When I looked closely at the light spray around the edges of the XV-Z9000U's viewable image (a problem that plagued earlier one-chip designs), I was pleasantly surprised to see only about 0.25 inches of spray around the image's border. This is so minuscule that, if you're seated at the proper distance, it is completely unnoticeable.
I evaluated the XV-Z9000U both as a standalone unit and with a Faroudja DVP3000 video processor for NTSC material. By itself, this projector is a very respectable performer. While it's not as good as the Faroudja, the internal scaler does have 3:2 pulldown that minimizes jaggy and motion artifacts. I did see some stair-stepping artifacts in the "Montage of Images" section of the Video Essentials test disc, which leads me to believe that the 3:2 pulldown is a little slow to kick in. However, the effect was quite minor, and I didn't see it with other DVD material. The XV-Z9000U is one of the few fixed-pixel projectors that I've tested that doesn't absolutely require a quality outboard video processor to achieve a level of picture performance that I could live with for a prolonged period of time in my own theater. With the Faroudja video processor, the picture was a little less edgy, although I don't think that outboard processors completely override the internal scalers in any fixed-pixel projector.