Vizio SV420M LCD HDTV
This review is part of a five-way Face Off. Read the introduction and conclusions of the Face Off here.
Price: $900 At A Glance: The price is right • Good detail • Mediocre black and shadow detail
Coming from nowhere just a few years ago, this relatively new television manufacturer has managed to muscle its way into the ranks of the market leaders by selling its sets largely through major discount warehouse retailers like Costco. As the song goes, you gotta have a gimmick, and a low price with a high perceived value is a pretty good one. The SV420M is the least expensive entry here.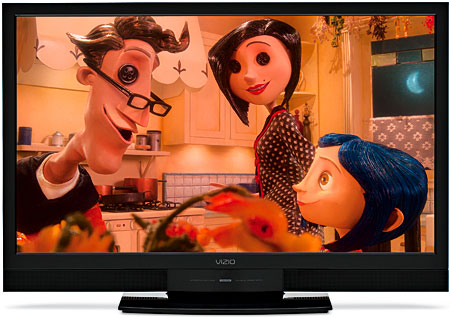 Behind the Curtain
While it may seem like an odd place to start this discussion, I'd like to give a shout-out to Vizio's clear, uncluttered, thorough (without being impenetrable), and downright classy manual.
But on to meatier stuff. Of course, the set offers a more-than-adequate set of inputs and outputs. But it lacks an Ethernet (LAN) port. In addition, the USB port is designed for service use only, not for viewing photos or listening to music from a USB storage device. The latter is a bit of a shame. In my limited time with the onboard audio on these sets, the Vizio's was among the best—but it's still unlikely to inspire praise in lusty sing-alongs over audiophile campfires.
The compact onscreen menus offer the usual assortment of standard video controls, plus a few advanced features. There are nine different and very ESPN-friendly picture modes, including Game, Football, Golf, Basketball, and Baseball. The mind boggles trying to imagine how a picture should be varied to serve the needs of, say, football versus baseball. We used the more sedate Movie mode, with adjustments, for all of our tests.
The set has overall red, green, and blue calibration adjustments in the user menu for the color temperature settings, but it doesn't have separate high and low settings. While the manual suggests that these calibration settings are only available for the Custom color temperature option, I found that each of the selections offers them. For our purposes, a separate Color Enhancement control worked best in its Off position.
When you use the same Picture mode for the same types of inputs (such as three different HDMI sources), its settings are global, and you can't adjust them separately for each one. But you can have different setups in the same Picture mode for different types of inputs, such as HDMI and component video.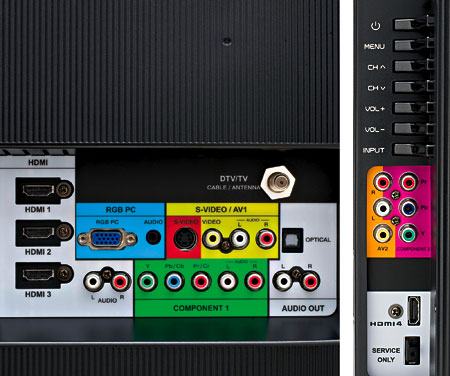 The Vizio includes two features that are designed to affect its shadow detail and contrast. The first is Backlight Control, which is different from the manual Backlight control, with a lower-case c (it's easier to distinguish the two in the menus than to explain them here). It offers two active settings. The OPC setting relates to power consumption, and I didn't spend any time with it. The other, Mega DCR (Dynamic Contrast Ratio), appeared to actually raise the black level.
A separate control, Advanced Adaptive Luma, improved the Vizio's subjective shadow detail in its Extend mode (there are also several other, less effective choices). We didn't use this during the group tests (I address the reasoning for that in the introduction to this report). However, in my individual evaluation of this feature, it subtly enhanced the subjective shadow detail, although by no means to the point where it would have challenged the sets with the top scores.
As with all the LCD sets here, the Vizio operates at a refresh rate of 120 Hz. And as such, it offers its own aptly named motion-smoothing feature: Smooth Motion. It has two separate adjustments: Smooth Mode Effect and Real Cinema. If the set receives a 1080p/24 input with the Smooth Mode Effect control off, it repeats each frame four times (5:5 pulldown) in order to reach the displayed 120-Hz refresh rate. With Smooth Motion Effect on (in any of its three active modes—Low, Middle, or High) and the Real Cinema control set to Smooth, the set also adds four new frames for each real one. In this case, the frames are interpolated. Oddly, if Smooth Motion is on and the Real Cinema control is set to Precision, the Vizio first converts 1080p/24 to 1080p/60 and interpolates a single added frame to reach 120 Hz.