Microsoft Xbox 360 HD DVD Player
Games and movies collide, again, this time in high-def.
Microsoft's Xbox 360 HD DVD player is targeted specifically at the owners of the Xbox 360 gaming console—or those on the fence about purchasing one. It's an affordable way to bring HD DVD into your existing multimedia system. This small disc spinner will not work by itself; rather, it will only operate in conjunction with one of the two available versions of the Xbox 360, or with a PC (sort of, as you'll see later). It's another box (which will of course take up more space), and it lacks the sleek approach of a single-chassis solution. But the easily replaceable USB cable that connects the HD DVD player to your Xbox does offer a bit of placement freedom. This in turn makes the drive's integrated USB hub potentially more versatile.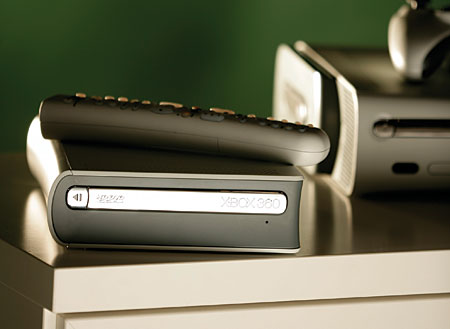 Installation is gleefully quick. The HD DVD player only needs the AC adapter and a standard USB 2.0 mini-cable hookup, which connects to the USB 2.0 port on the Xbox 360's rear panel. If you're using a wireless network adapter at the Xbox 360's rear USB port, you can remain networked if you simply disconnect it and plug it into one of the HD DVD drive's two rear ports instead. The player outputs the raw data from the HD DVD at its full bit rate, which could be as high as 36.55 megabits per second. It's no problem for high-speed USB 2.0, which specs out at a transfer rate of 480 Mbps. Software within the Xbox 360 then converts and decodes that video. This is one of the single most processor-intensive applications you can run on the Xbox 360. It flaunts the power of the triple 3.2-gigahertz IBM PowerPC cores. From there, just run the installation CD, which essentially enables the Xbox 360 to recognize and control the new drive via the onscreen dashboard. Ultimately, the Xbox 360 outputs video to the TV and sends audio to the receiver via digital optical output.
But Is She a Pro?
Microsoft has a recent, free firmware upgrade for the Xbox 360. It's automatic (via the Web), and it only took me two minutes. As a result, the Xbox 360 can now output video at 1080p from HD DVD and upconverted DVD, as well as games. Don't get your hopes up, though. Most TVs don't accept 1080p over component or VGA, which are the only two ways to get video out of the 360. Also, the Advanced Access Content System (AACS) protection will not allow copyrighted movies to play at 1080p over component video, even though the Xbox 360 is technically capable of doing so. But it can send 1080p over VGA, the Xbox 360's other high-end video-output option.

In the Xbox 360's menu screens, the DVD-player icon is modified into two semicircles that look a little like a Poké Ball. The bottom half denotes the HD DVD drive. It can be a bit tedious to navigate all of these additional menus on top of the HD DVD's onscreen interface, even for the 360-savvy. However, when you insert a disc into the HD DVD player, it automatically puts the Xbox 360 into HD DVD mode. At this point, you can operate the HD DVD drive directly via the included Universal Media Remote (the big one that Microsoft had been selling as a $30 accessory since the 360's launch in late 2005). In general, the remote works well. It operates basic playback functions and even offers direct access to the Xbox dashboard as needed, even while a movie continues to play. But, since Microsoft has not made any hardware or software changes to the remote, there are no dedicated HD DVD keys. Therefore, if you press the Open/Close button, for example, only the Xbox 360's tray will open, not the HD DVD player's. This can be annoying. The upside here is that the complete system with this new add-on puts two DVD players at your disposal, both of which can upconvert all the way to 1080p. The HD DVD drive doesn't have an IR receiver, so the Xbox 360 receives all of the commands and routes them back out to the drive via USB.
If you're an Xbox 360 gamer but have never made the acquaintance of HD DVD, you'll notice an appreciable improvement over standard-definition DVD. The familiar interface of dedicated menus is missing, replaced by organic pop-ups, which you can access throughout a movie. The advanced "U Control" special features on a title such as The Fast and the Furious: Tokyo Drift are a blast, and they hint at big things to come from this next-gen home-video format. I did encounter the occasional hiccup and stutter, though. Thanks to the fans in the rear of the Xbox 360 and the drive's scarcely muffled whirring, this setup is slightly noisier than a more traditional HD DVD deck (which is noisier than a standard DVD player). This distraction should be a nonissue in a medium-to-large room and certainly should not be serious if you're accustomed to the requisite sound of other CE devices like TiVos. Picture quality is very similar to, if not indistinguishable from, Toshiba's own HD DVD players.
Did Somebody Mention Microsoft?
The Xbox 360 is a lot like a tricked-out entertainment PC, running a Microsoft operating system and happily accepting peripherals to put even more media at its command. So, I wondered, could I convince my Windows XP desktop computer to work with the HD DVD drive? Windows XP immediately recognized the plugged-in drive as "Xbox 360 HD DVD Memory Unit" and also very tellingly called it "Toshiba DVD/HD" at one point. It played DVDs without a hitch, calling upon my PC's installed software player. Alas, without an HD DVD–playback application (which hopefully will be available by the time you read this), that's all it would do. The drive played HD DVD movies without a hitch on a laptop we're reviewing for our Website, which has a built-in HD DVD drive and betas of HD DVD–playback software. So, at the moment, it's inconclusive whether it will work for everyone, but it seems possible. Rumor has it that this drive will be plug-and-play under Windows Vista, when that's available.
If you've been exploring different ways to feed your HDTV and that sojourn has already led you to purchase an Xbox 360 console—and the newness of it all has kept you from taking the HD DVD–player plunge thus far—this accessory is a painless way to join the high-definition-disc scene.
Highlights
• Delivers the HD DVD experience by way of your Xbox 360
• Can output 1080i over component video, 1080p over VGA
• Includes a multimedia remote and (for a limited time) King Kong on HD DVD