Dish Hopper HD DVR
Price
: $10/month DVR fee (Joey or second Hopper $7/month)
At A Glance
: 2 TB of storage • Records up to six prime-time HD channels simultaneously • Remote control locator
I have a great deal of empathy for the cable, satellite, Internet, and cell-phone service providers. After all, this is a tough economy, and competition for subscribers is fierce. At the same time, technology keeps evolving, with startups lurking on the fringes, waiting for a chance to be the next big thing. I mean, really, my heart bleeds for the grossly underpaid civic-minded people running these companies. All they're trying to do is feed their families and put gas in their cars by offering the ultimate in customer service and satisfaction for ridiculously low subscription prices. You know, at the negligible rates they charge, I'm surprised they're able to make any profits at all.
Yeah, and I also believe the Tooth Fairy is real, that squirrels make fun of me as I walk by, and that the moon is made out of the same stuff they put inside Oreos.
Seriously, though, with the exception of the U.S. Congress, it's difficult to find a less loved group than the aforementioned service providers; and it's usually with good reason. Stories of near-superhuman incompetence on the part of some cable/satellite/telephone installers are legendary. You'll often get more support from an old, worn-out, unwashed jock strap than what you'll receive from some companies' tech help lines. And while "Can you hear me now?" may have been a clever advertising shtick, it's also something we've all yelled with growing frustration into our cell phones way too many times. Then there are usage caps, speed issues, attempts to limit access to certain Internet services, and—I'd go on, but I don't want to depress you any more than I already have.
Dishing It Out
With that in mind, it was a bit surprising to see the number of jaded journalists who perked up during the 2012 Consumer Electronics Show press conference when Dish announced its new wholehouse DVR concept featuring the cleverly named Hopper and Joey, with the Hopper being a new flagship DVR and the Joey a slave unit for your secondary rooms. It's possible that some of the attendees were wowed by the wandering giant kangaroo mascot or taken in by the lovable baby kangaroo a few were having their pictures taken with, but I'm (mostly) immune to that sort of carnival-atmosphere promotional activity. However, I'm not immune to the appeal of real-world, useful technologies and devices with compelling features. Joe Clayton, the then relatively new CEO of Dish, was not shy about promising the moon (also a satellite) when it came to the powerful capabilities of the new Hopper/Joey wholehome HD DVR architecture, as well as other things to come from Dish. Interestingly, the splashy, attention-grabbing CES 2012 press conference was highly reminiscent of Clayton's days at Thomson Consumer Electronics where he once orchestrated the remarkable introduction of Dish's archrival, DirecTV, in the 1990s.

So what were these new capabilities and features? First and foremost were two new pieces of hardware (the Hopper and Joey) with integral wholehome DVR functionality—something not previously available with Dish's other satellite DVRs. But that alone wouldn't have had the fingers of the CES twitterati flying across their keyboards. It was the piling-on of additional features, most notably the ability to record up to six live HD channels simultaneously during prime time, a feature Dish calls PrimeTime Anytime. To make sure that over two dozen hours of prime-time HD broadcasts won't hog up all the hard-drive space and leave nothing for Hee Haw and Gomer Pyle, U.S.M.C. reruns, each Hopper has a built-in 2-terabyte hard drive—enough room, says Dish, for up to 500 hours of HD programming. (In comparison, Dish's flagship standalone HD DVR, the DuoDVR ViP 722, can only record two shows simultaneously on its 500-gigabyte hard drive.) There was a crapload (technically, a megacrapload) of new and revamped features I could list, but rather than dump it on you all at once, let's start with the hardware and see how it all comes together.
Bootie Calls
Few people, of course, put in their own satellite system, so my installation experience with the Dish folks is worth a brief mention. Normally, I prefer to do as much of my own install work as possible. This is partly because I don't like strange people in my house, but mostly it's because I particularly dislike waiting for installers who show up (typically an hour or two) late—only to inevitably hear that they'll have to come back because they don't have a particular part or tool they need to finish the job.
If my experience with this install is typical in any way—and, since the guys who came to my house were one of Dish's local (in other words, not specially flown in) installation crews, I have no reason to think otherwise—Dish really seems to have the whole install process figured out. For starters, after initially scheduling the install, I received at least two automated calls from Dish reminding me of the install's scheduled date and time. Although the installers were about 15 minutes late, they called ahead to let me know what was up. In addition to being courteous, respectful of my time, and eager to install everything exactly the way I wanted it done, each installer went the extra step of slipping a pair of white booties over his shoes before entering my house in order to keep the floors clean. (Actually, I think my floors made their booties dirty.) The installers' level of knowledge about the product was very impressive, especially considering that the system had just been introduced; and they spent ample time demonstrating the new gear's features to my daughter and me. Dish even called with a standard follow-up survey after the install was finished. In short, I'm not sure I can think of another service call or installation appointment that was as professional or as painless.
Marsupial Menagerie
After they packed up their booties and tools, the Dish installers left me with a Hopper in my main theater room and Joeys for two additional rooms. Although it's the backbone of Dish's wholehome DVR system, in many respects the Hopper is like Dish's other traditional satellite receivers with built-in DVRs. Each super-slender Hopper (only 2.05 inches high, 16 inches wide, and 11.4 inches deep) has three built-in HD satellite tuners, a whopping 2-TB hard drive, two Ethernet ports for broadband/home network connectivity, one HDMI output, a telephone jack, optical and analog audio outputs, composite and component video outputs, plus all the standard DVR features, such as simultaneous recording of multiple channels while playing back prerecorded material. (Absent, however, is an over-the-air digital tuner for local stations.) There are also two USB ports for use with Dish's optional Sling Adapter and/or an external hard drive to expand DVR storage space. The eSATA port on the back of the Hopper isn't currently enabled. Lastly, there are the connections for the satellite dish and an RF antenna for the remote control. On the front of the Hopper is another USB port, as well as a door that covers buttons for power, menu navigation, and the much appreciated Locate Remote function.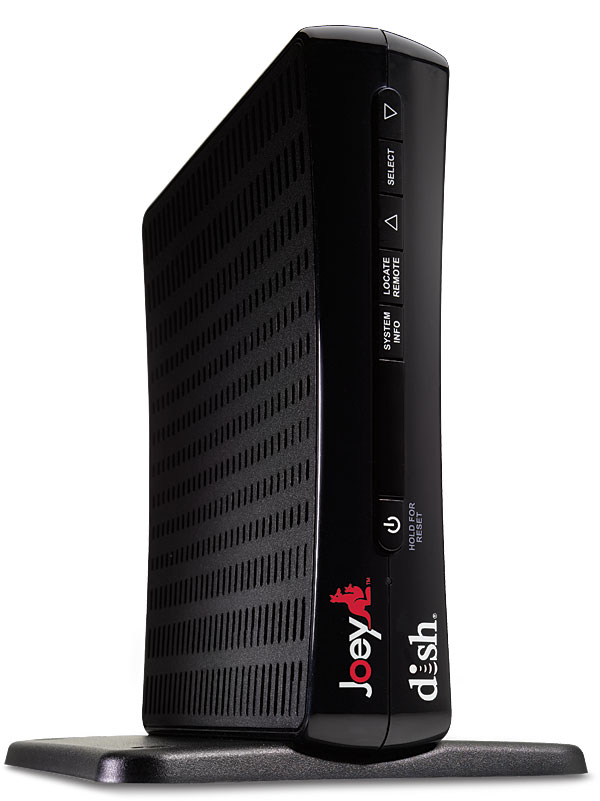 The Joey, on the other hand, is a totally different creature, with neither a built-in tuner nor a hard drive. It's a media distribution client for secondary TVs to provide access to the Hopper's tuners, programming on the DVR, and a variety of Dish's online services. The Joey is extremely small (1.49 inches tall by 5.27 deep by 6.62 wide), light (0.7 pounds), and can be easily hidden from view by mounting it (using Velcro) on the back of a TV. In addition to power, navigation, and remote locator buttons on the front panel, there are a limited number of connections on the rear of each Joey—one USB, one Ethernet, an HDMI output, one digital audio out, one set of analog audio outputs, a composite video out, and an RF jack for connection to the wholehome DVR network. (More about that in a minute.) The RF antenna for the remote is built in. Unlike the Hopper, the Joey uses a wall-wart power supply.
The remote control that comes with every Hopper and Joey is fractionally larger than Dish's existing DVR remotes, and the overall layout is virtually the same. Dish subscribers should have no difficulty making the switch. As with previous models, while the remote uses RF to communicate with its associated Hopper or Joey, you can also program it to control up to three other A/V components using its built-in IR emitter. Programming the remote, by the way, is extremely easy thanks to the Hopper and Joey's onscreen menu that presents an extensive list of remote control codes for other brands/models from which you can then download the appropriate code set to the Dish remote. Pressing the Locate Remote button on the front of a Joey or Hopper causes that device's remote to begin emitting a repeating series of beeps that gradually ramp up in pitch and volume while the four source buttons at the top of the remote flash. It's a great feature that I've needed to use more than once, although unfortunately, the beeping isn't loud enough to hear if you absentmindedly leave the remote in another room or your toddler drops it in the trash can.
If the Hopper is connected to the Internet, you can use Dish's Remote Access (online or via iOS/Android apps) to set DVR timers. If you attach a Sling Adapter to the Hopper, one remote user (via the Web or apps) can stream recorded programs from the DVR (or even stream live TV from one of the Hopper's tuners) to a smartphone, tablet, or computer with Internet access. The Sling Adapter is an 8-by-4-inch red rectangular slab that, sitting on its four rubber feet, is about three-quarters of an inch tall, and it has a single USB port that connects to one of the USB ports on the back of the Hopper. (It also works with Dish's ViP 722 DVR.)
Your Room or Mine?
Although you can use Dish's Hopper as a standalone satel- lite DVR, you can create a wholehome DVR system by linking one to three Joeys to a single Hopper. For homes with more than four TVs, additional Hopper/Joey combos can be added—in which case the system also gets the benefits of extra tuners and additional hard-drive space. Joeys communicate with the Hopper using MoCA (Multimedia over Coax Alliance) technology, which means if your home is already wired for cable, there's a good chance you can use the existing coax wiring in your walls to install a Hopper/Joey system. Each linked Joey can access anything stored on the Hopper's DVR—in fact, in a one-Hopper-three-Joey setup, the system can stream four different recorded shows while simultaneously recording three channels (or six with PrimeTime Anytime). Essentially, Hoppers and Joeys become one big household satellite DVR so every TV in the house can display the same recorded or live program at the same time—which also means that, as some people like to do, you can start a movie in one room, pause it, and then continue watching it from where you left off in another. When connected to your home network via Ethernet, Hoppers and Joeys can also access digital content (music and photos, etc.) from supported NAS drives or media players.