Andover Audio Spin System Integrated Audio System Review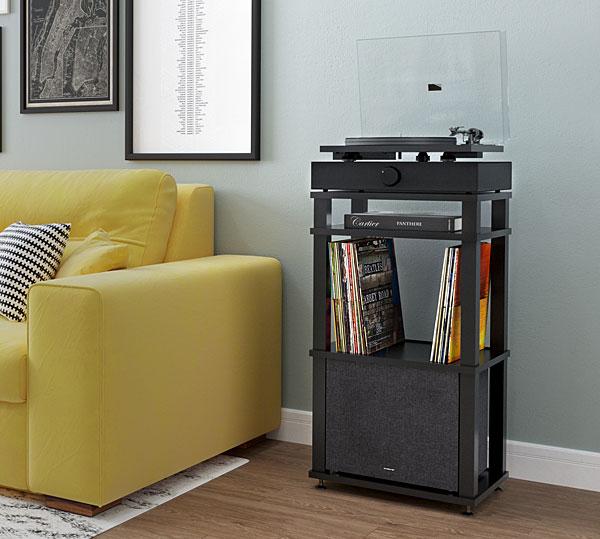 PRICE
$1,146 (as tested)
AT A GLANCE
Plus
Exceptionally simple to set up and use
Great sound
Minus
No remote control
THE VERDICT
With the Spin System, Andover Audio has expanded its game changing SpinBase concept to a complete hi-fi package that can be set up with minimal fuss and won't dominate your room.
If you're a boomer who grew up in the 1960s and 1970s like I did, you'll remember that no home was complete unless it had a stereo system in the living room. After you moved into a new place, the number one priority would be to get your tunes up and running, even before arranging furniture.
I guess it was around fifteen or twenty years ago that I suddenly realized this reality had changed. Watching my sister listening to music coming from her iPhone's tiny speaker while working in the kitchen, I couldn't help but feel that we'd somehow ended up going backwards. Music is a form of spiritual and emotional nourishment, and if we don't have access to a good-sounding audio system for music-listening, we will be malnourished.
Andover Audio is a company that aims to bring the nourishing living room hi-fi experience back into people's lives. A couple of years ago it introduced the SpinBase powered turntable speaker ($299). In my review of the SpinBase, I raved about how unexpectedly excellent it was and how it comprised a great basic music playback solution for an office or bedroom. Now, Andover is kicking the SpinBase concept up a few notches with the Spin System, a complete matched component system.
A complete Spin System features a SpinBase at its heart and adds: a turntable for your records called the SpinDeck; a subwoofer to pump up the bass called the SpinSub; and a rack to hold everything, including a bunch of records, called, you guessed it, the SpinStand.
While the Spin System may sound like one of those old-school hi-fi rigs, operating it couldn't be more different. People used to marvel at the sheer number of switches and controls on their hi-fi system, but controlling all those knobs, levers, and sliders could also get daunting. Andover has taken a totally opposite approach here. In daily use, the Spin System effectively has just a single control, the large volume knob on the front of the SpinBase, and that's pretty much it. With minimal training, a five-year-old could work this system with no problem. A remote control for adjusting volume and switching sources would be a nice addition, though the SpinBase's various inputs are conveniently all always-on.
Because my full review of the SpinBase is available at the above link, I will simply point you there to get the details on this compact and stylish turntable speaker solution. Basically, the SpinBase is a single-point powered stereo speaker that was designed to also function as a vibration- isolating base for a turntable. I know for most audiophiles that idea sounds like one that couldn't possibly work (placing a turntable directly on a speaker?), but trust me, it does.
Along with its line-level analog stereo RCA and Bluetooth wireless inputs, the SpinBase has a built-in phono preamp input to hook up a turntable with a moving magnet cartridge. The SpinBase has received one small update since I reviewed it: a 3.5mm audio output that carries a full-range line-level signal to the new SpinSub. For anyone who owns an older SpinBase, Andover has a trade-up program that will let you swap your unit out for an updated version at 50 percent off. This offer has a limited timeframe, so don't dawdle if you plan to make the move!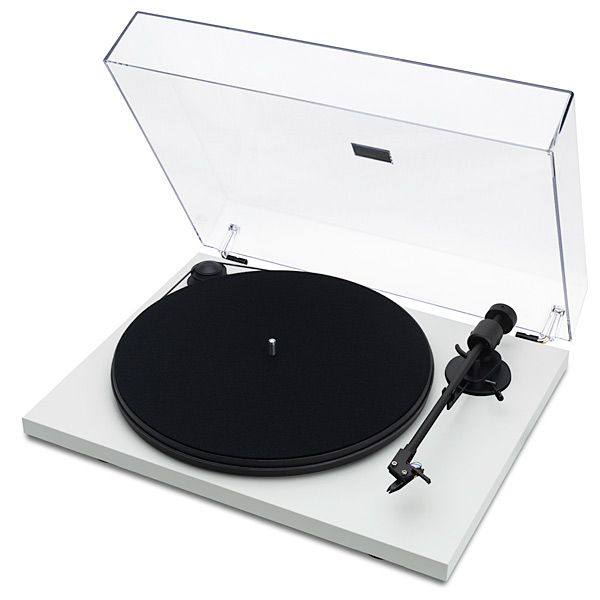 The SpinDeck ($349) is made for Andover by turntable specialist Pro-Ject and appears to be essentially the same as that company's Pro-Ject Primary E, a strong contender in the affordable turntable ranks. This belt-drive model continues the simplicity theme, with totally manual operation and no complex adjustments. One of the biggest hurdles with most record players is getting them all put together and set up, but the SpinDeck pares those tasks down to just a few very simple steps. I can't think of any turn- table that's easier to get up and running. The platter is already in place out of the box, and the tonearm comes pre-mounted with its Ortofon OM5E cartridge installed and aligned. Even the counterweight arrives in-position on the arm and adjusted for the desired playing weight. All you need to do is put on the SpinDeck's drive belt (a video is provided on the company's website to guide you here), felt mat, and dust cover.
The SpinSub ($299) is the latest addition to the Spin System, and it, too, is a snap to set up. With a charcoal gray fabric covering all four sides, the slim SpinSub slips neatly onto the SpinStand's lower shelf. The idea of putting a subwoofer under a turntable is likely to cause even more consternation among audiophiles than the SpinBase might, but Andover insists that the SpinSub also employs the same IsoGroove Feedback Elimination technology as the SpinBase, and it won't transfer bass energy into the stand.