Nuvyyo Tablo DVR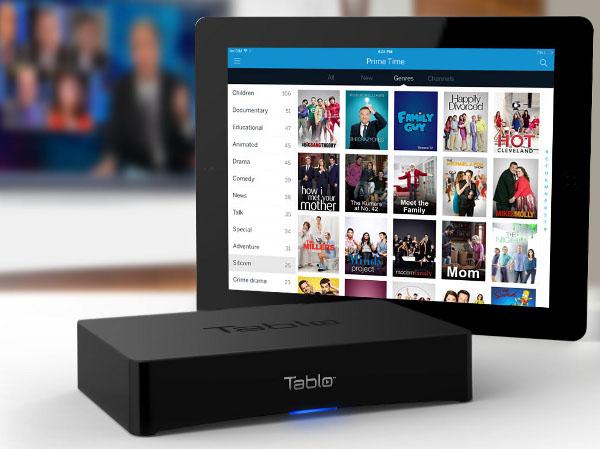 PRICE
$220
AT A GLANCE
Plus
Terrific interface
Fast and simple setup
Stream shows to anywhere via Internet
Minus
No direct HDMI output
Must add your own hard drive
Long buffer time for channel surfing
No "resume play" function for recordings
THE VERDICT
Tablo offers cord cutters an affordable option to enjoy DVR features and view TV from anywhere in the world.
Cord cutting is a trend that continues to gain momentum. And why not? With low-cost/free services like Netflix and YouTube accounting for more than 50 percent of Web traffic in the U.S., it's obvious that people are happy to get their content from any place that doesn't require a monthly pound of flesh. Even TV networks have started accepting the streaming mentality by offering shows online, typically a day (or more) after they have aired live but still giving viewers an alternative to the traditional cable or satellite pay-to-view option.
If you want to enjoy free live TV—say, for sporting events, or to avoid the trauma of having your favorite reality series "spoilered" by waiting—you can turn to an over-the-air (OTA) antenna to grab all those free digital signals that are just beaming around in the ether. But if you want to enjoy free TV and DVR functionality and mobile viewing, your options have been far more limited. Which is why I stopped in my tracks when I caught a glimpse of Nuvyyo's Tablo DVR at the CES Unveiled event this past January.
Tablo is currently limited to a two-tuner version, but a four-tuner model will be available soon for $80 more ($300). Even if you don't plan on recording four shows at once, the additional tuners will be handy when it comes to supporting simultaneous viewers.
The unit arrives with little fanfare, in a small box that includes an Ethernet cable, a Quick Start guide, and a power cord. Nuvyyo also sent a small powered antenna and a 500-gigabyte USB hard drive with my review sample.
When I started connecting the Tablo, the first thing I thought was, "Wait…where is the HDMI connection?!" The answer is pretty simple: There isn't one. If you want to view Tablo on your big screen, you'll need to stream it to an Apple TV (via AirPlay), Roku (as a channel), or ChromeCast (via the Tablo Android app). Even still, I really wish it had an HDMI output for easy connection to an AV system or display. On the back are connections for Ethernet, antenna, and power as well as two USB 2.0 jacks. Currently, only a single drive (up to 2 terabytes) can be connected, but a firmware update will allow for both connections in the future. HD recordings take approximately 2 GB per hour, so a 500-GB drive will store about 250 hours of HD content.
Tablo relies on a connection to your home network to stream content locally and provide the rich guide data, which it updates via the Internet once each day. Nuvyyo says this arrangement insures fast guide access. If an Ethernet link isn't possible, Tablo supports 802.11n Wi-Fi. Setting up Wi-Fi requires first linking to Tablo's point-to-point Wi-Fi network with your iPad or Android tablet and then selecting your Wi-Fi connection and entering the network password. The whole process was painless and took about a minute.
That achieved, I plugged in the antenna, entered my ZIP code, and scanned for channels. You can try moving the antenna to different positions and rescanning multiple times, as this determines which local channels you'll be able to capture and how potentially awesome your Tablo experience will be. When it finishes scanning, Tablo displays the channels along with their signal strength and resolution. You manually select which ones will be added to the Tablo guide so you don't clutter it with things that don't interest you. In my outlying beach area location, I received only six channels: the primary NBC and Fox feeds along with two digital subchannels for each. I noticed that quality and reception depended on the time of day when I performed the scan. For example, during the day, the Fox channels showed as 1 out of 5, while at night they were a full 5—perhaps something to do with atmospheric conditions. Those who live in urban areas should enjoy many more channels.
Once you've cleaned up your guide to reflect what you want, Tablo begins downloading the guide data. The system includes the first month free; after that, you can subscribe for $5/month, $50/year, or $150/lifetime. You are now ready to start watching TV, which means downloading the appropriate iOS or Android app. Viewing on an iPad requires iOS 7 or higher; consequently, the app won't work on iPad 1. It also isn't supported by iPhone. Android tablet users require OS 4+. You can view Tablo using a Web-based app as well, currently optimized for Chrome. I used it with Firefox and got sketchy results. I was able to view via the Web app on my iPhone 5's browser, which was cool. Tablo buffers for about 12 seconds before a live show starts playing so the system can provide rewind and pause functions on live TV. That could drive chronic channel surfers crazy, though once a channel is tuned and buffered it can be flipped back to quickly, Nuvyyo says, so users of the four-tuner model will have some ability to bounce around among their tuned channels. Recorded programs begin much faster, starting in about four seconds. You can watch on up to six devices simultaneously.